Brazil, India Deepen Strategic Partnership, Ink 15 Pacts On Eve Of Republic Day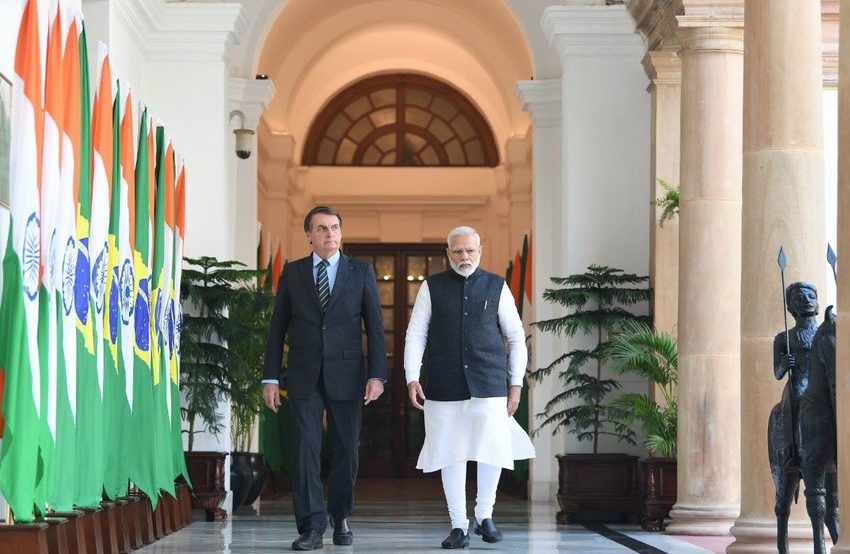 NEW DELHI: Brazilian President Jair Bolsonaro kickstarted his India visit, his first visit as a head of state to the country, by signing 15 economic pacts with Prime Minister Narendra Modi.
On the anvil for some time, these pacts – especially the much sought after Investment Cooperation and Facilitation Treaty (ICFT) which encourages investors in both countries by assuring non-discrimination in all investment matters – could boost two-way investment. The other key areas that the two countries will focus on is in Agriculture, Bio-Fuels, Animal Husbandry, Health and S&T. On trade, the two countries have agreed to set a target of $15 billion in bilateral trade for 2020. It currently stands at a little over $8 billion.

Earlier in the day, President Bolsonaro who is the Chief Guest at India's Republic Day parade, was accorded a ceremonial welcome by Prime Minister Modi and President Ram Nath Kovind. Bolsonaro is accompanied by a high-level business delegation, which while gratifying for India could be more to do with the Brazilian leader's need to tell his people he is pushing hard on the economic front.
Elected on the hopes that he would deliver on reforms, President Bolsonaro has so far been heavily criticised at home for rising unemployment and falling economic growth which saw the government cut its projections for 2020 from 2.6 per cent to 2.2 per cent. Thus, it was no wonder that after the pacts were signed the Brazilian president tweeted in Portuguese, "The world's confidence in Brazil is back."
Economic matters aside, there were other issues of concern that bound India and Brazil together on the world stage.  As Prime Minister Modi stated in his welcome speech to the Brazilian president, the two countries perspectives on current global challenges remained similar.
"Our partnership, particularly in BRICS and IBSA, is an important aspect of India's foreign policy. Today, we have decided that both countries will further strengthen their cooperation on multilateral issues. And we will continue to work together for necessary reforms in the Security Council, United Nations and other international organisations," the prime minister said.
Brazil and India have had strong ties especially when former president Lula da Silva was in power. Under his presidency, India and Brazil elevated ties to a Strategic Partnership in 2006 and with President Bolsonaro at the helm it seems likely that the goodwill will continue with some experts believing that talks on an FTA to replace the present Preferential Trade Agreement (that India currently has with the MERCOSUR countries) may follow.
Oil is another area and with the turmoil gripping West Asia, Brazil, as a leading oil producer – it is currently believed to be in talks to join OPEC – may be another alternative for India to consider.
Former diplomat and Latin American expert Deepak Bhojwani summed up the relationship between the countries when he said, "The relationship is thriving, and I am sure President Bolsonaro wants to open up the economy further. Apart from India, he is going to the EU and East Asian countries to finalise trade and economic agreements.  I see no negative signs coming from him."
It's also important to understand that Brazil is more heavily invested in the US, China and Europe. The outreach to India is a strategic move no doubt with the future in mind.