As Political, Economic Headwinds Grow, Sheikh Hasina To Flag Key Concerns With India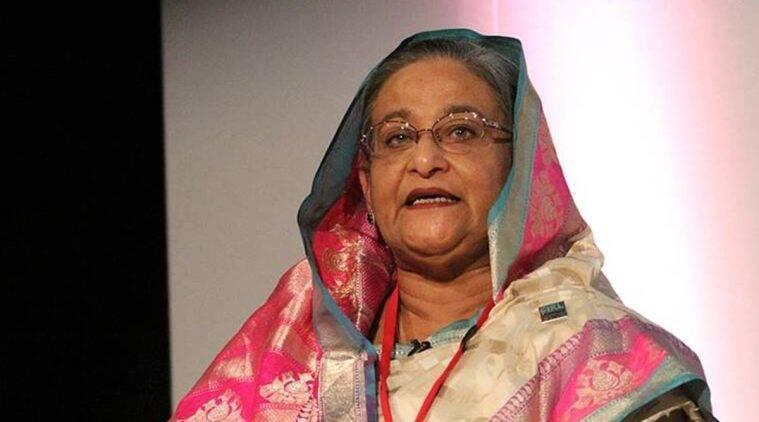 NEW DELHI: Sheikh Hasina lands in Delhi on Monday at a time when political and economic headwinds threaten to undermine the stability she has underwritten over three terms in office.
Elections are due next year and it's widely expected that she will win (by hook or by crook as some predict). The real issue is the succession. Who will succeed Sheikh Hasina given that she has hinted at hanging up her political boots? Oddly, this is hardly a matter of public debate in Bangladesh. It is deemed too "sensitive", since it could raise "unnecessary passions, polarise opinions and lend fodder to elements seen as eager to bring this government down," as some observers in Dhaka describe it.
Behind the scenes, there is talk of her sister Rehana taking over (her husband is the brother of Sheikh Hasina's trusted security adviser, retired Maj. Gen. Tarique Ahmed Siddique). Rehana is reported to be in her mid-60s, nearly a decade younger than Hasina, but has lived largely in her older sister's shadow. Would she be up to the job? Nobody knows but being a member of the family may make her acceptable to the Awami League.
Whether Sheikh Hasina will discuss this with her Indian counterpart Narendra Modi is not clear. But India would be alive to her concerns, and keen to ensure a friendly face in Dhaka. More than anything, Rehana in the saddle signals policy continuity.
Sheikh Hasina has been good for India, cracking down on anti-India and insurgent groups, building a relationship focused on economic cooperation, connectivity and energy security. Through her efforts, transit is no longer a bad word in Bangladesh. Delhi would like this to continue as stability in Bangladesh means stability in the north eastern states bordering Dhaka.
The other major concern is the economy, which is in trouble. The price of food and fuel, both major imports, has shot up threatening to upset the gains of the last 12 years when growth averaged 6 per cent. The current macroeconomic situation is clearly beyond her control. Add to that, Bangladesh is moving out of LDC status and could lose many trading privileges by 2026.
The view in Delhi is that Sheikh Hasina recognises this and integration with the Indian economy offers many advantages. It is India's fifth biggest trading partner and Indian investors have put in around $10-15 billion in that country.
"We have been working on the CEPA since 2016-17," the diplomat noted. "It can increase the GDP of both countries by 200-300%."
Unfortunately, there are plenty of players or spoilers out there seeking to muddy Bangladeshi waters. Pakistan, for instance, is known to be unhappy with her and is backing radical Islamist groups. Turkey is a major backer of the Jamaat-e-Islami. Wahabi sentiment is also growing among a population that is 90 per cent Sunni Muslim.
China's intentions are uncertain but it has been more assertive along India's periphery in recent times. "If there are 'opportunities' they will move in," said a senior diplomat underscoring that "we want stability and cooperation and do not want to give space to others to meddle."
Another player is Turkey, which is Dhaka's second largest trading partner and a major arms supplier ($1 billion worth of armoured vehicles, medium range multi-barrel rocket launchers, joint exercises). Does the Bangladesh army envisage some kind of a conflict in the years ahead? Against which country could the weapons be used? One does not have to look far for answers given that Myanmar and India are the only neighbours Dhaka has. Food for thought.
History attests to the army's dubious role in Bangladesh. It seized power in 2006-08 taking advantage of political instability, a matter of concern for democratic forces even today. Sheikh Hasina has placated it with decent budgets, weapons and UN peacekeeping assignments. The army is not a monolith and therefore it's difficult to say if the institution will stand by her. It is also a conservative force, and given that, one cannot dismiss out of hand any inclination to seize political power. Support for Sheikh Hasina or her chosen successor cannot be taken for granted.
On a positive note, there appears to be progress on India's offer of a $500 million line of credit for buying military hardware. The buzz is there could be a deal of some kind during this visit. Point to note: it seems no Indian defence minister has ever visited Bangladesh. This needs to be corrected.
An agreement allowing Bangladesh to draw water from the Kushiyara river that flows into Tripura from Bangladesh is on the cards. It would go some way towards mitigating Dhaka's disappointment over India's inability to come through on the sharing of Teesta waters. Delhi has also given the green signal for talks on sharing the waters of some other rivers, the Manu, Muhuri, Khowai, Gumti, Dharla and Dudhkumar where the potential for an agreement is seen as good. Incidentally, the Ganga Waters Treaty is up for renewal in 2026.
Looking ahead, for India it's clear that Sheikh Hasina is the pillar of the bilateral relationship. She has charisma, is popular and has a vision about the India relationship. Critics of this policy say it is necessary to be a little more balanced given that while 30 per cent of the population is believed to be pro-Liberation and secular, another 30 per cent is pro-Pakistan, favouring Islamist groups. Therefore, the critics contend, the need to have an outreach to the opposition BNP. But that party is seen as too pro-Pakistan and is not trusted for its past backing of anti-India forces.
"We have been in touch with them but they are not reliable," said another diplomat. "In 2001 they held out a lot of assurances about ties with India but that was the worst period in our relationship."
The other point is that Khaleda Zia, BNP chief, has not been keeping well and her son is in exile in London. As for the Jamaat-i-Islami, its vast cadre which lends to enormous street power is quiet, keeping well below the radar to avoid drawing the attention of the security agencies.
An obvious concern for Delhi is the treatment of minorities, notably the Hindus who make up about 10 per cent of the population. The Awami League is largely secular. There used to be many anti-Hindu riots before 2008 but Hasina began cracking down. This is not to say ruling party cadres are not involved in anti-Hindu riots but Hasina knows that minority support is especially crucial during the polls. Local Awami League leaders may encourage a certain element of insecurity among minorities for their own benefit.
Both prime ministers know these ground realities and while there could be some discussion during her visit, it will more likely be private and confidential. At the end of the day they are Bangladesh citizens.
The many concerns and negativity aside, India and Bangladesh are learning to do business with each other. Sheikh Hasina's visit will hopefully turbocharge the effort.