As Climate Politics Hots Up, Will India Set Zero Emissions Deadline?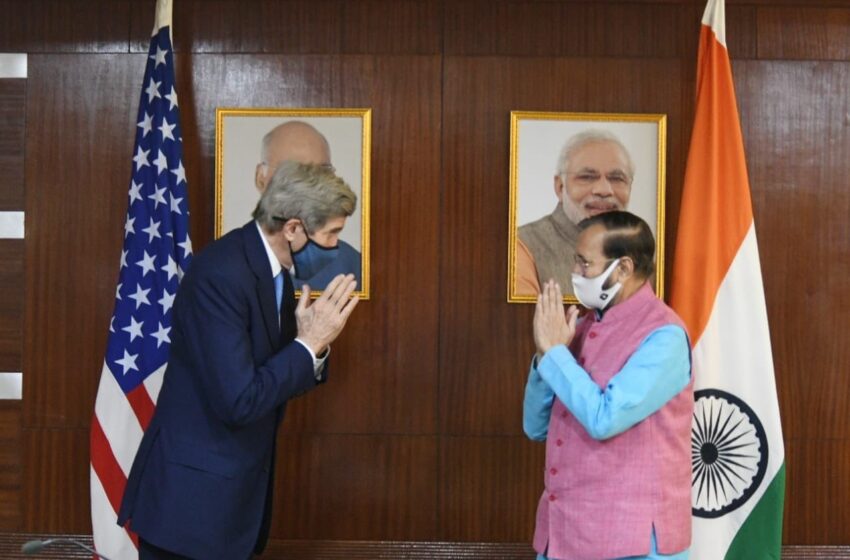 NEW DELHI: Less than three months into his presidency, Joe Biden appears to be cracking the whip on climate change, dispatching his climate czar John Kerry to key capitals including Delhi to ram home one message: after the lost Trump years, Biden wants to set the ball rolling with a set of ambitious goals.
A U.S. embassy spokesman in Delhi summed it up succinctly: "A key focus of our administration is supporting and encouraging India's decarbonisation efforts through clean, zero and low-carbon investment and supporting India in mitigating its fossil energy use."
To put it baldly, Kerry's mission could be to urge India (among other countries) to announce a date by which they will reduce their carbon dioxide emissions to zero! There may be some pressure on India in this regard since China has set 2060 as its target, the U.S., Canada, France, Germany, Japan even tiny Nepal have set 2050 as their deadline. Others like Finland have set an even more ambitious 2035 as their deadline for achieving carbon neutral status (Singapore has set no deadline indicating "as soon as viable in the second half of the century").
All in all, 58 countries have signed on giving various deadlines. India has not and officials in Delhi say there is mounting diplomatic pressure to set a target ahead of the Biden-hosted Leaders' Summit on Climate on April 22. Narendra Modi is among those invited and according to Shyam Saran, former foreign secretary and UPA climate envoy, "the U.S. could include a commitment to reduce its emissions by 50 per cent by 2030", thereby adding to the pressure.
Through the year there will be other climate-related events: on June 7 there's the G7 summit in the UK which Prime Minister Boris Johnson is hosting, to which Modi has been invited, and 'BoJo' has given every indication he wants climate to top the agenda ahead of the grand finale, the 26th Conference of Parties to the UN Framework Convention on Climate Change being held in Glasgow in November.
As Shyam Saran writes: "this will be the first occasion after the Paris Climate Agreement in 2015 that countries will be expected to 'ratchet up' the nationally determined commitments (NDC) they made as part of that agreement."
India would appear to be in a sweet spot when it comes to the NDC, since these are in line with the goal of keeping global warming under 2 degrees Celsius. In fact, India is on track to do far better. In 2016 itself carbon dioxide emissions were cut by 24 per cent, well before the 2020 deadline. But there are problems here. Against the target of achieving 175 gigawatts of renewable energy by 2022, reports say India is generating only 93 gigawatts, a result of falling tariffs that is making it uneconomical to put up solar plants. If this trend continues, the larger target of 450 gigawatts by 2030 may not be achieved.
Kerry may target India's love for coal: this country is the world's second largest producer and consumer of coal after China and the world's second largest importer after Japan. According to the Energy Monitor, as of 2019, 90 per cent of India's villages were running on electricity generated in coal-fired plants. Coal will continue to be king for many more years.
Scrapping them, which Kerry is certain to demand, could be disastrous. Chandrashekhar Dasgupta, former climate negotiator and ambassador, was quoted in the pink papers recently as warning that while scrapping would be difficult, retrofitting them with carbon capture and storage technology would be prohibitive. "This would entail astronomical costs at a time when the economy is reeling under the Covid-19 pandemic. It would necessitate an immediate switchover to imported, existing clean energy technologies at enormous cost denying our own industry the time required for indigenization."
In his view, India should not tie itself down to any deadline for achieving net zero emissions.
A word on the politics. China may no longer be with India on the climate issue. As noted above, it has set 2060 for achieving net zero emissions. We may now see Biden reaching out to Xi Jinping to set the template for the November summit. Shyam Saran believes India needs to bring together other developing countries sharing similar climate goals and ensure adaptation gets equal billing to the mitigation approach of the developed world.
India must demand that the developed world fork out the $100 billion they had promised as climate financing every year until 2020. Pledges to increase this funding in the 2021-25 period have fallen short, according to the Indian government only $11 billion in grants materialized in 2018.
Finally, India and its partners and friends must keep an eye out for moves by the U.S. and Europe to bring climate issues into the UN Security Council. Russia and India did oppose this recently but China seems supportive. If climate change becomes a security issue, there is no telling how far the West would go and what they would be prepared to do.