Albanese Skirts Khalistani Attacks On Hindu Temples, Underscores Economic, Strategic Ties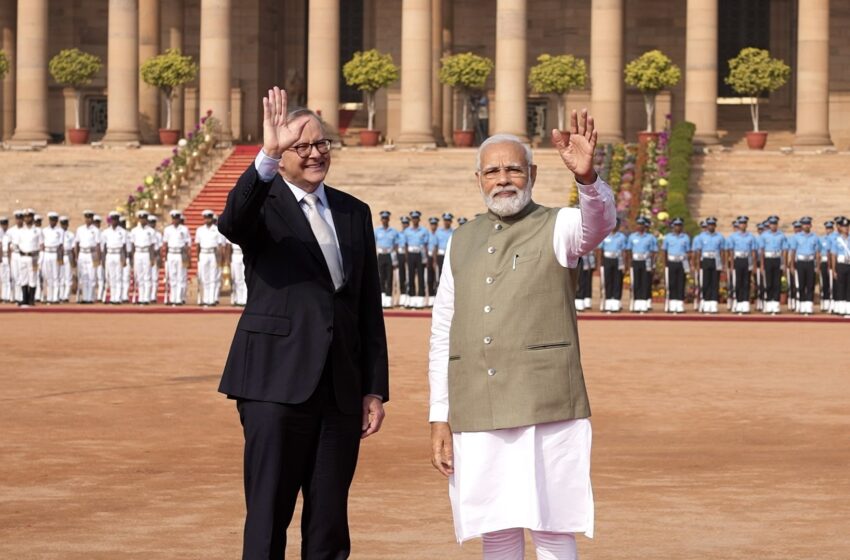 NEW DELHI: If there was one issue Australia's visiting Prime Minister Anthony Albanese would have preferred to avoid, was the spate of Khalistani attacks on Indian temples in his home  country. With at least five reported in the last two months, Albanese was notably silent when his counterpart Narendra Modi brought it up during the media briefing after talks ended in Delhi on Friday.
Modi noted that "The Indian diaspora is now the second largest immigrant community in Australia. This Indian community is making a significant contribution to the society and economy of Australia. It is a matter of regret that attacks on temples have been regularly reported in Australia over the past few weeks. It is natural that such news worries the people in India and disturbs our mind. I have shared these feelings and concerns of ours with Prime Minister Albanese. And he has assured me that the safety of the Indian community is a special priority for him. Our teams will be in regular touch on this topic and will cooperate as much as possible."

Modi may not have pressed the matter given High Commissioner Barry O'Farrell's comments in an interview last week. He said, "Our respect for Indian sovereignty is unwavering. The so-called Khalistan referendum call has no legal standing in Australia. We are most appalled to see temples being targeted, police are active and continue to be active to deal with those responsible."
Albanese preferred to focus on the bilateral economic relationship.  "PM Modi and I discussed the strength of our economic relationship, demonstrated by the coming into force of the landmark India-Australia Economic Cooperation and Trade Agreement (ECTA) last year. This has eliminated tariffs on more than 85% Australian goods exported to India," he said.
Both leaders discussed the "increasingly uncertain global security environment" and the need to work towards a stable and open Indo-Pacific region.  Albanese invited Modi to the Quad summit in Australia in May this year, while Modi outlined India's priorities as G20 president to the Australian prime minister.
 Later, Foreign Secretary Vinay Kwatra rejected reports that linked the India-Australia maritime cooperation to China's increased show of belligerence. He said, "There are multiple pillars of engagement between India and Australia engagement and one of the elements are the challenges both our countries face in the maritime domain. The maritime domain cooperation is an important segment of India-Australia cooperation. We position what India and Australia do as a bilateral ecosystem of engagement and partnership, and frankly not what a third country does."