As Biden Gets Going On Quad, Will Other Partners Play Along?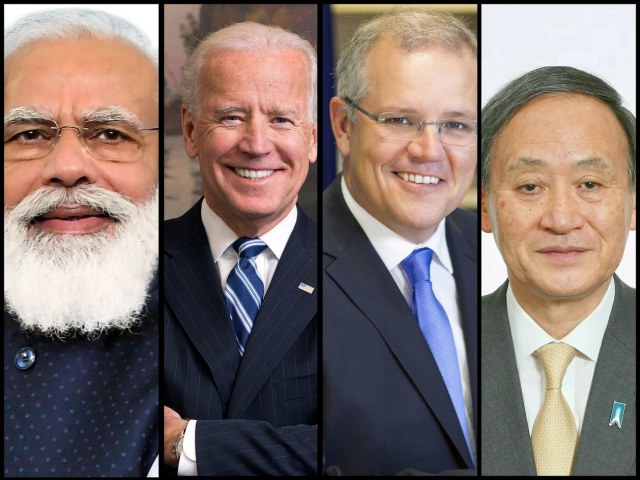 NEW DELHI: So many years after it was founded (2007), the Quadrilateral Security Initiative or Quad could be laying a crucial milestone on Friday when the four heads of government representing its members (Australia, Japan, India and the U.S.) gather for a virtual summit. That it is taking place less than two months after Joe Biden's inauguration as president suggests the value he places on it. So far Biden has met only the leaders of Mexico, Canada and the G7.
The summit may clarify the mixed signals he had sent after his election, dropping the Trump-era "free and open Indo-Pacific" to maintain "a secure and prosperous" Indo-Pacific. He muddied the waters even further during his national security cabinet nominations, barely mentioning the China threat. Defense Secretary Austin even returned to the "Asia Pacific" formulation. All that now seems to be behind us.
What can one expect from the summit? "There may be a move by the U.S. to 'harden' or formalize the Quad," says a top source in government, "that could be an issue for us since we would prefer a more amorphous Quad, something without the sharp edges that could needlessly provoke China. Don't forget we share a land border with them, the others don't."
PS Raghavan, who recently retired chairman of the National Security Advisory Board, warns that India would feel uneasy with some of the recent formulations in U.S. strategy documents that define Washington's Indo-Pacific strategy as a "geopolitical rivalry between free and repressive world order visions" and promise a lethal, resilient and rapidly innovating Joint Force… "
Individual Quad countries, argues Raghavan, do not define their Indo-Pacific vision in such terms. "Quad countries rebuff descriptions of it as a strategy or an alliance or a closed club or a starting point of an arc of democracy encircling China," he writes, pointing out that "they are conscious of their economic interlinkages with China and Chinese military dominance in the region. In short, therefore, the Quad and other multilateral initiatives in the region have to reconcile the nuances of individual interests and constraints of countries in the region."
So it is not an alliance. The broad objectives of its participants are political equilibrium and a sustainable security architecture. India clearly would be comfortable with the Quad continuing to evolve at a gradual pace, developing consensus, building trust and learning to work together with the other members.
There is a sense the Biden administration may change the tone to make it less offensive but there is expected to be no change in its resolve.
Going by reports, the summit could extend funding for India's multi-nation vaccine supply effort. There could be further discussion on diversifying supply chains away from China. The emerging India-Australia-Japan supply chain initiative is a case in point. Some other partnerships could also be discussed such as the Paris-Delhi-Canberra partnership launched last September, with the focus on "enhancing maritime security cooperation" including mutual logistics support and helping build capacity in countries of the Indo-Pacific region. The four nations could come together to build a rare-earth procurement chain to counter Chinese dominance.
One could expect that a summit-level interaction of this kind would result in a joint statement. Even if it doesn't, there's enough signal to worry Beijing.