Modi Macron Bond Over Dinner, To Work Together On Space, Cyber, Supercomputers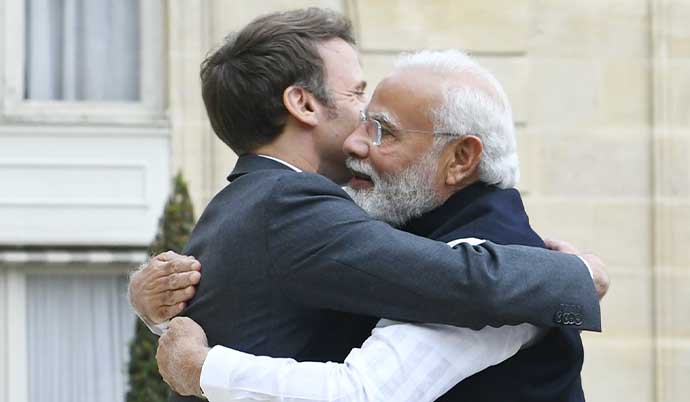 NEW DELHI: "Landed in Paris. France is one of India's strongest partners, with our nations cooperating in diverse areas." Prime Minister Modi's understated tweet gave no hint of what was in store during his few hours stopover in Paris, ostensibly to congratulate President Macron on his victory in the elections last month. As it turned out, the congratulatory hug was just a breather.
In an unusually lengthy joint statement issued after a 'working dinner', the external affairs ministry underscored some very key takeaways. The two sides are launching a strategic dialogue on space issues that will bring together the civilian and the military to exchange ideas and thinking on the security and economic challenges of outer space. The first round of this dialogue will be held this year.

The cyber security agencies of both countries will upgrade their dialogue to counter cyber threats and promote cyber norms and principles. India's Centre for Development of Advanced Computing and France's ATOS, a world leader in digital transformation, will join hands on exascale supercomputer technology (billion billion calculations per second). And given its success with designing and launching public digital infrastructure like UPI, India will be Country of the Year at Vivatech, Europe's largest digital fair in Paris this year. The two sides will work together on more sovereign and secure 5G/6G telecom systems.
Terrorism also merited mention with the two sides coordinating their positions in the run up to the third edition of 'No Money For Terror' international conference later this year in India.
In the area of clean energy, India has invited France to take part in the ambitious National Hydrogen Mission with the emphasis on industrial partnerships involving regulation, certification and standardization. A roadmap is in the works. They also agreed to reinforce solar production capacities to supply Asian and European markets with an integrated supply chain.
"The message is clear: the two leaders have high ambitions for the partnership. They see it as vital to strengthening both our nations' strategic autonomy, delivering a positive agenda for the #IndoPacific and upholding a rules-based world order," France's Ambassador to India Emmanuel Lenain tweeted.
There was a hiccup when the French defence company Naval Group announced its withdrawal from Project 75i to build conventional submarines with AIP in India. But as it turned out, this had happened about a year ago and why the Naval Group issued a statement now ahead of Modi's visit to Paris can only be speculated upon. On Ukraine, the French have shown smarter instincts than some of their European partners, with the joint statement underscoring what the two sides agreed upon.