Amid Covid Surge, Jaishankar Blunts 'Vaccine Diplomacy' Critique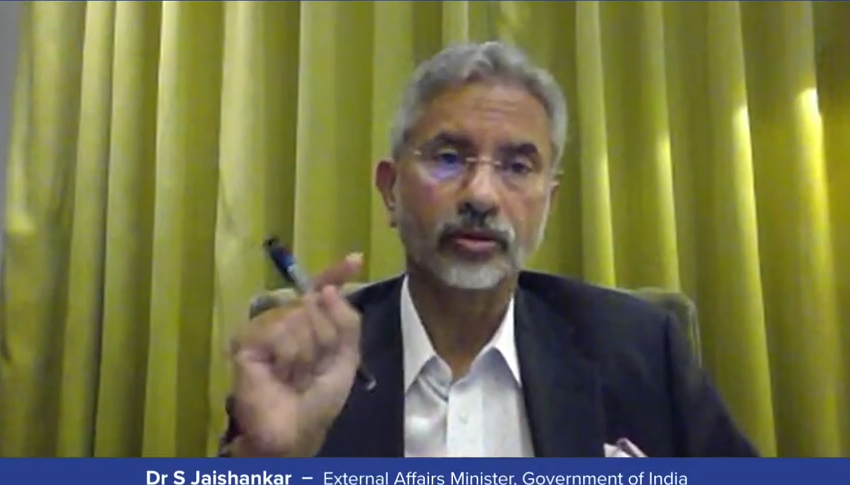 NEW DELHI: External Affairs Minister S Jaishankar took the Covid bull by the horns during an interview in London, describing as "unprecedented" the second wave of coronavirus sweeping the country.
"People who say this don't seem to understand the severity of the problem that we are dealing with. We have a demand for medical oxygen that has gone up by seven to eight times from 1,000 metric tonnes required in the first wave. Given the resources we have, we are doing our best," he said.

He shrugged off suggestions that India perhaps may have been better served by not focussing on "vaccine diplomacy" and concentrating its healthcare facilities at home.
"The world has stood with India during a moment of great travail for the nation. President Biden made it a point to change US policy, which was catered towards helping Americans only, to helping India because he remembered how we had stood by the US in their hour of need. The same sentiments have been echoed across the world. From Singapore from where India's first oxygen tanks came, to the Gulf countries to the G-7 countries – almost all of whom have already gone through the second wave – there is a recognition that India was there for them."
On China he was particularly blunt: "There is no question, India-China relations are going through a difficult phase. China, in violation of all agreements, has deployed a large military presence near the LAC without explanation for over one year now. So far while we have made some progress in disengagement, we have not reached the de-escalation part of it yet. Till that happens there is no possibility of relations returning to normal," Jaishankar said.
"However, in my conversations with my Chinese counterpart Wang Yi there was a realisation that COVID-19 was something bigger and it was in our mutual interest to deal with it. Foreign Minister Wang Yi asked how China could help us and I replied by stating, 'Many of our companies are ordering things from China and we are facing problems in logistics. Please take a look.' Soon after this our airlines got approvals in China and we began to see a logistics change."
Asked about the economy and whether the government would now have to shift the timeline on Prime Minister Narendra Modi's aim to become a $5 trillion economy by 2024-25 due to the global pandemic, the EAM admitted that the second wave of pandemic had changed a lot of things, but India's strong economic fundamentals ensured that the country would get back on its feet quickly.
"If the global pandemic has taught Indian anything it has emphasised, or rather re-emphasised, the need for economic security through self-reliance. The economic foundations remain steady and there are likely to see bolder and more reformist moves in the future. This is the economic vision of the government and especially Prime Minister Narendra Modi," Jaishankar said.
He warned that continuous references and comments on India's domestic affairs by UK MPs could harm a thriving relationship.
"If the parliament of one democratic country starts to comment on the actions and decisions of the parliament of another country then you are opening up a Pandora's Box. Today it is my law, my proceedings you are commenting on, tomorrow I could have views and comments on what is happening in the UK parliament. I don't think it helps either party to go down that path," he said.