Xi Jinping's Tibet Visit: Carrot For Tibetans, Stick For India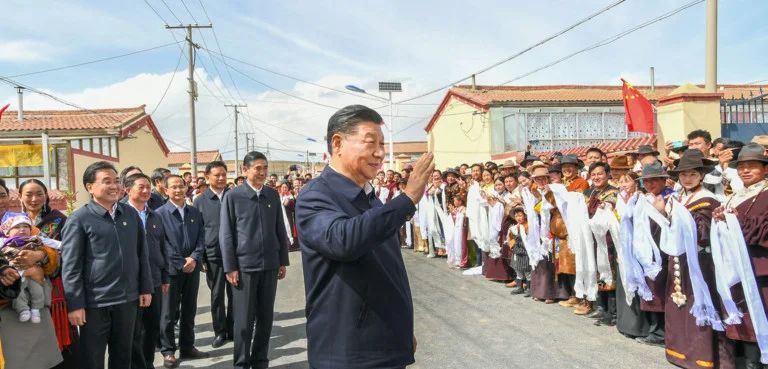 NEW DELHI: Two key takeaways from President Xi Jinping's visit to Lhasa and Nyingchi in Tibet, the latter is close to India's border state of Arunachal Pradesh. "The focus of the Xi visit is to show that firstly through their policies they have cured the fundamental issue in Tibet which is economic backwardness," argues Prof. Alka Acharya, who researches and teaches on China at Delhi's Jawaharlal Nehru University, adding that "There is also a strong message for India here which is that we have our own perceptions about where our territory lies and nobody can stop us from going there. So, they've put India on notice as well."
Some coincidences, deliberate or otherwise, cannot be ignored. China recently commissioned the Lhasa to Nyingchi high-speed railway line with further extensions planned that would facilitate military movement all along the Arunachal frontier. In India, elections saw Penpa Tsering emerge as the new Sikyong of the Tibet government in exile. While he extolled the "middle way" of the Dalai Lama, his call for "mutually beneficial, negotiated, non-violent solution to the Sino-Tibet conflict", would have only raised hackles in Beijing. Add to that, China's anxiety over how to ensure its candidate succeeds the ageing Dalai Lama in a credible and "legitimate" manner remains.

So there is multiple messaging to read from Xi Jinping's visit: to assure Tibetans both at home and the large Tibetan diaspora of China's benevolence, and hard messaging for India not to meddle in Tibet's affairs. Beijing would not have missed Prime Minister Modi's birthday wishes conveyed to the Dalai Lama. The Chinese president's signalling acquires more significance as US Deputy Secretary of State Wendy Sherman will be in Beijing on Sunday. The battle lines have been drawn with the US State Department warning that they would "discuss areas where we have serious concerns about PRC actions, as well as areas where our interests align."
NATO's recent declaration of China as a "security challenge", may have added to Beijing's concerns about Tibet. The one message Sherman will receive: "Stop interfering in its (China's) internal affairs."
China's concerns are real. At all costs, it does not want a repeat of the 2008 protests when police abandoned the Lhasa city centre to anti-China demonstrators and looters. A report by Human Rights Watch in 2010 documented widespread abuses by security personnel including mass arrests, arbitrary detentions, torture and incarcerations without proper trial.
But local media have reported that large scale development in towns like Lhasa, along with the steady erosion of religious freedoms, has ensured Tibetan voices of discontent have once again risen in the region. Penpa Tsering summed up these sentiments during the Xi visit when he accused the Chinese government of "cultural genocide," and warned that the "religious freedoms of his people were systematically being eroded."
Pointing to the installation of surveillance cameras in Buddhist monasteries in the TAR he said, "China is the only country which spends more money on internal security than external security. All that money is put to introduce repressive measure against the minorities."
Perhaps, the secrecy surrounding Xi's visit to Tibet owed much to Beijing's concerns about the ground situation there. He arrived in Nyingchi on Wednesday, but media coverage only began on Friday when he visited Lhasa. According to a Xinhua report, he visited a monastery and the Potala Palace Square. This was the winter place where the Dalai Lama resided, till he fled to India in 1959. Xi's presence there was perhaps intended to reinforce the message that Tibet is a part of China in every sense.
Last word: Some would say India's stand on Tibet is more posturing than anything else. The government remains ambivalent about the Tibetan community here, numbering around one lakh. They are designated foreigners who can't apply for government jobs and have difficulty getting admission to Indian universities. Today, the Tibetan diaspora outside India is estimated at 1,50,000 and growing. There may come a time when governments in the US or Europe, where many Tibetans are moving, would be in a position to shape the Tibet agenda with no reference to India.
Perhaps for this reason, Prof. Acharya believes that "We have to realise that China is a neighbour that is not going anywhere and provoking it with the 'Taiwanese' or 'Tibetan' card will endanger the India-China relationship for good. We have to find new ways of managing the China relationship in the long term."