New Quad Broadens India's Diplomatic And Strategic Options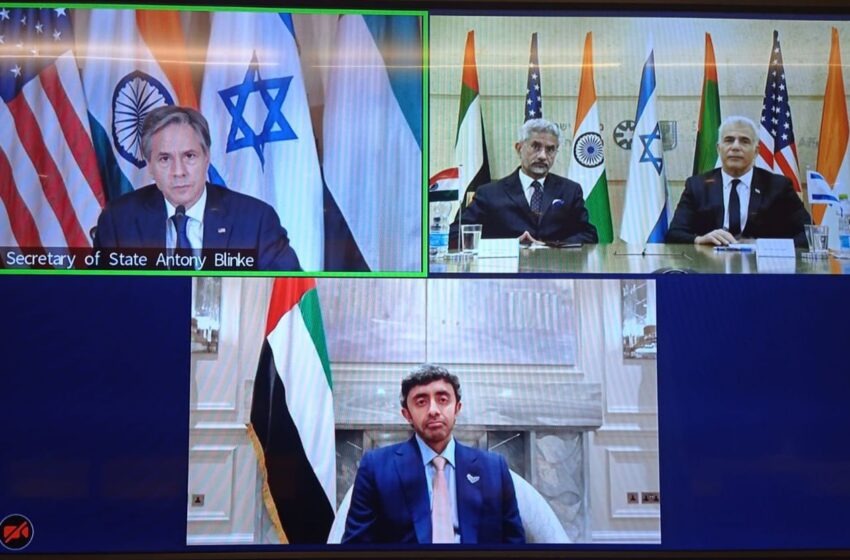 NEW DELHI: The strategic policy community went into overdrive post the virtual meeting between India, Israel, UAE and US, with many going so far as to call it Quad 2.0. Some said it was aimed at China but the fact is, it's too early to draw such conclusions.
As former diplomat Anil Trigunayat argues, both the UAE and Israel have strong business and trade ties with China. He believes that this grouping which is still in an "exploratory framework" is a US move to placate Israel.

"Biden has been viewed as being unenthusiastic on the Abraham Accords by the Israeli media. This combined with the fact that Prime Minister (Naftali) Bennet has been raising the rhetoric against Iran has caused Washington to set up this meeting to reassure Tel Aviv that while it may be withdrawing from the region and pursuing the JCPOA, it still remains committed to Israel's security," says Trigunayat.
Leaving aside Washington's compulsions, Israel, UAE and India can do much together in a trilateral framework which has not been explored in a formal manner so far. Areas of food security, cyber security and possibly co-operation in Africa, where the UAE has been expanding its ports in Somalia and Djibouti while India has been increasing patrols to Madagascar. Israel too has interests in Africa. Tel Aviv has normalised relations with Morocco and Sudan under the Abraham Accords and recently received 'Observer Status' in the African Union (AU). Africa is very important to Israel as a voting bloc in the UN and it is not inconceivable that the three nations can possibly work together in the continent going forward.
From Delhi's point of view the quadrilateral – which according to External Affairs Minister S Jaishankar is among friends with which India shares the "closest relationships" – could not have come at a better time. As former ambassador Talmiz Ahmad points out, thanks to the China influence, BRICS and SCO will be a dead end and China and Pakistan will continue to hinder Indian influence on important regional and security issues such as Afghanistan. The new grouping-in-the-making will not solve any of those problems but it will give India a chance to work with like-minded countries in an alliance in a non-security framework.
The other point that India must be cautious about is that the new grouping, should it develop, does not turn into a Quad 2.0 or any other forum that could be viewed as anti-China. As Ahmad points out, most people forget that while the US is actively competing with China, it is also actively engaging with China. "The meeting at Anchorage where the US NSA was involved took nearly six hours. More recently, US Trade Representative Katherine Tai and China Vice-Premier Liu He held trade talks and we have the Biden-Xi summit to be held by the year-end." If these talks do provide some sort of breakthrough, it will not serve India well to be seen as taking an anti-China stance in any plurilateral framework.
China aside, there is the question of Iran. India which has gone out of its way to stand by the Raisi government must do its best to reassure Tehran that the virtual meeting and its possible fallout will not impact Tehran's interests. Some observers however believe that the India-Iran relationship will not suffer given that Iran both understands that India is following its security interests and that it needs India to play the counter-balancer in an unequal Iran-China relationship. India has traditionally been Iran's second largest buyer of oil after China, and US sanctions, if lifted, would allow Indian officials to move forward to restore ties with a strategically important neighbour.