India Gains Little From RIC, But ….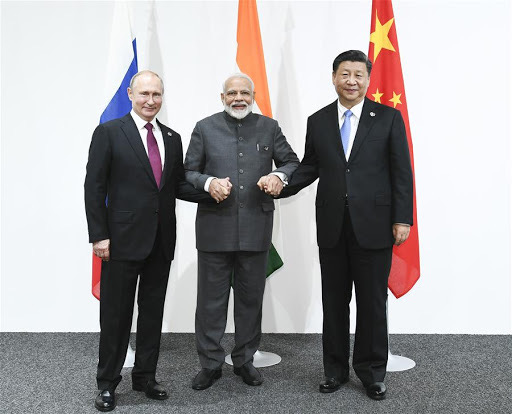 NEW DELHI: The tweet from Russia's foreign ministry was timely. "On June 23, foreign ministers of #Russia, #India & #China are scheduled to meet via videoconference as part of Russia's #RIC chairmanship. They will exchange views on trends in global #politics, the #economy and other areas following the #COVID19 pandemic."
So why is India attending even though it is not a forum for bilateral disputes (India-China)? In fact, Indian diplomats privately concede that there may not be anything significant to gain from the RIC. Senior diplomats pointed out that even before the Galwan Valley incident there were limited areas of convergence between the nations.
"If one looks at the economic aspect, India is not going to work with China on BRI. Russia may have agreed to do that in the initial stages but now they are also looking to carve their own niche through its projects in Eurasia," noted a senior diplomat. "They may look at world issues and ensures their voices are not squeezed out due by the G-7 or G-20 countries. However, India may have limited interest in this following Trump's invitation to Indian to attend the G-7 summit this year," he said.
So why is India participating? Sources confirm that media speculation about Moscow's bid to defuse tensions between New Delhi and Beijing may certainly have had played a part. India may have also felt a need to signal its "strategic autonomy" and that it is not in the US camp. Important to note that Defence Minister Rajnath Singh will be in Moscow at celebrations marking its victory in World War II.
Also, the RIC makes up 19 percent of the world's global landmass and contributes 33 percent of the world's global GDP. Given that Russia and China are also members of BRICS and SCO, RIC remains relevant.
But others disagree. "India needs to keep all channels open and for that, we need to be in relevant forums. Some are more interesting, and some are not so interesting for us, but we need to be seen to be there," said a senior diplomat. "RIC isn't doing anything for us; just like SCO isn't doing much for us at the moment because of certain positions the other members have taken on BRI etc. But we must be there if only to voice our concerns and look to garner influence and hope we can build up pressure points in the future."