India-China Great Game Enters Jask In Iran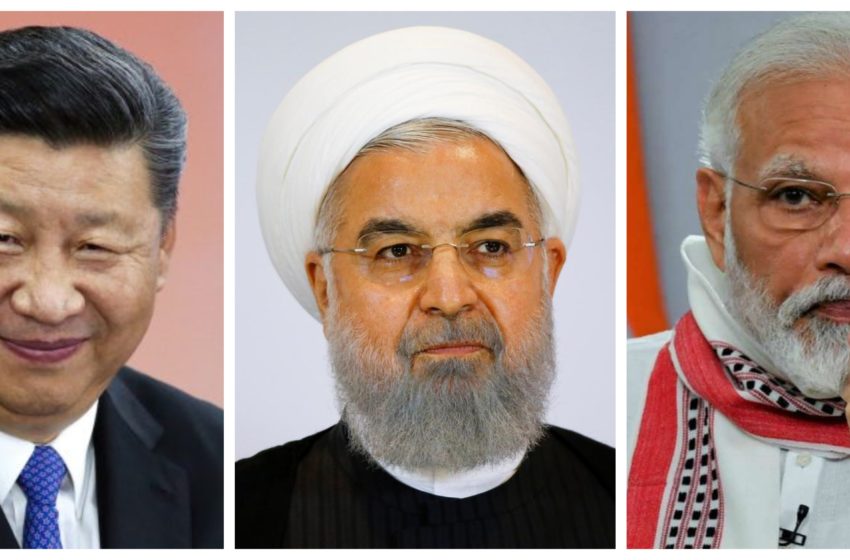 NEW DELHI: China appears set to take over another strategic port in the Indian Ocean, at the mouth of the Strait of Hormuz—a key choke point channeling massive energy flows to global demand centres, including India, Japan and South Korea.
After marshalling footholds in Kyaukphyu in Myanmar in the Bay of Bengal, Hambantota in Sri Lanka, Gwadar in Pakistan and Djibouti in the Horn of Africa, the Chinese appear to be muscling their way into Jask, an Iranian port in the Sea of Oman. China's move follows its pledge to open up its market for Iranian oil for the next 25 years.

With Iran occupying the position of a "pivotal" state, China's pact, being negotiated with Tehran, will adversely impact the Indo-Pacific region and Eurasia, including several established and rising powers. The list of countries expected to hit by the Iran-China deal includes the United States, Russia, India, the 10 ASEAN states, South Korea and Japan. India, South Korea and Japan are among the largest consumers of Gulf oil that passes through the Strait of Hormuz, which at its narrowest point in only 39-km wide.
The New York Times is reporting that the $400 billion draft deal covering 25 years will not only enable China to have access to the Indian Ocean through Jask but will also enforce on Iran critical structural dependence in core areas, allowing Beijing to leverage unrivaled influence on Tehran.
The blueprint for making Iran a virtual Chinese satellite includes construction of Iran's 5G telecommunications network as well as a Global Positioning System, marshalled by a Chinese cluster of Beidou communication satellites.
The draft cites 100 other projects covering infrastructure. That includes construction of airports, high-speed railways and subways. China would also develop free-trade zones in Maku, in northwestern Iran, and in Abadan—the site of the first refinery in Iran established by the Anglo-Persian Oil company in 1912, later christened BP.
The document follows a trail flagged by China's Belt and Road Initiative (BRI), Chinese strongman Xi Jinping's pet project. East of Jask, Beijing has signed a $60 billion deal to establish the China-Pakistan Economic Corridor (CPEC), which will permanently subordinate Islamabad as a "tributary state" of the Chinese "Middle Kingdom".
CPEC, which starts from Kashgar in Xinjiang, provides China access to Gwadar—another major Indian Ocean port on the Makran coast. A Chinese presence in Jask will feed into the new Great Game with India—an intense competition among two rising powers, which is being simultaneously unveiled in multiple theatres. These include Kashmir, the arena of an on-going military standoff in Ladakh and other trans-Himalayan hubs such as Nepal and Bhutan, as well as the Indian Ocean coastline covering Myanmar, Bangladesh, Sri Lanka, Maldives, Iran, stretching all the way to east African coastline till the Cape of Good Hope in the south.
The Financial Express from Dhaka is reporting that Bangladesh has sought $6.4 billion from China for nine infrastructure projects, including development of the ambitious seaport of Payra, and a 10-km bridge across two rivers in the Ganges delta.
China is also wading into Myanmar through the China-Myanmar Economic Corridor. Starting from China's Yunnan province, the Y-shaped corridor heads towards Mandalay in Myanmar. From there it is likely to extend towards the east and west to Yangon New City and Kyaukphyu Special Economic Zone, in the Rakhine province on the Bay of Bengal.
Jask is also likely to emerge as another node in the rapidly escalating new cold war between China and the United States, which is already visible in the Indo-Pacific, including the South China Sea, where two U.S. aircraft carriers, in support of the ASEAN, have mounted an imposing presence not far from China's critically important submarine base of Hainan.
China's presence in Jask can impose considerable pressure on the U.S. by enabling Beijing to keep vigil on warships belonging to the U.S. Fifth Fleet, headquartered in Bahrain in the Gulf, not too far away.
Complementing its anchorage in Gwadar, China, by opening another spur from Jask, can threaten two major Indian trade arteries radiating from the Indian Ocean to Eurasia. One route, only 169-km west from Gwadar passes through the Iranian port of Chabahar, and heads northwards towards Afghanistan. The International North-South Transport Corridor (INSTC) is the second vital trade route which links Mumbai to Moscow, through the Iranian port of Bandar Abbas in the Gulf, closer to Jask. Primarily, this route is used for moving freight from India, Iran, Azerbaijan and Russia via ship, rail and road. The major cities en route also include Tehran, Baku, Astrakhan and Bandar Anzali on the Caspian sea.
In tune with the Great Game, it is vital that India denies China a foothold along either of these two routes. For that, it is essential that Iran is persuaded to concur that at a time when New Delhi's ties with the Arab Gulf countries are on a high, Tehran's geopolitical engagement with China, at India's cost, will be grossly shortsighted and detrimental to its long term strategic interests.
Already, India is digging its heels in the maritime domain of the Gulf. Last December, India signed a pact with Oman that allows New Delhi to expand its footprint in the western Indian Ocean, the Gulf and East Africa. Under this agreement, the Indian navy will be allowed regular access to Duqm port, about 550 km south of the capital Muscat.
India's ties with both the United Arab Emirates and Saudi Arabia, at a strategic level, are also cruising along smoothly, building on excellent personal chemistry between Prime Minister Narendra Modi with Mohamed bin Zayed, Crown Prince of Abu Dhabi and Mohamed bin Salman, Saudi Arabia's crown prince.
Simultaneously, India may have to take a fresh look at accelerating development of the Chabahar route, especially when an embattled Iran, wanting to create new jobs, enters an election year. The Deputy Minister of Iran's Port Affairs of the Maritime and Ports Organisation, on Wednesday, denied Indian media reports that Iran has pushed out New Delhi from a railway project linking Chabahar with Zahedan, the provincial capital of Iran's restive Sistan-Balochistan province, as "fundamentally untrue and wrong".
Nevertheless, if Indian companies are reluctant to export steel for the railway project in Iran, fearing U.S. sanctions, as reported by a section of the media, that problem could be jointly addressed by India and the U.S., within the ambit of the Washington's exemption of the Chabahar project from its overarching sanctions law.
India may also need to monitor and shape the raging debate inside Iran, where Iranian foreign minister Mohammad Zarif, the face of the multi-billion dollar deal, is under fire from influential sections of the Iranian elite for selling out to China. In a late June speech, former Iranian President Mahmud Ahmadinejad, probably seeking another presidential term, warned that a 25-year agreement with "a foreign country" was being discussed "away from the eyes of the Iranian nation."
Under pressure from within, Iran's ambassador to Pakistan Seyed Mohammad Ali Hosseini, in a veiled reference to China and the U.S., has been quoted as saying that Iran was building constructive ties overseas "while denying any eastern or western hegemony in such relations".
With Russia as a founding member of the INSTC, New Delhi could well consider opening a dialogue with Moscow to stall China from possibly bulldozing into the project by exercising its growing influence in Iran. Already wary of Chinese inroads into its central Asian backyard through BRI connectivity projects, Russia, which visualises INSTC as a pillar of its larger Eurasian Economic Union (EEU) connectivity project, could well exercise its considerable leverage to temper Iran's growing enthusiasm for Xi's China.
(The author is former Strategic Affairs Editor of 'The Hindu' and has reported from China for many years. Views expressed in this article are personal.)