India-Asean: Consensus On China But No Progress On Reviewing Goods Trade Agreement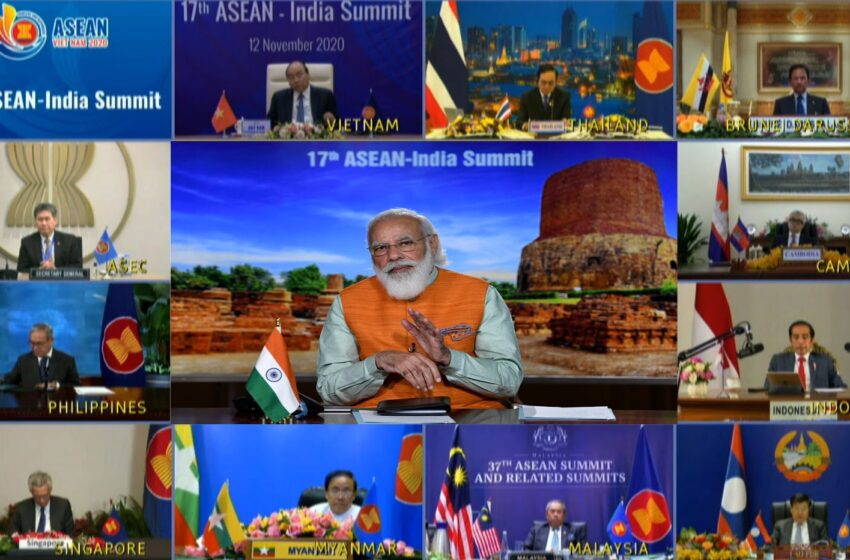 NEW DELHI: These days no India-Asean summit is complete without the ritual reference to free, open, inclusive, rules-based Indo-Pacific, which annoys China no end. And so it was with Prime Minister Narendra Modi while addressing the 17th Asean-India Summit via video-link on Thursday. But the prime minister also had a bone to pick with Asean on its slow pedalling of India's demand for a review of the Asean India Trade in Goods Agreement.
Secretary (West) Riva Ganguly Das warned that the review has been "long pending" and that PM Modi "called for an early review of the agreement". Asean appears to be in no hurry, prioritising the RCEP agreement which is expected to be signed over the weekend. India had walked out of RCEP last year saying its concerns on trade were never addressed.

PM Modi's lavish reference to the "ample closeness between India's 'Indo Pacific Oceans Initiative' and Asean's 'Outlook on Indo Pacific', didn't appear to cut much ice with a group singularly focused on trade and business. There would have been more support for his statement that "We firmly believe a 'Cohesive and Responsive ASEAN' is essential for 'Security and Growth for All in the Region'." India has long underscored its belief in a "strong, unified and prosperous Asean playing a central role in the Indo-Pacific region."
With India and most Asean nations facing the brunt of Chinese expansionism in the land and maritime domain, the two sides also reaffirmed the need to adhere to international law in the South China Sea. The two sides emphasised freedom of navigation and overflight in the South China Sea and also "unimpeded lawful commerce".
Secretary Riva Das said the two sides "agreed on the importance of maintaining peace, security and stability in the South China Sea. Both sides noted the importance of promoting a rules-based order in the region including through upholding adherence to international law especially Unclos."
However, while India and the 10-member Asean had a strong message to convey to China on the South China Sea and convergence on how they look at the Indo-Pacific region, a meeting ground on RCEP (Regional Comprehensive Economic Partnership) has eluded them.
Asked about the pact Das said, "We did not join RCEP as it does not address the outstanding issues and concerns of India. However, we remain committed to deepening our trade relations with Asean."
At the Summit today, PM Modi also stressed on the need to speed up "all types of connectivity initiatives between India and Asean–physical, economic, social, digital, financial, maritime–is the top priority for us".
Das said the PM also reiterated India's offer of a line of credit of $1 billion dollars " to support Asean connectivity". It's an offer that was first made at the India-Asean Summit in Kuala Lumpur in 2015. It has found no takers yet.