In Twitter Spat With Aussie Envoy, Chinese Diplomat Spews Black Lie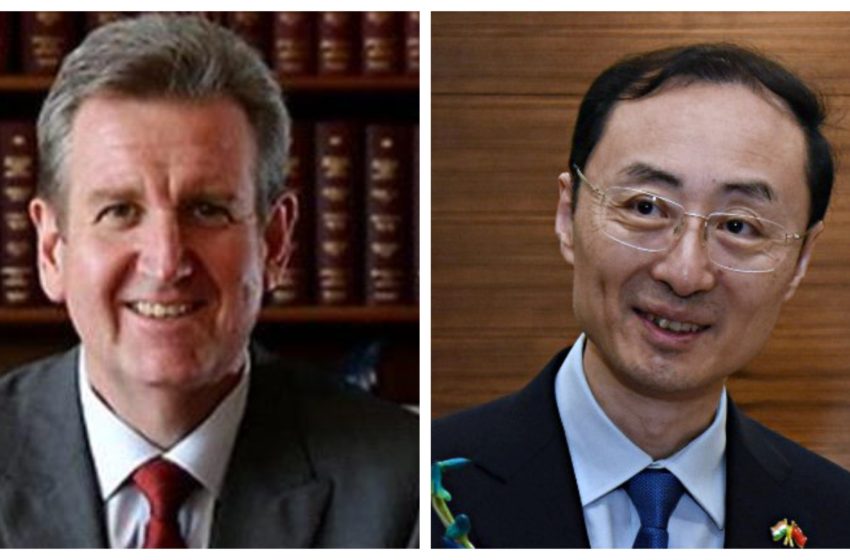 NEW DELHI: Two diplomatic broadsides delivered on Twitter, underscoring once again how China's actions in India's Ladakh, have resonated through the world. The first from Barry O'Farrell, Australia's high commissioner to India, who had called on External Affairs Minister S Jaishankar on Thursday.
In a statement released to the media, the high commissioner called for restraint and de-escalation along the Line of Actual Control. The statement said, "Australia opposes any attempt to unilaterally alter the status quo, which only serves to increase tension and risk of instability."

It also called for upholding "bilaterally agreed principles and norms that have helped prevent escalation or miscalculation in the border areas."
What appears to have got China's goat were the references to the South China Sea. The statement noted that on July 23, Australia had refuted China's maritime claim to the South China Sea. The statement rejected "China's claim to historic rights and internal waters, its assertion of certain maritime zones and its contention there is wide international recognition of its South China Sea sovereignty claim."
As soon as the high commissioner's comments came on Twitter, China's Ambassador in India Sun Weidong responded: "China's territorial sovereignty and maritime rights and interests are in conformity with international law including UNCLOS. It's clear who safeguards peace and stability and who destabilises and provokes escalation in the region."
The claim is a blatant lie. The July 2016 award by an independent tribunal under the UN Conference on the Laws of the Sea, published a clear and binding ruling on China's claims vis a vis the Philippines in the South China Sea. The tribunal ruled that China's claims of "historic rights" within the 9-Dash Line are mostly incompatible with the UNCLOS, which is clear that entitlements at sea have to be within areas measured from land.
The tribunal also ruled that neither the Spratly Islands nor Scarborough Shoal can support human habitation. It means these cannot have an exclusive economic zone around them. The implications are crucial: it means the bulk of the resources in the southern part of the South China Sea belong to the coastal states: Philippines, Malaysia, Brunei, Indonesia and Vietnam.
Beijing dismissed the ruling as 'nothing more than a piece of waste paper', and continued to use military force to extort concessions from its neighbours. Under the facade of "joint development", China is demanding that these countries share their maritime resources even when the tribunal says such demands are illegitimate.
Three years ago, Philippines President Rodrigo Duterte publicly admitted China's Xi Jinping threatened war if his country was not allowed to tap into gas reserves in the Reed Bank, which is Philippine territory. Vietnam is in a similar position, unable to develop or properly exploit its offshore oil fields due to Chinese intimidation.
Yet none of these countries has succumbed to China's blackmail, and continue to insist on their rights as set out by UNCLOS. This maritime agreement took nine years to negotiate and is subscribed to by all the countries of the world including China, which also seeks to undermine it at the same time through pressure tactics and threats.