From Rude To Bellicose, Wang Yi Makes Hash Of Europe Trip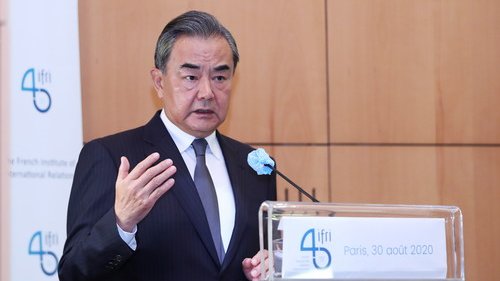 NEW DELHI: Diplomacy is all about keeping the conversation (and hope) going amid discord, distrust and conflict. Viewed in that context, China's Foreign Minister Wang Yi's week-long swing through Europe may have only fuelled further fires. It was not just about the abuse and incarceration of the Uyghurs but also Wang Yi's language and pronouncements that would have grated on European ears.
Sample this: "The Chinese government and Chinese people won't take a laissez faire attitude or sit idly by and will make him pay a heavy price for his short-sighted behavior and political opportunism."

This was with reference to the Czech Senate President Milos Vystrcil visiting Taiwan to build economic ties. But Wang Yi saw that as interference in China's internal affairs and issued a bleak warning: "You've crossed a red line."
The intemperate pronouncements appeared to devalue the visit, which was intended to shore up China-EU ties at a time when Beijing's standoff with other countries is taking up considerable media space. Apart from locking horns with the U.S. on everything from trade to China's oppression of the Uyghurs in Xinjiang, to the ugly border exchanges with India, Beijing appears determined to open up fronts everywhere.
The Europeans were not impressed. Czech Foreign Minister Tomas Petricek summoned China's ambassador in Prague to give him a dressing down. "Minister Wang's statement has crossed the line, such strong words don't belong in relations between two sovereign countries," he said, calling for cooperation "without emotions which don't belong in diplomacy."
In Germany, Foreign Minister Heiko Maas, with Wang Yi seated next to him, ticked him off at a briefing in Berlin. "We as Europeans act in close cooperation, we offer our international partners respect and we expect the exact same from them. Threats don't fit in here."
At the briefing which lasted nearly an hour, Wang Yi was pressed to explain his assertive and rude comments, his country's stance on Hong Kong and his government's response to the coronavirus pandemic. His response ranged from outright denials to accusations and warnings about how Beijing would not allow any foreign interference in its internal affairs.
Earlier in Oslo, he warned the Norwegians against giving the Nobel Peace Prize to Hong Kong protesters. In Paris, he dismissed concerns expressed over the detention and abuse of Uyghurs saying "The rights of all trainees in the education and training program, though their minds have been encroached by terrorism and extremism, have been fully guaranteed."
He even claimed that the education programme was over and that "there is no one in the education and training centre. They all have found jobs."
Wang Yi's pronouncements may have cast a shadow on the China-EU investment accord which is due to be wrapped up by the end of the year. Doubts about China are growing, especially in the tech space with the U.S. urging Europe to dump companies like Huawei. This has gathered a fair amount of steam with the UK coming on board and France saying it will not ban Huawei but will go with European companies on 5G.
Wang Yi also visited Italy and Holland with discussions covering climate change and trade where Europe believes China has considerable influence. It's unlikely their doubts about China have been entirely assuaged but at a time when the U.S. under Donald Trump has shaken and stirred old geopolitical foundations, Europe needs to keep all its options open.