'China Had An Objective In Ladakh, Another Incident Could Happen'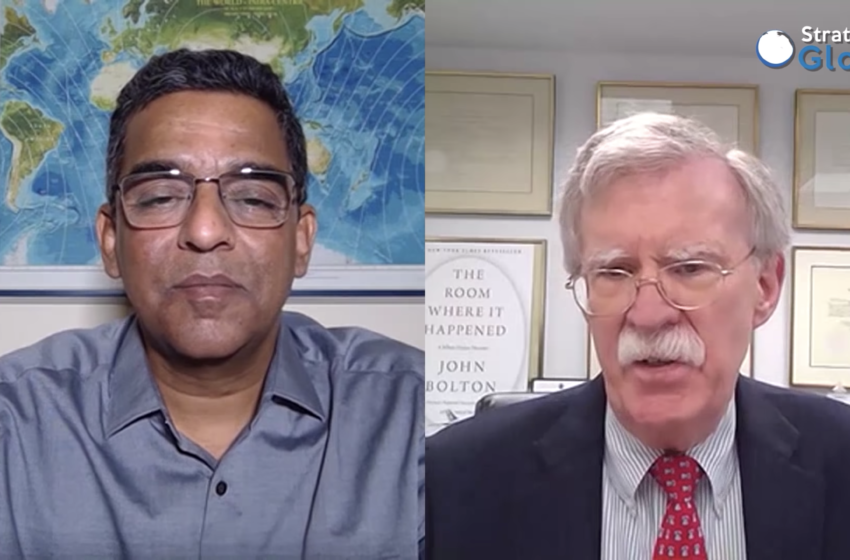 NEW DELHI: John Bolton is a hawk when it comes to Iran and it is no surprise then that the former US ambassador and NSA pulls no punches when it comes to the proposed 400 billion-dollar deal between Iran and China. He warns that all the major actors on the world stage need to take due notice of it.
'China-Iran Deal Will Increase Burden On US'
"The relationship between Iran and China is obvious – China needs energy, Iran has oil and gas. They're both moving to a status outside the international order through a variety of actions," Bolton said in an exclusive interview to StratNews Global.
Asked about what the larger implications would be if the proposed deal went through, he warned, "So far the US 'maximum pressure' strategy through sanctions had had an impact. The Iranian rial is currently at its lowest point now to the dollar then it has ever been. If the deal goes through it will certainly increase the burden on the US to make sure that Iran isn't thrown this lifeline."
'India Acted In Reasonable Self Defence'  
Currently on a world tour to promote his book, The Room Where it Happened: A White House Memoir Bolton chronicles his 17-month stint as NSA dwelling mainly on his now-bitter relationship with President Donald Trump and others in the White House. But Trump aside, the former NSA who has had a ringside view of international events as they happened in real-time, also spoke about the key role the US played behind the scenes in defusing tensions between India and Pakistan after Balakot.                            
"At that point (when Balakot happened) we were in Hanoi for the second summit between Trump and Kim Jong Un. Mike (Pompeo) and I, we were talking to key people in India and Pakistan to make sure the matter did not escalate. I said a few days later that I thought New Delhi had acted in reasonable self-defence and had acted in a fashion that allowed for prudent de-escalation."
'Doval And I Had A Good Professional Relationship'  
Asked who he had spoken to in India, the former NSA declined to go into details but stated that his Indian counterpart Ajit Doval was his chief point of contact.
"I was speaking to Ajit Doval primarily and to others as well. I think Mike and I were on the phone to him a couple of times. We have a good professional relationship and I wish – from a strategic point of view – we had been able to do more."
He said "The US-India relationship does have its complications and that needs to be worked out. I think in the coming years, this is something India and the US need to be spending a lot more time on and with our friends in the region like Japan and others."
'China's Engagement At LAC Was Deliberate And Pre-Planned'
Coming to China, Bolton pointed out that the world community, especially South Asian nations, needed to consider not just the current conflict but the larger pattern of Chinese behaviour especially in Asia. The Chinese role, he believed, needed to be watched especially when tensions between India and Pakistan rose as it usually had a ripple effect across the region.
Speaking about China's motivations for engaging India at the LAC, the former NSA was categorical that this was no accident.
"I think this was deliberate as they wanted to see what would happen. It's winding down now but the Chinese side had an objective in mind and now they are going to assess the Indian reaction. It's possible that another incident could happen six months from now that will appear disconnected from this recent attack."
'You have to look at China's behaviour as part of a larger strategy that they've thought through. We don't fully understand it, we don't see all the manifestations of it. But it is happening in real-time and I think India, the US and others need to be sharing their experiences so we can better understand what we are all facing in common."
'Trump Is Not Interested In Learning Very Much'
Bolton admitted that the main problem that he had with President Trump was getting him to pay attention as complicated foreign affairs issues did not interest the president.  The result in Bolton's own words was 'chaos.'
"Trump came to the job not very well informed on foreign policy issues. But he's also not very interested in learning very much and many of these issues which are complicated it's hard to get his attention. All of this ensures that he has trouble distinguishing between his personal rapport with foreign leaders on the one hand and the underlying bilateral relationship of the US with that country."
'Trump Did Not Want To Hear Bad News About Xi'
The former NSA believes that such an attitude coupled with Trump's tempestuous nature ensured that traditional allies were left confused, but other world leaders like Chinese President Xi Jinping have been able to take advantage.
"Trump has now rightly blamed China for the coronavirus and imposed sanctions which is the right thing to do now. But there should have been an overall strategy in response as early as January and February. There wasn't because the president didn't want to hear bad news about China and Xi Jinping. The result has just been chaos."