China Dominates Agenda, Leaders To Meet Face To Face This Year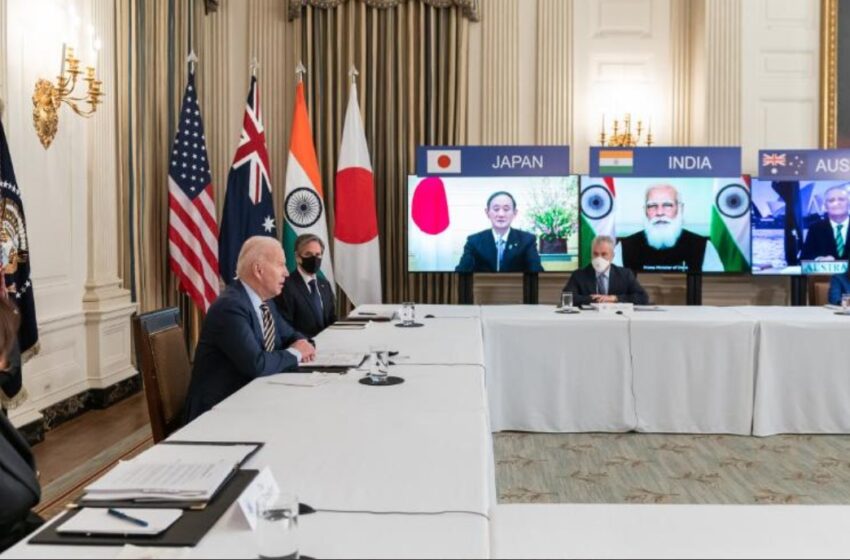 NEW DELHI: Finally, a joint statement at the end of the first Quad summit on Friday, which was virtual but with the promise of the four leaders (U.S. President Biden, Prime Ministers Modi, Australia's Morrison and Japan's Suga), gathering for an "in person" summit later this year.
At a briefing by Foreign Secretary Harsh Shringla, there was the obligatory reference to what the Quad stands for: "To create conditions for a free open prosperous and secure Indo-Pacific which we can identify with given our shared values of democracy, respect for the rule of law, peaceful settlement of disputes and the sovereignty and territorial integrity of all states."
Shringla was circumspect about details of the discussions between the four leaders saying: "I can't say what was discussed for obvious reasons as this was confidential but issues important to all of us were raised and there was a commonality of views including how to address them."
The Quad leaders addressed other issues thrown up by China's behaviour during the pandemic, the need to diversify from China-centred supply chains and build technological resilience. Shringla said the leaders have agreed to set up three working groups: a vaccine expert group, another group on critical and emerging technologies and a third on climate change.
"The vaccine initiative will leverage our collective strengths," said Shringla, "the U.S. has technology, India has manufacturing capacity, so India will make vaccines developed in the U.S., additional capacities will be created funded by the U.S. and Japan. The initiative will work with the Covax initiative, with the G7 ensuring close coordination. There will be huge investment in creating additional capacities in India with the plan to produce a billion doses by the end of this year and immunizing people in the entire region. The Quad could even create capacity for future pandemics."
The working group on critical and emerging technologies will look at biotechnology and artificial intelligence. If need be, strategic minerals such as rare earths could also be included.
Prime Minister Modi, in an indirect reference to China's fulminations against the Quad, pointed out that "India has always said that Quad does not stand against something, it stands for something which is positive, consideration for others, and the global good."
The situation in Myanmar came up for discussion. Quad leaders felt that given their strong democratic credentials, they need to work for the restoration of democracy. Modi's point was that as a neighbour, India wanted a constructive approach taking into account the needs and aspirations of Myanmar. He underscored that it was crucial to "work in a constructive manner."
There was no discussion on expansion of the Quad but there was mention of working in a collaborative manner with other countries in other regions. Germany, for instance, has guidelines on the Indo Pacific and France is working in the Indo Pacific. Holland and the UK were also seen as potential collaborators.