Biden, Xi Acknowledge Differences & Competition But Will Cooperate Where Necessary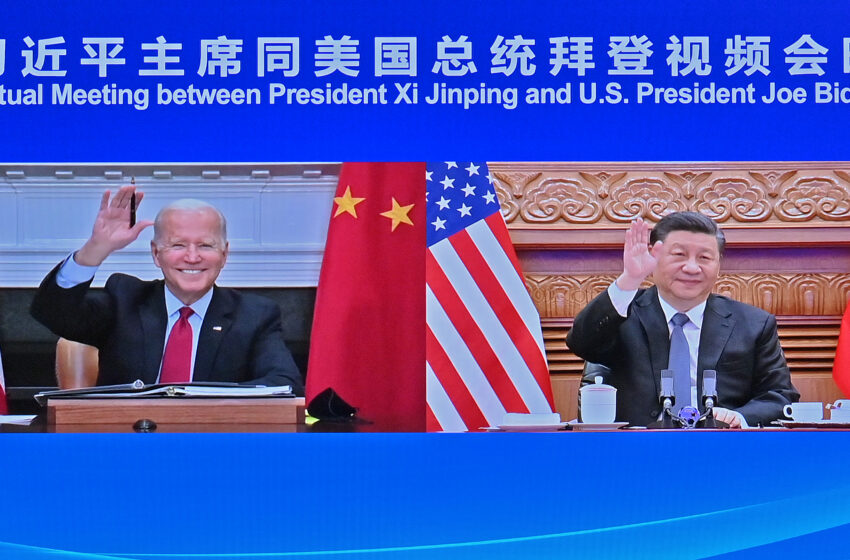 NEW DELHI: Presidents Biden and Xi Jinping set the tone early for the world's most awaited virtual conference. Their opening remarks, with Xi describing Biden as my "old friend", and the latter reciprocating that both leaders "had never been that formal with another", suggested that if not friendship, a new equilibrium would be found and reached by the two leaders.
During the three-and-a-half-hour-long virtual session, both sides left the message that the US-China relationship was getting back on track, albeit with caveats.
Speaking after the meeting, NSA Jake Sullivan described the talks as "candid" and "straightforward", underscoring that while the US was engaged in "intense competition" with China there was a need for both leaders to engage frequently. "Intense competition requires intense diplomacy. No substitute for the kind of leader-level dialogue that President Biden and President Xi have engaged in for many years and carried forward last night," said Sullivan on Tuesday.
Sullivan's reference to the two leaders as having a "long-term familiar relationship with one another" may cause US alliance partners and others to take notice. But there was more. Sullivan said there was a "genuine give and take" and that the summit was a "big and meaningful step forward", hinting that this administration wanted to move on from the era of confrontation to that of accommodation.
Was Taiwan off the table? There was no US reaction to China's foreign ministry spokesperson Hua Chunying's tweet earlier in the day, that those who intended to use Taiwan to contain China were "playing with fire" and were in danger of "getting burnt". Sullivan's response was a watered-down if factual statement on Taiwan.
"President Biden reiterated the US's commitment to the "One China Policy" which is guided by the Taiwan Relations Act in 1979. He reminded Xi that he had voted for the Taiwan Relations Act as a Senator and told the Chinese president that any effort to determine Taiwan's future by other than peaceful means would be of grave concern to the US."
Later Biden told reporters "We are not encouraging (Taiwan) independence … let them make up their mind."
It appeared to suggest he was not backing away from what is seen as a hardening of support for Taiwan. In recent months Biden has sent military instructors to the island and cleared the sale of F-16 fighters. Last month he said "Yes, we have a commitment to Taiwan's defence". Add to that, the setting up of AUKUS with the specific aim to contain China. The US side confirmed Biden raised tough questions about China's human rights practices in Xinjiang, Tibet and Hong Kong. Equally, Xi pushed back rejecting US critiques of democracy and human rights.
But the focus was on building a working relationship. So Sullivan, while acknowledging "real questions regarding transparency relating to the origins of the virus," also said "we still have to beat this pandemic and that will require the efforts of the US, China and rest of the international community all working together."
On the Indo-Pacific, Sullivan said Biden had conveyed to his Chinese counterpart that the US's vision of a "free and open Indo-Pacific" remained. He also stated that Biden had raised with Xi his "concern about the South China Sea and called upon China to respect rules "of freedom of navigation and overflight."
The reason for the US's new accommodative policy towards China is not hard to grasp. Beijing's willingness to step in and help the US salvage a deal at the COP-26 summit is just the beginning as Sullivan indicated. On foreign policy issues, the main among them being Iran and North Korea, the US NSA stated that there would be continued future dialogue between the two leaders which he stressed should then give way to talks between "special and empowered" interlocutors to ensure "multiple levels of engagement."
"The Iran nuclear issue is key for us. The negotiators will be back in Vienna at the end of the month and the two presidents will talk about how they can align their perspectives heading into that meeting so that the P5+1 is united on Iran and that Iran will eventually return to the JCPOA."
On the economy, US officials confirmed that Katherine Tai, US Trade Representative was engaged with her Chinese counterpart Vice Premier Liu He and that resolution of the Phase-I trade deal may be reached soon.
Cheng Li, Director, John L Thorton China Center at Brookings stated that while he supported this new bid for a "rational and practical" relationship he had doubts over whether it could bring the US-China relationship back on track. "There are profound changes in the geo-political landscape today which will make it difficult for the US and China to achieve normalcy. Also, President Biden lacks the political capital at home to sell the idea that an 'enemy' (China) can be someone the US can work with," he argued.
The summit was important to break the ice but there were no striking breakthroughs, only the acknowledgement that they had serious differences and competition would continue.