Modi Courts ASEAN, East Asia At Twin Jakarta Summits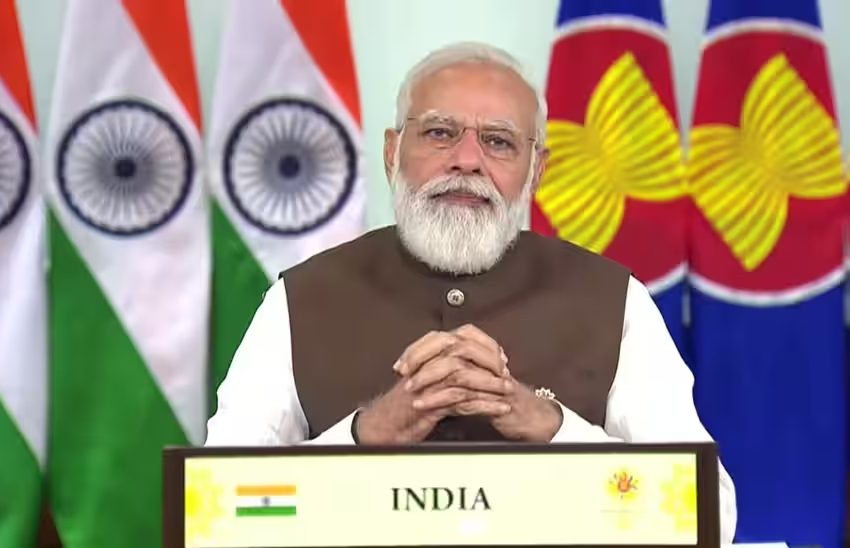 Prime Minister Narendra Modi heads into twin summits in Jakarta, Indonesia on Wednesday with nuanced aims in mind: at the India-ASEAN summit he will subtly reinforce the idea of India as a counter balance to China in the region, while at the East Asia summit involving ASEAN and eight dialogue partners (including the US, Japan, Australia, India etc), he will seek to underline India's presence on the world stage with the G20 as context.
The current geopolitical churn driven by the US decision to build supply chains leaving out China, and the latter's in-your-face-aggression whether in the South China Sea, the Himalayas or elsewhere, has helped India.  

Relations with the US have never been better, a factor which has enabled India to tie up deals for strategic weapons like UAVs, and consolidate ties with a slew of Washington's allies ranging from Japan and South Korea to Australia and of course, ASEAN.  
The last is firmly in focus with efforts on to finetune the 2010 India-ASEAN FTA. ASEAN has taken its time coming round to Delhi's demands for a review of the FTA given the estimated $43 billion surplus it enjoys.  That surplus causes heartburn in Delhi since it has come minus any movement on services (where India has an advantage given IT skilled workforce).  It's also about the inflow of cheap Chinese goods.
"We are trying to stop Chinese goods from coming in," noted a diplomat who served in the region, "but that's a game we are still to get a handle on."
Recent moves to stop the import of China-made devices like laptops and electronics backfired after industry protested. The effort now is to establish "trusted geographical sources", a euphemism for devices not made in China, but that will take time and it's unclear how successful it will be. In the meantime, the deficit grows.
"There is also the issue of competition from ASEAN member states," the diplomat pointed out. "Although seen as a predominantly trading entity, the group has built up some impressive manufacturing and technological strengths.  Vietnam, Thailand and Indonesia are manufacturing hubs deep into automobile batteries, electronics, technical textiles and so on."
Indonesia itself has an ambitious economic agenda, with plans to graduate to fourth largest economy status by 2045.  
While Western capital and technology is leaving China, the preference is for the three countries mentioned above, India is the laggard fourth.  The reasons are well known: bad work culture, conflicted social milieu, a political economy that lends uncertainty to long term investment etc.  Government efforts at 'ease of doing business' have worked but much more remains to be done.
In the area of maritime security India has fared better, helped in no small measure by the US.  Today, India's ability to monitor and potentially check any Chinese naval activity in the Indian Ocean has improved considerably.  This even as China continues to invest in its maritime assets:  case in point are Chinese coast guard vessels that are designed and equipped for "full force attacks" whether in the South China Sea or elsewhere.
India has taken a small step into these turbulent waters, supplying Brahmos missiles to the Philippines and a corvette to Vietnam.  More sales are likely going forward.  Modi's visit is seen as crucial to building on these breakthroughs, giving India greater elbow room to manoeuvre and strengthening strategic confidence.