India, Australia Elevate Ties; Malabar To Go Quad?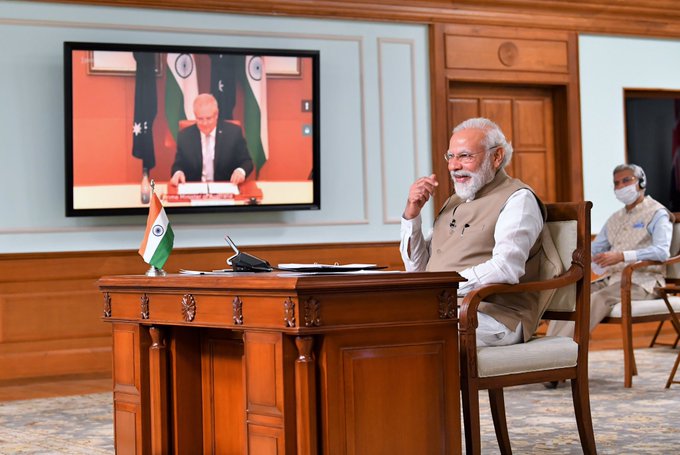 NEW DELHI: Australia didn't get an invitation from India to join the trilateral Malabar naval exercise due in July or August but Narendra Modi and Scott Morrison have taken the bilateral relationship to a whole new level by sealing a comprehensive strategic partnership during their virtual summit on Thursday. So Malabar may only be a formality with both sides resolving to "deepen navy-to-navy cooperation and strengthen maritime domain awareness in the Indo-Pacific region through enhanced exchange of information"
The two leaders also inked a military logistics pact and are elevating the 2+2 Dialogue to the ministerial level. The virtual summit lasted a little over one hour with seven pacts inked including an unusually detailed 'Joint Declaration on a Shared Vision for Maritime Cooperation in the Indo-Pacific'. The declaration made it clear that Delhi and Canberra are on course to tighten their strategic clinch, regardless of raised eyebrows in Beijing.
Indeed, defence is becoming one of the cornerstones of the India-Australia tango with Secretary (east) in the Ministry of External Affairs Vijay Thakur Singh conceding as much. "Defence cooperation is growing and the comprehensive strategic partnership is in recognition of that."
She said the military logistics pact comes under the ambit of the MoU on defence cooperation. "It will include extending support to each other on combined exercises, training and humanitarian and disaster relief operations."
While underscoring ASEAN centrality, the Indo-Pacific declaration targeted Chinese muscle-flexing in the maritime domain. "India and Australia are committed to supporting a rules-based maritime order that is based on respect for sovereignty and international law, particularly the United Nations Convention on the Law of the Sea (UNCLOS)."
China again was the target when the vision statement said that the two countries "have a shared interest in ensuring freedom of navigation and overflight in the Indo-Pacific region, and maintaining open, safe and efficient sea lanes for transportation and communication".
The two leaders noted that both countries had co-sponsored a recent resolution at the World Health Assembly seeking a review of WHO's actions on Covid-19. According to Vijay Thakur Singh, the two PMs also discussed WHO reforms with Modi suggesting that international organisations "need to be more dynamic" and need to have internal mechanisms for reforms.