Will Mohsin Beg Become Pakistan's Caretaker Prime Minister After Imran Khan's Exit?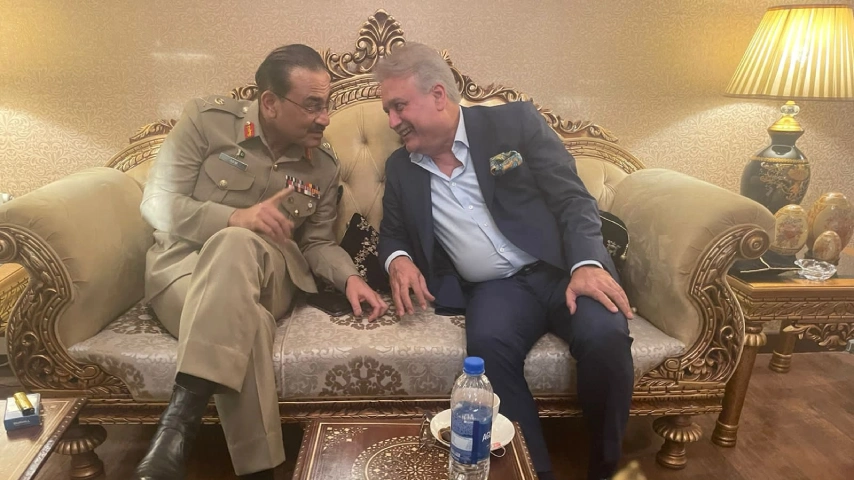 NEW DELHI: As the process to remove ex-Prime Minister Imran Khan from Pakistan's future political configurations continues unabated, there is considerable brainstorming within the establishment about holding general elections and the transition in between.
One of the areas of debate is who will be the interim Prime Minister, acceptable to all including the military, before elections are held later this year? It is here that the name of Mohsin Beg, a one-time ally of Khan is cropping up.

India Narrative has learnt that Beg, a well-known though controversial journalist, could fit into the caretaker Prime Minister's role as he is also a friend of Army Chief Asim Munir.
Khan fell out with Beg when he revealed that for eight years the rent for Khan's residence was paid for by none other than the American Consulate.
Speaking on a Pakistani news channel, Beg had said: "I am saying this on national television and he can sue me if he wants to, but I want to tell you all that Imran Khan has been fooling people in the name of an American conspiracy. The American Consulate used to pay his house rent for eight years. He is the real American agent."
Beg's bombshell blew a gaping hole in Khan's carefully choreographed narrative that his government was toppled in a no-confidence vote by the Americans who had turned hostile to him because of his government's independent foreign policy.
Khan had, in fact, repeatedly alleged that he met his downfall because of the exertions of David Lu—the assistant secretary of the US Bureau of South and Central Asian Affairs. Lu had apparently met Pakistan's ambassador to Washington in March last, where he was told that Khan must go in a no-confidence vote, which took place a month later.
In tune with the move for an interim arrangement, Jahangir Khan Tareen, who has nested a lot of the deserters from Khan's parent organisation, the Pakistan Tehreek-e-Insaf (PTI), is skating towards new horizons.
Tareen who has formed Istektam-e-Pakistan Party (IPP), left for the London on Sunday, in bid to tap Pak expat support for his new outfit.
According to The News International website, Tareen is expected to stay for over a week in the UK during which he will have meetings with the overseas Pakistanis and have his medical check-up. There are speculations that he could also have meetings with PML-N leaders in London.
Several heavyweights have left PTI to join IPP including Fawad Chaudhry, former governor Sindh Imran Ismail, Amir Kiani among others.
As Pakistan sinks deeper into economic morass, politicians have started focusing on expats as the possible silver bullet to bail out the beleaguered South Asian nation's economy.
In a Zoom call on Sunday with his fast-depleting stock of loyalists, Khan too spoke about the critical role that Pak diaspora could play in rescuing the sinking ship of the economy.
The ex-PM said that overseas Pakistanis trusted him, and he could ensure they invested billions of dollars once he came back to power, The News International reported. He added that overseas Pakistanis would never trust the ruling alliance led by the Prime Minister Shehbaz Sharif. He told party loyalists, who declared their all-out support, that his wife Bushra Bibi also supported him and stayed as solid as a rock.
Significantly, former foreign minister Shah Mahmood Qureshi, who is number two in the PTI hierarchy, was absent from the virtual meeting.
During the call, Khan said he alone could help lead the country out of its present economic mess.
(This article appeared first on indianarrative.com)