Will India Use Russia's Vladivostok Port To Import Critical Minerals From Mongolia?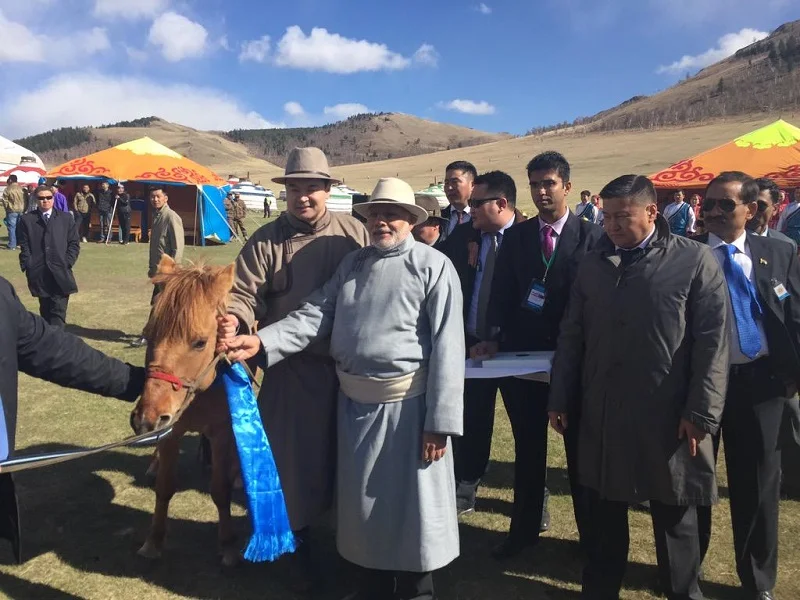 NEW DELHI: Mongolia, which has declared India as a 'spiritual neighbour', is hoping to build a firmer connect with New Delhi as Lok Sabha Speaker Om Birla visits Ulaanbaatar this week on a three-day visit.
Birla is expected to visit the construction site of the first oil refinery in Mongolia which is being built via India's single largest project of assistance under Line of Credit (LoC) of US $1.236 billion.

India's oil refinery project kicked off in January 2021 notwithstanding the Covid-19 enforced environment and once completed, has the capability of refining 1.5 million metric tonnes of crude per year—equivalent to approximately 75 per cent of Mongolian energy consumption.
Apart from India, the resource-rich country with abundant reserves of copper, iron ore, coal, gold, aluminium, and rare earth minerals, is also opening to investment in its mineral resource sector with several other countries.
Recently, the United States, France and China have expressed interest to explore opportunities to help Mongolia develop this sector.
Last week, the U.S. and Mongolia signed a Memorandum of Understanding (MOU) to jointly advance secure and resilient critical mineral supply chains in the Indo-Pacific region.
Nearly a month after Emmanuel Macron's visit to Mongolia, the first by a French president to the country, French Foreign Minister Catherine Colonna was also in Ulaanbaatar last week at the invitation of the Mongolian Minister of Foreign Affairs Battsetseg Batmunkh, vowing to deepen partnership in key sectors such as energy, critical metals, telecommunications, security and agriculture.
Strategically-located Mongolia, shares a 4600 km land border with China in the south and a 3600 km land border with Russia in the north. Consequently, Russian ports can become the natural gateway to transporting Mongolian minerals to India.
Already, India and Russia are deliberating on the Eastern Maritime Corridor (Chennai-Vladivostok Corridor), which could play a key role in channelling Mongolian products to India.
Unsurprisingly, the Mongolian side has already invited Russia to participate in the development of the country's transport network, especially in railway projects, including as a co-owner of the Ulaanbaatar railway.
At an event organised by the World Trade Center in Mumbai recently, Mongolian Ambassador to India Ganbold Dambajav urged Indian companies to consider Mongolia as the gateway to Russia, China, Europe and other countries.
"We can collaborate in areas such as food security, energy security, mining and infrastructure. We invite Indian companies to mine our rich gold, coal, lithium, copper and other reserves. Some of these minerals are critical raw materials for semiconductors, electric vehicle batteries and electronic goods. India's GAIL is setting up an oil refinery in Mongolia and we can explore further collaboration to meet the energy security of both the countries," said Dambajav.
He revealed that Mongolian President Ukhnaagiin Khurelsukh is planning a visit to India in November this year as both countries look at exploring several promising sectors for mutual collaboration.
"Mongolia already has north-south rail connectivity, linking Russia to China. We want Indian companies to build East-West railway corridor to connect our country with Southeast Asia," the Ambassador proposed.
He mentioned that Mongolia can also export its world-renowned Cashmere yarn to India for further processing and export of readymade garments.
"Geographically, Mongolia is half the size of India and we need technology and manpower from India for cultivation of crops and dairy farming to meet the food security of the world," Dambajav pointed out.
At the same event, Indian industrialist Vijay Kalantri, who is also the Chairman of WTC Mumbai, emphasised that at just about US $35 million, India-Mongolia bilateral trade volume is below the true potential and the Indian business community can explore the alterative trading route via Russia by bypassing China to strengthen the trade relationship.
India-Mongolia relations continue to prosper with Ulaanbaatar having seen some high profile visits from New Delhi ever since Prime Minister Narendra Modi's historic trip in May 2015 when the relationship between the two countries was upgraded to 'strategic partnership' and declared as an essential component of India's 'Act East Policy'.
Last September, in what was the first visit to the country by an Indian Defence Minister, Rajnath Singh held talks with President Khurelsukh—also the Commander-in-Chief of the Mongolian Armed Forces—emphasising that India considers the nation as its third strategic neighbour and attach special importance to it.
Earlier in June 2022, former Law minister Kiren Rijiju led a 25-member delegation to the Mongolian capital, carrying the ceremonial casket of Buddhist holy relics for Buddh Purnima celebrations.
India's historical connect and convergence in Buddhism with Mongolia forms the basis of deep, spiritual friendship between the two countries. It had allocated 10 dedicated ICCR scholarships for studying 'Tibetan Buddhism' for Mongolians at specialized institutes of Central Institute of Buddhist Studies (CIBS) Leh and Central University of Tibetan Studies (CUTS), Varanasi starting 2020-2021 to further consolidate the shared legacy between the two nations.
The Modi government has also committed to digitization of Buddhist manuscripts in the Gandan monastery besides reprinting about 100 sets of sacred Mongolian Kanjur (108 volumes each) for distribution in the main centres of Buddhism in Mongolia.
During his visit, Defence Minister Singh inaugurated a Cyber Security Training Centre and also laid the foundation stone of the India-Mongolia Friendship School – both constructed/being built with assistance from India.
(This article appeared first on indianarrative.com)