Why Hasn't The Myanmar Junta Boss Visited Beijing?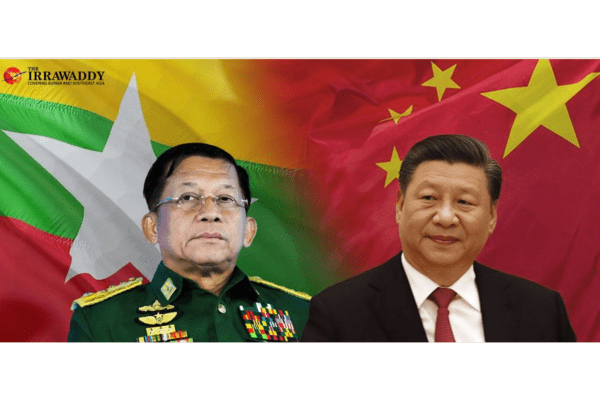 Given the Myanmar regime's warm relations with China, it is somewhat puzzling that junta leader Min Aung Hlaing has yet to make a trip to the country's huge northern neighbour since his 2021 coup, despite having made three trips to Russia, his other main ally. The answer is that Min Aung Hlaing has been trying to do just that since he seized power. But his attempts have been in vain, with Beijing turning down two requests from the junta leader to visit so far, according to sources close to the matter.
The reason for the rejections is not yet clear. While China has stopped short of extending an official invitation to Min Aung Hlaing, it otherwise maintains warm relations with the junta. Early this month, its foreign minister, Qin Gang, met the junta chief in Naypyitaw, becoming the highest-ranking Chinese official to visit Myanmar since the takeover.

Prior to Qin's visit, other Chinese officials—both from the government and the ruling Communist Party of China (CPC)—flew to Naypyitaw and met with Min Aung Hlaing.
Analysts say Beijing has adopted a policy of cautious engagement with the junta, politically distancing itself but maintaining a certain level of contact for the sake of its economic interests in Myanmar.
But this doesn't fully explain why a country like China, which has been internationally branded as one of the regime's allies, is so obviously holding Min Aung Hlaing at arm's length by not offering him an official visit to Beijing.
Some observers say China may be upset with the Myanmar junta leader for the social and political turmoil caused by his coup in Myanmar, which has derailed the Belt and Road Initiative projects in the country agreed under the ousted National League for Democracy (NLD) government.
China is one of the top investors in Myanmar and has strategic infrastructure projects in the country, including energy pipelines and a port giving Beijing a critical link to the Indian Ocean. China also continues to provide political and military support to ethnic armed groups based along the Myanmar-China border.
Chinese President Xi Jinping visited Myanmar in January 2020 and signed 33 memorandums of understanding (MOUs) and agreements with the NLD government. Among other things, the MOUs covered cooperation in sectors like infrastructure mega-project development, railways, industrial and power projects, trade, investment, and human resources—making it one of the largest set of agreements ever reached between the two countries. It's evident that, were it not for the political instability caused by Min Aung Hlaing's coup, some of the projects signed with Xi would now be under way if they had gone ahead as planned.
This was likely at the top of Qin's agenda when he met Min Aung Hlaing this month. The Chinese Foreign Ministry said the trip was aimed at further following through on the outcomes of Xi's 2020 visit and deepening practical cooperation on the economy, among other things.
As it tries to deal with the junta to secure its interests, Beijing is facing renewed anti-China sentiment in Myanmar. In addition to protests, some of China's major investments, such as twin oil-and-gas pipelines running from the Rakhine coast to southern China have become targets for some local anti-regime resistance groups. Observers note that such attacks were unheard of during the NLD government.
When the regime threatened to disband the NLD following the coup in 2021, China intervened, conveying to the junta's leaders a message that it wanted to see the NLD continue to exist as a political party. (The regime finally dissolved the party in March this year.).
It's likely that Beijing has approached the regime several times and requested that its officials be allowed to meet detained NLD leader Daw Aung San Suu Kyi, but to no avail. In April, when CPC International Liaison Department Director-General Peng Xiubin visited Myanmar, it is thought that he probably requested a meeting with Daw Aung San Suu Kyi and may have been rejected as he tried to reach out to some political parties. So he reached out to Daw Sandar Min, a former NLD official who had made a prison visit to Daw Aung San Suu Kyi, to learn about her health, the NLD and her future role, while stressing that Beijing regarded them as good friends.
In the meantime, Beijing's cautious approach to dealing with the junta remains evident. Apart from being reluctant to host Min Aung Hlaing, Beijing is careful in how it refers to him in official statements. In a press release on the heels of Qin's visit, the Chinese Foreign Ministry referred to the junta boss as 'Myanmar leader'. Min Aung Hlaing's official titles, such as military chief, prime minister and chairman of the regime's ruling body, the State Administration Council, are nowhere to be seen in the statement.
(By arrangement with 'The Irrawaddy')