U.S. Is With Israel, Says Biden, Blames 'Other Side' For Gaza Hospital Bombing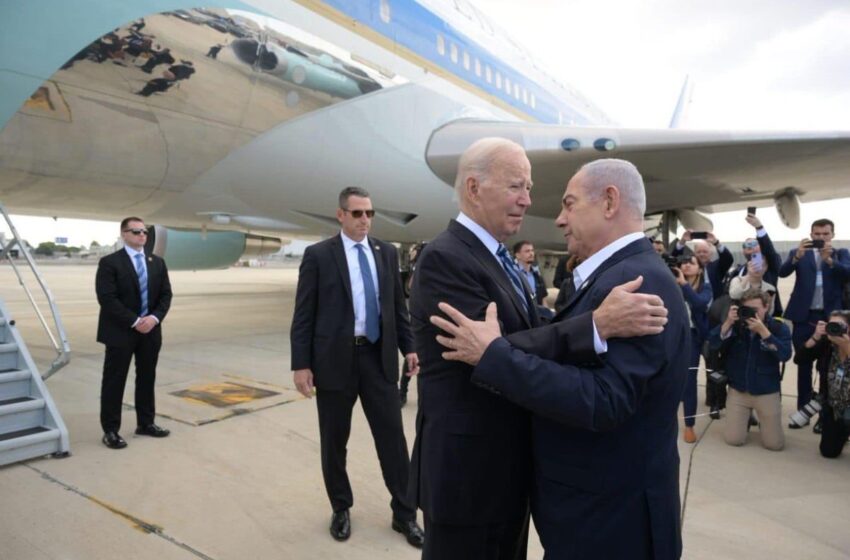 NEW DELHI: U.S. President Joe Biden seemed to have come to Israel with his mind made up. In a meeting with Israel's Prime Minister Benjamin Netanyahu, he made it clear that the U.S. would not just stand with Israel in its hour of need but also "continue to ensure that you have what you need to defend yourselves". Coming to the bombing of the Al Ahli hospital in Gaza on Tuesday, an act which the Israeli Defence Forces have blamed on the Islamic Jihad, the U.S. president said he supported Israel's view that the bombing had been carried out by the "other side".
"I wanted the people of Israel and the people of the world to know that the U.S. stands with them. I wanted to personally come and make that clear. We are going to continue to ensure that you have what you need to defend yourselves and we're going to make sure that occurs…I was deeply saddened and outraged by the explosion at the hospital in Gaza yesterday and based on what I have seen it appears as though it was done by the other team, not you," said Biden.

Biden's remarks did away with earlier reports that the U.S. would conduct an inquiry into the bombing and his support of Israel's stance suggested that he was not interested in pacifying Arab allies who have already refused to meet him. Jordan's foreign minister Ayman Safadi announced that Biden's summit in Amman which was scheduled to take place on Wednesday with Jordan's King Abdullah, Egypt's President Abdel Fattah El-Sissi and Palestinian Authority president Mahmoud Abbas had been cancelled.
"The scenes of 1948 and 1967 are still alive in the memories of refugees, Arabs and Jordanians, and we will confront it with all our capabilities. After consulting with our brothers in the Palestinian National Authority and Egypt and after talking with the United States, we decided not to hold the summit because they would not be able to make the decision to stop the war," Safadi said.
Biden's visit to Israel comes at a time when unprecedented American military resources are being mobilised towards supporting Israel. So far, two aircraft carriers are in the Eastern Mediterranean and three Marine warships are reported to be moving towards the region. A US marines rapid response force of 2,000 troops is also moving towards the region, a move that was remarked upon by Netanyahu who stated this "level of support is truly unprecedented in the history of the great alliance between our two nations".
"We see that support in our steadfast commitment to provide Israel with the tools we need to defend ourselves. We see that support in the message you've sent our enemies not to test our resolve and the two American battle carrier groups back up those words with action. Above all Mr President, the world sees that support and the moral clarity you have demonstrated from the moment Israel was attacked," Netanyahu told Biden.
Biden's visit and his remarks have sparked discussion in strategic circles with many trying to understand the intent behind the visit. According to West Asia expert Talmiz Ahmad, the purpose of the U.S. president's visit changed after the bombing of the hospital in Gaza. "My belief is that when Secretary of State Blinken had come earlier he had got very clear messages from Saudi Arabia and Egypt which he then conveyed to the president. This is why the president made the statement that there must be progress towards a Palestinian state on Sunday. My assessment was that he (Biden) would take up two visits: one to Jordan and the other to Israel where his agenda was to be to persuade Israel to take specific steps towards de-escalation possibly starting with persuading Netanyahu to step down and get a new national unity government consolidated," he said.
Ahmad added that the bombing of the hospital completely changed this scenario for the president. "The hospital bombing ensured that there would be no visit to Jordan as Jordan itself withdrew the invitation. It was also an indirect message by Netanyahu—the Israeli claim of a Palestinian group bombing the hospital is ridiculous—that he is not going anywhere, and neither is he taking any steps towards de-escalation. What this meant was that when the U.S. president landed in Tel Aviv, he reiterated traditional U.S. positions of support for Israel as there was no possibility of a political process happening."