Symbolism, Integration & Theatre Commands: Trilateral Approach To Tri-Service Synergy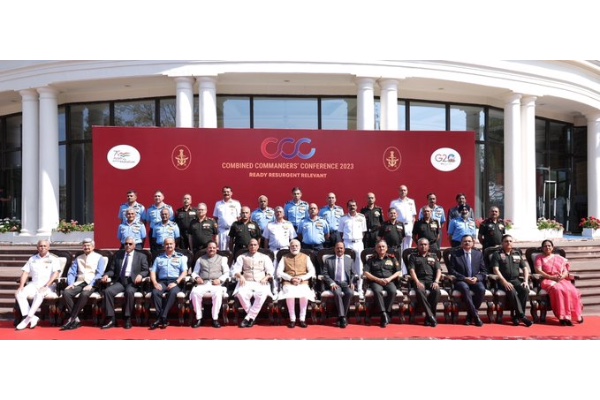 NEW DELHI: The much talked about and anticipated formation of joint theatre commands to enhance combat effectiveness of the Indian military is unlikely to happen in a hurry although a three-pronged process to achieve the final objective of forming a joint fighting force in the medium term is already underway.
That's the major takeaway from last weekend's Combined Commanders' Conference (CCC) that took place in Madhya Pradesh's capital Bhopal, multiple conversations with people in the know indicate. The Prime Minister, Raksha Mantri Rajnath Singh and National Security Adviser Ajit Doval were briefed about the process of achieving jointness and integration and the eventual formation of joint theatre commands.
In the six months since Gen. Anil Chauhan was appointed India's second Chief of Defence Staff (CDS), three parallel tracks are clearly evident in the way the current military chiefs are approaching the eventual objective. The first thread involves creating a sense of jointness among the personnel of the three services, a rather difficult outcome to quantify. The three services also seem to have realised that optics are important to project an integrated force so discussions on adopting visible symbols that demonstrate jointness are now taking place. So for instance, an Air Force contingent is likely to be part of an Army Day parade and an Army contingent may be seen at a Navy Day parade and so on.
Similarly, it has now been decided that only one crew of camerapersons drawn from a single service will be assigned the task of recording important tri-services functions instead of the usual practice of having three different crews drawn from respective services. At the Bhopal Conference, since the Indian Navy was the lead service in organising the event, only a Navy crew was assigned the task of photographing the VIPs. There is also a proposal to have ADCs for senior military leaders drawn from the service other than their own. Admittedly these are only token gestures but steps seen as essential to start breaking down the rigid silos that have existed in the Indian armed forces for decades.
The second track involves integration of methods, processes, operating procedures, achieving commonality in logistics, human resource policies and assessing annual performance just to mention a few. This strand of physical integration of assets and methods is the most difficult to achieve but the process has already begun. The third and final step is to create joint structures for actual war fighting, variously described as joint or theatre commands, which seems to be at least 15 to 20 months away. The recent introduction in Parliament of a bill to empower the government to constitute inter-services organisations and provide disciplinary and administrative powers to their commanders is a step towards empowering the new structures. The Inter-Services Organisations (Command, Control and Discipline) Bill, 2023, was introduced by Minister of State for Defence Ajay Bhatt in Lok Sabha.
CDS Gen. Anil Chauhan and the three service chiefs—Gen. Manoj Pande, Air Chief Marshal VR Choudhury and Adm. Hari Kumar—have made sure that they have shared this framework with serving officers at various interactions in Category A training institutions from the Defence Services Staff College (DSSC) to the National Defence College (NDC) and during their field visits. The military brass has also briefed veterans at various interactions to keep them abreast of the plans for integration.
Prime Minister Narendra Modi who joined the CCC on 1st April—the concluding day of the three-day gathering—listened to and conversed with Commanders-in-Chief as well as personnel below officers rank during his entire time there. His big message to the military leadership was to make sure joint warfighting concepts are imbibed quickly and implemented expeditiously to be an effective force in the fast changing global situation.
Stressing the need to become self-sufficient in defence manufacturing and optimisation in procurement to avoid duplication, the Prime Minister reportedly instructed the top military leadership and officials from the MoD as well as Defence Research and Development Organisation (DRDO) to adopt reforms in their functioning to remain relevant. This was in keeping with the conference theme 'Ready, Resurgent, Relevant'.
Modi apparently reiterated that the military leadership and those in the MoD must encourage more Indian private sector participation in defence manufacturing, shedding their decades-long habit of playing safe by either importing defence equipment or placing orders with Defence Public Sector Undertakings (DPSUs). There is no option but to become atmanirbhar (self-reliant) in defence as far as possible, he is reported to have told those present.
However, the Prime Minister has left it to the military leadership to evolve a roadmap to form joint commands within a reasonable timeframe. Chief of Defence Staff (CDS) Gen. Anil Chauhan led the briefing session for the Prime Minister on the final day which was followed by extensive discussion and interaction with commanders.
On the first day, the C-in-Cs deliberated upon different aspects of current and emerging challenges and ways to improve efficiency in procurement and induction of equipment in the three services as well as the ways to achieve smooth absorption of the freshly recruited agniveers. On the second day, the CDS briefed Raksha Mantri Rajnath Singh and updated him and other MoD officials on various issues of coordination between the services, Department of Defence, Department of Defence Production and DRDO.