SCO Summit: Low Outcomes Likely As Ukraine War Shadow Looms Large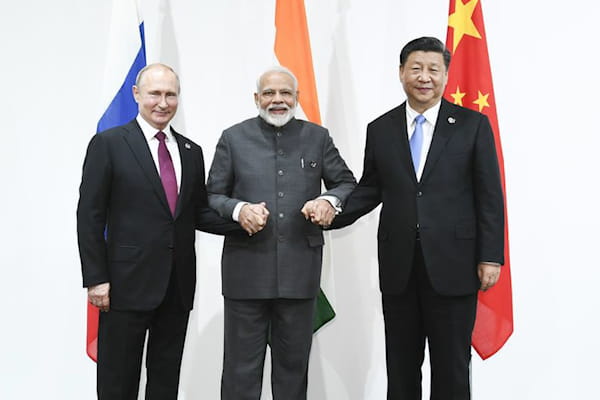 NEW DELHI: Less than two weeks ago, Prime Minister Modi was in Washington on a high profile visit with very successful outcomes in terms of military and technological cooperation. And in 10 days, Modi will be in Paris on what is widely expected to be another high profile visit with strategic outcomes.
Sandwiched in between, on Tuesday, is the summit of the SCO (Shanghai Cooperation Organisation), to be hosted by Prime Minister Modi. Nine heads of state will grace the summit, not personally but online, which means it may fail the optics test.
There's another problem. The summit is taking place at a time when Russia is mired in the war in Ukraine, and is internationally sanctioned and isolated by the West. China is seen as Moscow's chief backer and while not under sanctions, is under pressure to stop supporting Putin. In this situation, what are the possible outcomes?
P S Raghavan, former ambassador to Russia and currently chair of the National Security Advisory Board, says "SCO joint statements tend to be very standard, and do not move the needle much. The statement may be very circumspect on the Ukraine war, and criticism of Russia will be most unlikely."
India will have no issue with that but will balk at criticism of the West, its role in the Ukraine war and so on.
"It is difficult to see how the SCO can draft a meaningful statement on the global geopolitical landscape, because we cannot go along with the strong language that Russia and China may want," says Raghavan, adding that "nor is the joint statement likely to give us satisfaction on issues important to us, such as support for India's permanent UN seat aspirations, or strong condemnation of terrorism, since China has been preventing this for years and will now be joined in this by Pakistan."
Also, India's opposition to China's Belt & Road Initiative means it will not go along with the majority SCO members that are expected to endorse it.
As an organisation the SCO is important for India. Membership of this group enables India to distinguish its interests from those of the Western-led security architecture. It helps this country remain engaged with Russia and China and is a valuable connect with Eurasia. So, India is not going to walk away from the SCO.
Nevertheless, for the reasons underlined above, and Modi's own crowded diplomatic calendar (don't forget the G20 summit later this year), the SCO summit may suffer in comparison to other summits, in the recent past in otherwise.