PM Leaves For BRICS Summit, No Clarity Yet On Meeting Xi Jinping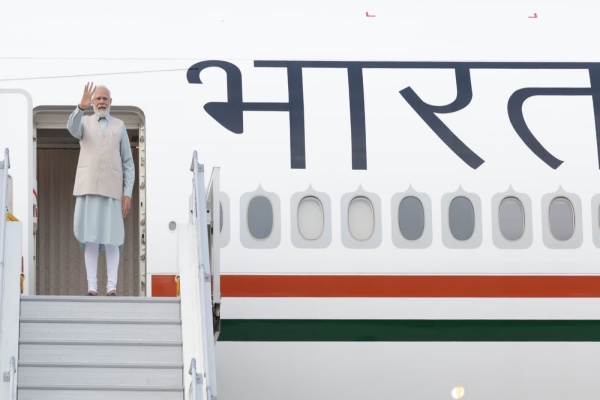 NEW DELHI: The tourist brochures say the months from May to September are the best time to visit South Africa, and the "wildlife viewing is excellent".
Prime Minister Narendra Modi will have enough time to sample South Africa's salubrious temperatures when he arrives at Waterkloof air base in Johannesburg on Tuesday afternoon. But his agenda at the BRICS (Brazil, Russia, India, China, South Africa) summit is too crowded to warrant any "wildlife viewing".

Of course, the million-dollar question is whether a bilateral meeting with China's President Xi Jinping is on the cards.
Briefing the media on Monday, Foreign Secretary Vinay Kwatra remained non-committal, only saying: "The Prime Minister`s schedule in terms of bilateral meetings with those leaders who would be present in South Africa is still being developed."
Modi did exchange greetings with President Xi at the G20 dinner hosted by Indonesia's President Joko Widodo in Bali, Indonesia, in November last year. It was their first handshake since the Sino-Indian border became hot following the PLA's attempt to forcibly change the ground situation in eastern Ladakh in April 2020.
Over 19 rounds of negotiations since then have failed to break the ice, although talks at the level of major general between the two sides days before the summit, led to speculation that a compromise may be imminent. A compromise would justify a meeting between the two leaders.
Modi is accompanied by senior officials and a high-profile business delegation from India to "attend the Business Tracks meetings and also the meetings of the BRICS Business Council, BRICS Women Business Alliance and the BRICS Business Forum", Kwatra said.
This summit is significant given the large number (70+, including Saudi Arabia, Argentina UAE and Egypt as prime candidates) of nations, signalling their desire to join this grouping. BRICS is seen as an opportunity to insulate nations against Washington's ability to unilaterally 'weaponise' the dollar against any nations that fails to toe its line.
This will be the first in-person BRICS summit after three years of virtual meetings due to the Covid 19 pandemic. New Delhi believes the grouping is an important platform for global multipolarity which could help build a "fairer, inclusive and open international architecture," Kwatra said.
According to some estimates, the New Development Bank launched by BRICS in 2014 could have a corpus of US $350 billion, which would exceed funds available to the World Bank. More members would obviously add to this considerable economic clout.
New Delhi, while agreeing in principle to the idea of an alternative to the dollar and a multipolar world economic order, has concerns over China's attempts to offer the yuan as the other currency of choice.
Which is perhaps why Kwatra, after noting that "we have been very clear that we have a positive intent and an open mind when it comes to BRICS expansion," quickly added that the "substantive part" of talks on economic cooperation have been on increasing trade in national currencies and there are "several prerequisites before you can even talk of a common currency framework".
Asked about trade settlement in rupees with the UAE, he said initial shipments and payments had been completed with the UAE, and India will frame a standard operating procedure and initiate discussions with the business community on leveraging this.
Modi will participate in the BRICS Business Forum leaders' dialogue before attending the leaders' retreat, where the agenda is likely to include global challenges and the role of BRICS in addressing them.
The main summit on August 23 will have two sessions – a closed plenary on issues related to ramping up intra-BRICS cooperation, ways to reform the multilateral system and counter-terrorism, followed by an open plenary which will have organisations such as the New Development Bank and BRICS Business Council in attendance. Global economic and geopolitical challenges, sustainable development goals (SDGs), and priorities of the Global South are likely to be high on the agenda.
The next day, PM Modi will attend the BRICS-Africa outreach session and the BRICS-plus dialogues, as well as hold some bilateral meetings with other leaders.
Also see: