Pak Blast, A U.S. Nuclear Sniffer Plane And A Pinch Of Salt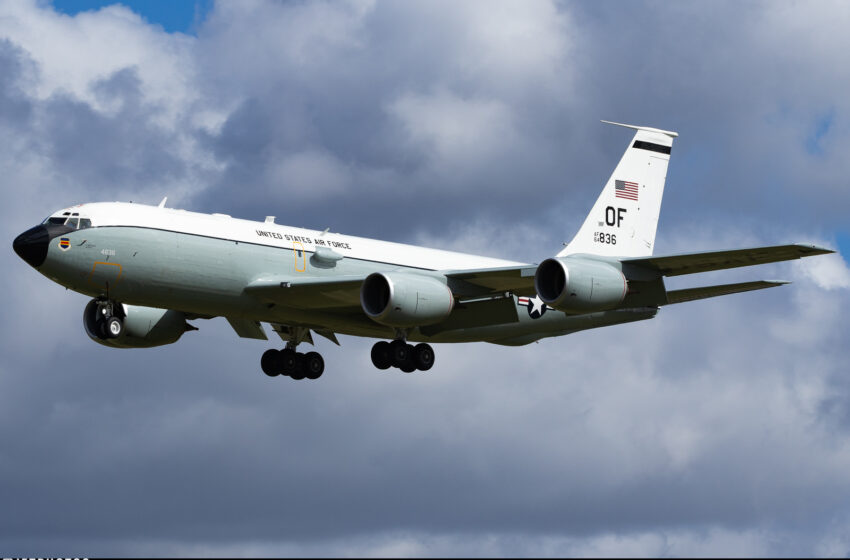 NEW DELHI: Speculation about a powerful explosion which rattled Dera Ghazi Khan in Pakistan's Southern Punjab Province, the country's largest nuclear centre, on October 6 was revived when a low-flying American 'nuclear sniffer' aircraft was tracked flying in the region last week. 
The loud blast at DG Khan was apparently heard in the nearby provinces of Balochistan and Khyber Pakhtunkhwa, more than 25 km away. 

More than decade ago, in September 2012, Pakistani media reported that massive contingents of the Army and Punjab police were deployed to protect nuclear installations  in Dera Ghazi Khan (DG Khan) following "serious' security threats from the homegrown Taliban".
"DG Khan houses one of the largest nuclear facilities in the country, and has faced the first-ever serious security threat from the Tehreek-e-Taliban Pakistan (TTP)," a high ranking military officer serving at the installation told The Express Tribune, a Pakistani daily. 
"According to an official who works at the Pakistan Atomic Energy Commission, a key military and civilian fuel cycle site is located 40 kilometres from DG Khan. The site comprises uranium milling and mining operations, and a uranium hexaflouride conversion plant," the Tribune report said. 
This time, the social media frenzy, particularly on X, formerly Twitter, fuelled further panic, with videos purportedly showing military convoys and emergency services rushing to the area. Internet services were apparently cut off in the area for a while.
By late afternoon, however, DG Khan Commissioner Nasir Mehmood released a statement and a video on social media saying "an explosion was heard in the city at noon," but various security agencies and eyewitnesses had categorically refuted reports of a bomb blast or other incident. The noise was likely caused by the "breakage of sound barrier", by a military aircraft, he said, adding that such incidents were "normal".
The next day, the Hamas attack on Israel ruled the headlines, and DB Khan was all but forgotten.
Until reports citing Flight Radar24, a popular flight tracker that shows air traffic in real time, started surfacing on social media, noting that an WC-135R, a U.S. Air Force 'nuclear sniffer' aircraft with the callsign ATOM36, had travelled along the east coast of the subcontinent on October 10.
The plane, which had landed at the 60-acre Al Udeid U.S. Air Force base in Qatar days earlier from the UK, flew at a relatively low altitude, often descending to 7000 feet, and passed Karachi before turning south along the Indian coast and flying all the way to the Lakshadweep Islands before turning around and retracing the same route back to Qatar.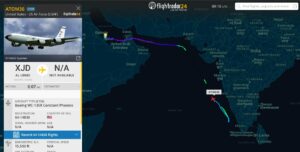 Keyboard warriors on X were quick to link the flight to the October 6 explosion at DB Khan. 
The Boeing WC-135R Constant Phoenix is an atmospheric collection aircraft which conducts air-sampling operations to support the Limited Nuclear Test Ban Treaty of 1963 which prohibits members from testing nuclear weapons in the atmosphere, outer space and underwater, but allowed underground tests as long as radioactive debris was not present outside the territorial limits of the country that conducted the test.
The WC-135W, which has a unique suite of cutting-edge equipment — including a Whole Air Collection System which collects airborne particulates onto filter paper so that they can be analysed later; a Directional Gamma Sensor System and a Radiation Monitoring and Analysis System (RMAS), played a major role in tracking radioactive debris from the Soviet Union's Chernobyl nuclear plant disaster in April 1986. 
While the plane's exact mission remains unknown, Indian aviation and nuclear experts pointed out that DB Khan was almost 678 km or 366 nautical miles from the Pakistani coastline. "Our nuclear plants at Kakrapar in Gujarat, Tarapur in Maharshtra, and Kaiga in Karnataka, for example, are much closer to the coast," said a Chennai-based retired nuclear scientist.
"Besides, a nuclear incident, deliberate or accidental, is almost impossible to hide in today's hyper-paranoid, always awake world," he said. "One, apart from any such explosion immediately raising flags at seismic stations across the world, you cannot contain the spread and direction of the deadly radioactive fallout," he noted, "And if indeed there was a nuclear incident in a heavily populated province like Punjab, by now the whole world would have known."
Also, a USAF aircraft like that would certainly not fly so close to the Indian coastline without specific permission or at least knowledge of the Indian authorities, so the chances are that it was on a routine calibration mission before being deployed around Iran, "which the Americans believe can produce a nuclear weapon within a couple of weeks," he said.
"So without absolutely credible, verified information, I for one would take such reports about a nuclear mishap in Pakistan with a pinch of salt," he concluded.