Modi's Egypt Visit: Strategic Outcomes But No Big Ticket Deals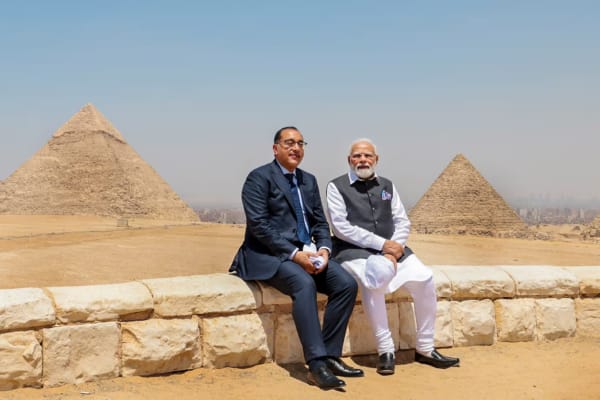 NEW DELHI: Prime Minister Modi's state visit to Egypt last week, the first since 1997, seemed to lack substance. The Ministry of External Affairs website listed an MoU on agriculture and land reclamation, another on the preservation of ancient monuments, cooperation "in the field of competition laws", an IT centre of excellence in Cairo and direct flights between the two capitals.
The one "substantive" agreement was Egypt joining the ranks of India's 30-odd strategic partners (ranging from the US, Canada and China at one end and Mongolia at the other). Does that imply Egypt is in the market for Indian military hardware? SIPRI lists Egypt among the top 10 arms importers over the last five years so Delhi is hopeful. But the Egyptian military tends to buy Western (chiefly American) arms and equipment, so India has a hard sell ahead.

The press release on Modi's talks with President Abdel Fattah Al Sisi was couched in generalities: it lauded the setting up of an 'India Unit' in the Egyptian cabinet, called for cooperation in trade, IT, defence and security, cooperation in the G20, and cited common concerns in other areas including food and energy insecurity.
The visit did indicate Cairo is keen on drawing Indian investment in key areas including the Suez Canal Economic Zone. Its chairman Walid Eldien offered India "an exclusive industrial and logistics hub cluster which will serve as a strategic gateway for Delhi to expand its market reach."
In an article in The Hindu published just before Modi landed in Cairo, Mahesh Sachdev, Arab scholar and former diplomat, noted that India is ideally placed to supply Egypt's imports of refined petroleum, wheat, corn, cars and pharmaceuticals.
"With 49 mega projects including the construction of a new Cairo ($58 billion), a $25 billion nuclear power plant and $23 billion high speed rail network … these present opportunities for India," he wrote.
But there's a big caveat, Sachdev noted. "Egypt's foreign debt is over $163 billion (43% of GDP), and its net foreign assets are minus $24.1 billion. The acute forex situation compelled the government to issue in Jan 2023 an order for the postponement of projects with a large foreign currency component and cuts to non-essential spending."
In other words, Cairo's ability to repay is in serious doubt and India does not want a repeat of the Iraq experience of the late 1980s and 1990s, when the Indian tax payer had to compensate Indian construction companies for work done there. Egypt's economic situation requires India to be cautious, therefore the absence of any financial package or credit line from Delhi. This could change going forward if Egypt's economy improves and it carries out the tough reforms required by the IMF. But for now its wait and watch.
The strategic partnership with Egypt could facilitate a dialogue on a growing Indian concern. Talmiz Ahmad, former diplomat and ambassador to Saudi Arabia, says India should extend its naval presence in the Red Sea since an estimated 10% of the world's oil and 8% of LNG transit these waters to and from the Suez Canal.
"If India expands its naval presence in the Red Sea it should also take an interest in the East Mediterranean. Egypt is an active role player in the East Mediterranean where it has two new bases, one in the Mediterranean coast and the other in the Red Sea. This becomes crucial as Egypt holds huge gas resources in the region which India has so far not exploited because most of its energy needs are met by the Gulf till date. Given the volatility of the region India would do well to explore this option with Egypt," he argues.
Looking ahead, there will be more opportunities for the two countries to take their dialogue forward. Egypt wants to join the BRICS, is a dialogue partner of the SCO and has been invited for the G20 summit in Delhi as "guest country".