Maldives Presidential Polls: Solih Faces 'Friends' And Foes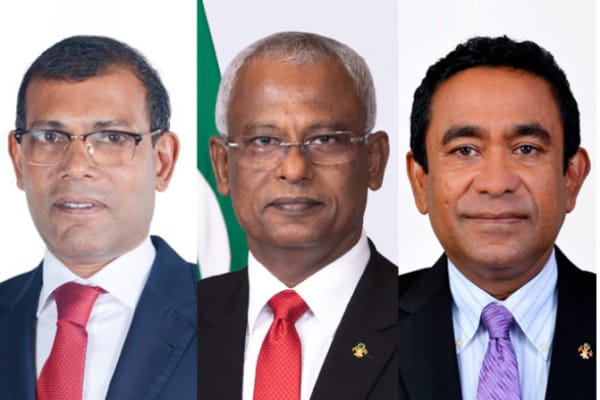 NEW DELHI: To repeat a tired cliché: politics is the art of the possible where today's friends are tomorrow's foes.
Witness the Maldives where incumbent President Mohamed Solih of the ruling MDP, is running for a second term in elections due next month. His main rival is former ally Mohamed Nasheed, who has formed a new party and has hinted he is not averse to joining hands with former rival and president Abdulla Yameen's Progressive Party of Maldives (PPM).

Yameen, who became the country's second elected president after he defeated Nasheed in the 2013 elections, is known for his virulently anti-Indian and pro-China policies. His term was marked by allegations of human rights violations, corruption and huge Chinese debt. After his defeat in 2018, he was convicted for money laundering and corruption and sentenced to 11 years in jail. On August 6, the country's Supreme Court endorsed the election commission's refusal to let Yameen contest the 2023 elections.
The line-up against Solih include lawmaker Ilyas Labeeb nominated by Nasheed's new party, Mohamed Muiz who is backed by Yameen, Faris Maumoon, son of Maumoon Abdul Gayoom, who ruled Maldives for 30 years before it embraced democracy, businessman Qasim Ibrahim and two former ministers, Umar Naseer and Mohamed Nazim.
Under Solih, the Maldives is a vocal advocate of an "India First" policy, while also maintaining a cautious engagement with China. Delhi has reciprocated with a $1.4 billion financial assistance package in December 2018. This includes a $400-million line-of-credit offered by India's Exim Bank at 1.7 per cent interest rate, which is returnable over 20 years with a five-year grace period. This is in sharp contrast to China's opaque terms for aid and assistance during Yameen's term.
Then there's the $500 million Greater Malé Connectivity Project, which involves a 6.74-km sea bridge connecting Malé to three other islands: Hulhule, which houses the airport, the reclaimed suburban island Hulhumalé with Gulhifalhu Port and the Thilafushi Industrial Zone. This is expected to ease the population congestion in Male, which sociologists say is responsible for the high rates of divorce, drug abuse and crime in the capital.
In an address to the nation in March 2022, Solih noted that "In the last two years, India has generously aided us on many occasions. India donated the most number of vaccines. India purchased financial bonds worth $250 million to help recover our economy. We received a lot of equipment from India essential to provide health services".
A travel corridor was opened to ensure continued tourist arrivals, and India also eased access for Maldivians needing urgent health care, a privilege not afforded to any other country.
Solih and Indian Prime Minister Narendra Modi have travelled to each other's nations twice since then, and there has been of flurry of bilateral visits by senior officials from both nations.
In January, External Affairs Minister Dr S Jaishankar visited the Maldives for the ground-breaking ceremony of the India funded Hanimaadhoo International Airport Development Project. He then gifted two sea ambulances to the country and inaugurated a large community centre funded by Indian aid.
Another major facet of the long-standing bilateral relation is defence, which had taken a bit of a beating during Yameen's term.
Since the early 1990s, India has helped build and strengthen the country's defence infrastructure capabilities, which includes not just supplying ships, aircraft, radars and other military hardware and equipment, but also joint exercises, patrolling surveillance and training. Some reports indicate that over 70 per cent of the training needs of the Maldives Defence Forces, which comprise less than 5000 trained troops, are provided by India.
During a three-day visit to Male in May this year, Defence Minister Rajnath Singh met Solih and reiterated that the strong strategic and cooperation between the two nations were based on India's twin policies—Neighbourhood First and Security and Growth for All in the Region (SAGAR). He laid the foundation stone of a harbour and handed over a Fast Patrol vessel and a Landing Craft Assault ship to the MNDF.
However, Nasheed has used this, particularly the posting of 75 unarmed Indian troops to assist with operating the Dornier Recon aircraft gifted by New Delhi, to accuse Solih of compromising the country's sovereignty.
It is therefore not surprising that New Delhi is watching the political developments closely. A divided MDP and Nasheed's potential to shift foreign policy priorities, or a victory for Yameen's party, could undermine the efforts and progress made in recent years.
Related links: