Flutter On Chinese Social Media As New Covid Variant Strikes
"My throat is hurting"
"I have no smell"
"I am sneezing from past 5 days"
NEW DELHI: Over the last week, Weibo, China's Twitter equivalent, was inundated with people complaining of all of the above and more. Was it an influenza epidemic? Could it be Covid again?

The term trending on Weibo was "Eryang", meaning somebody previously infected with Covid who made a full recovery, and is infected again. The new offending strain is the Coronavirus XBB variant, which spread panic on Weibo. People anxiously asked about symptoms and what precautions to take, while others shared photographs of how they isolated themselves, what medicines they took and the results from RT-PCR tests.
Eryang was trending despite stringent censorship that curbs the spread of Covid-related hashtags. In fact, the censors ensured hashtags from the China-Central Asia summit in Xian predominated, also anti-G7 hashtags. The idea obviously was to convey all is well, reassure the public and not spook the economy.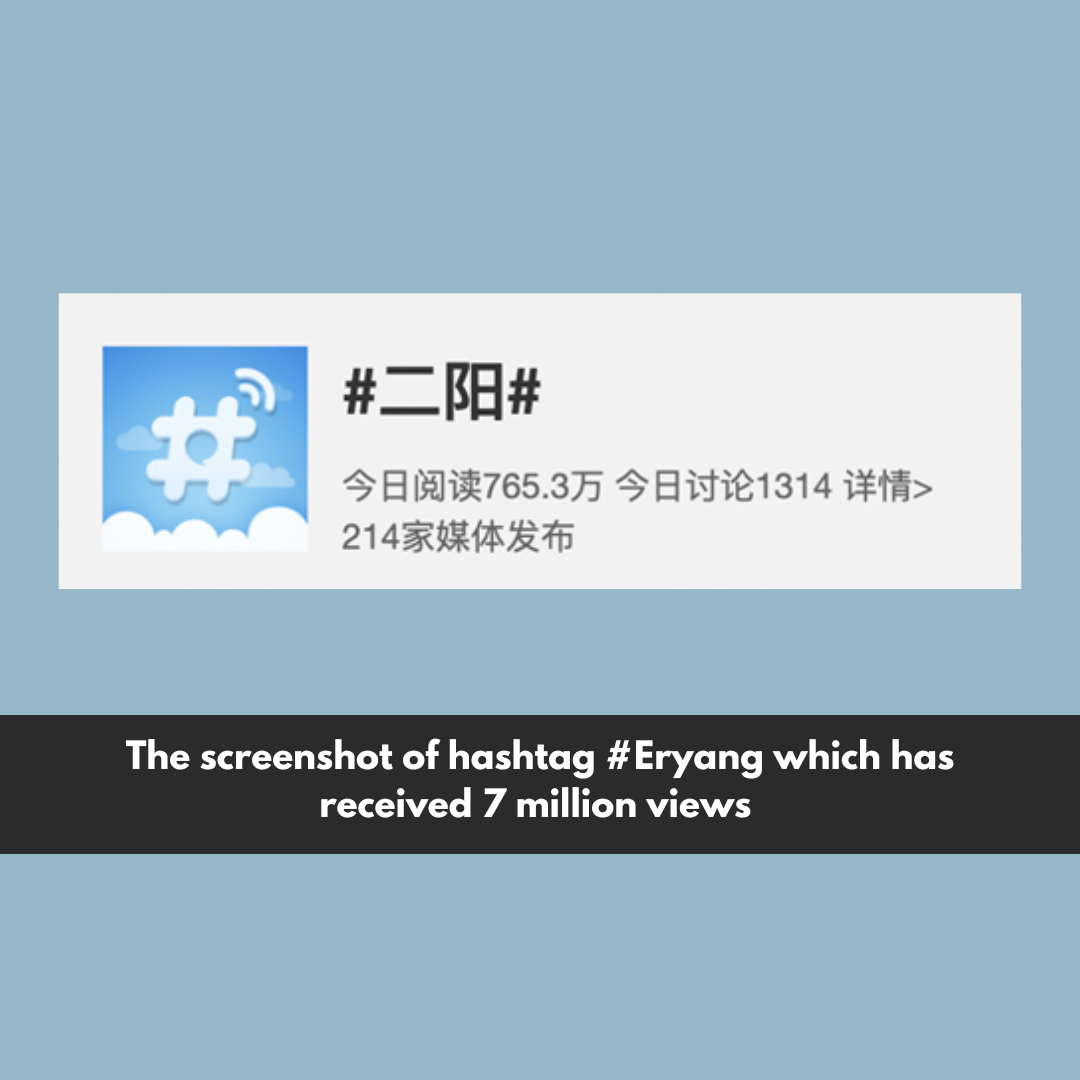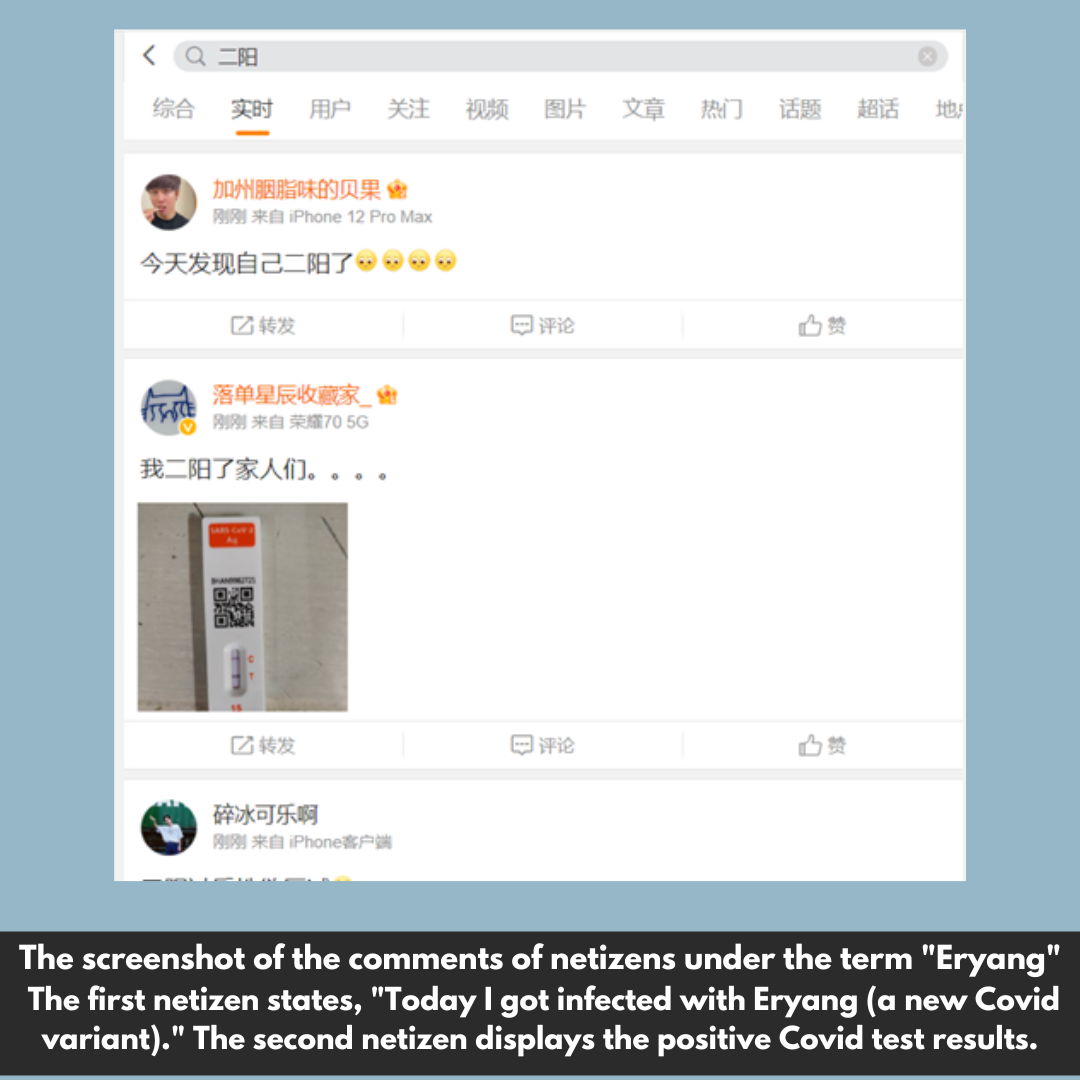 But what has to come out eventually does. Note this comment from a netizen: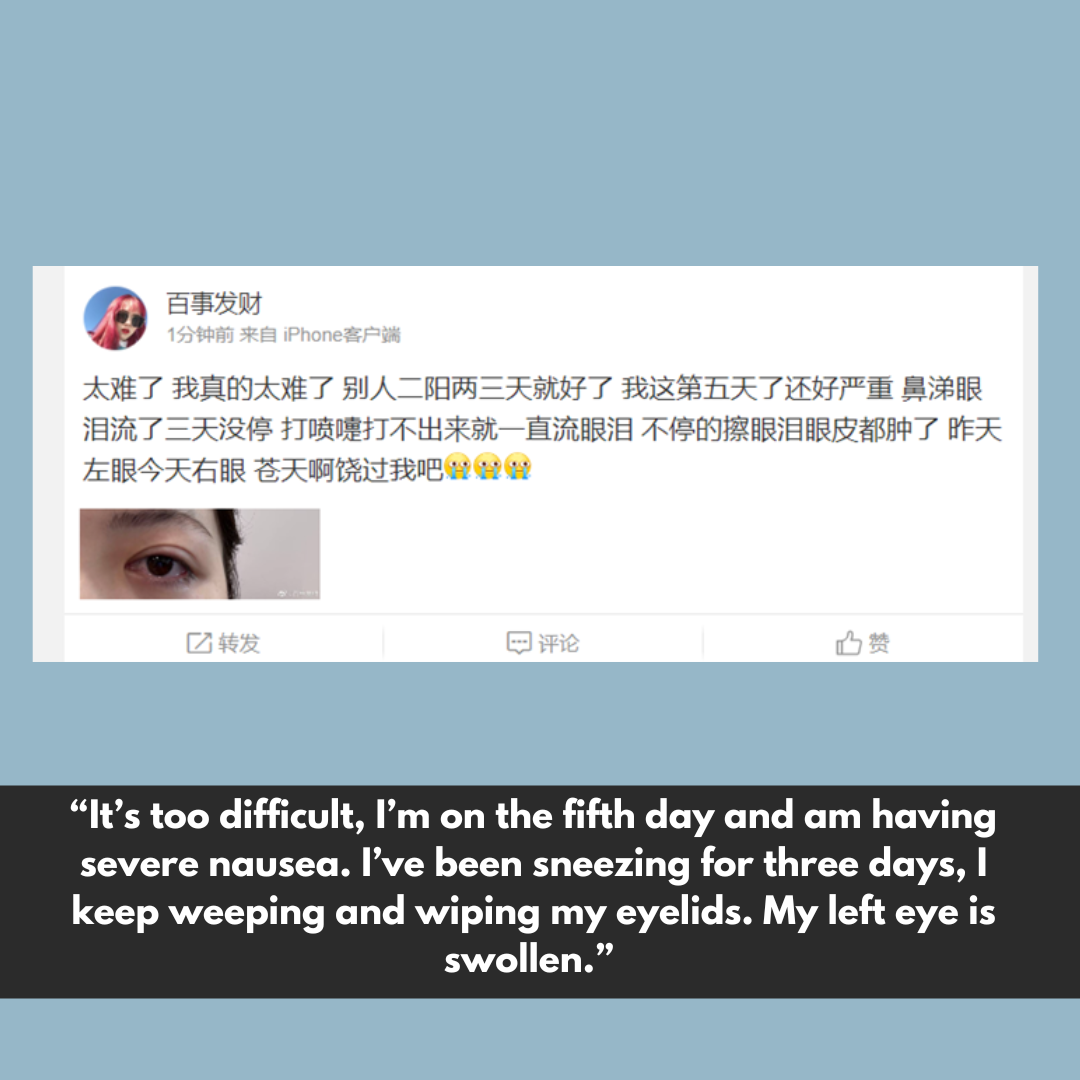 The hashtag '#Girl with a sore throat who died within 10 minutes of reaching hospital' began trending on Weibo on the evening of May 26, racking up 350 million views and 9347 discussions. The hashtag detailed how after working late, a 26-year-old woman went to a hot pot restaurant to celebrate a friend's birthday. She had a sore throat when she got home but paid no attention because she assumed the soreness was due to the hot pot being overly spicy. But her throat worsened and by the early hours of the next day, she began to have trouble breathing. Nevertheless, she went to work after taking some anti-inflammatory medicine but her condition got steadily worse with shortness of breath and chills. By the time she got to the hospital, it was too late. She collapsed and died.
The hashtag soon emerged at the top of the trending list. Netizens compared notes about their sore throats and what medicines they were taking. The panic was evident in the hashtag's comment section. Although Chinese government handles and pages posted articles titled "Symptoms of new Covid variant are mild," the panic on Weibo conveyed a different story.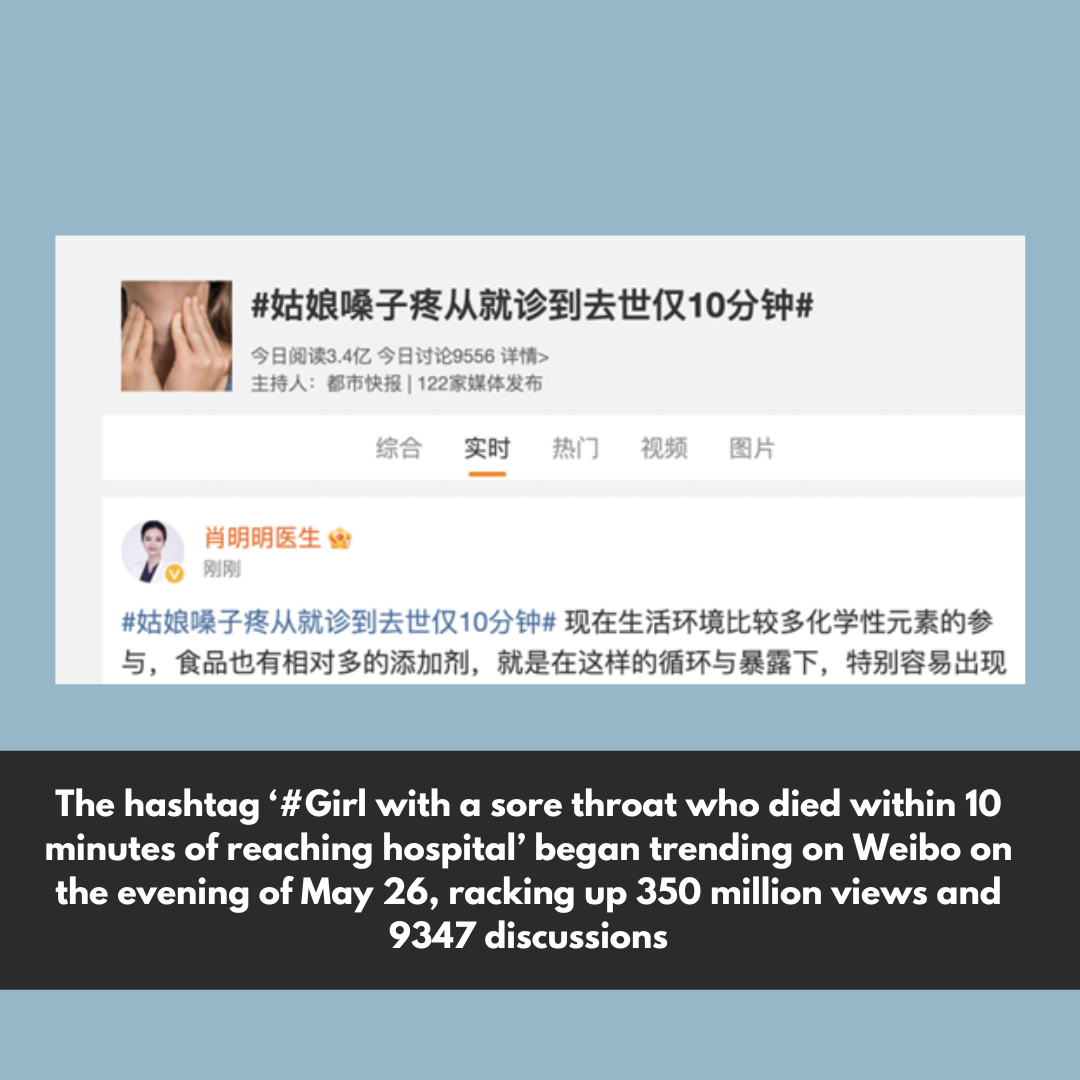 Wang Guiqiang, Director of the Infectious Diseases Department of Peking University First Hospital, was quoted as saying that there could be many reasons why people were suffering from sore throat. There was a need to investigate and treat objectively. But the sense was the XBB variant, a recombinant strain of the new Coronavirus Omicron, spread quickly, infected faster and took longer to treat.
'#How can the elderly and children avoid Eryang?' was the hashtag trending widely on May 27.
Many government pages carried treatment suggestions from Chinese doctors, also how young and old people could stay safe from the new "Eryang" wave of Covid.
That evening, there was an interesting comment from a netizen.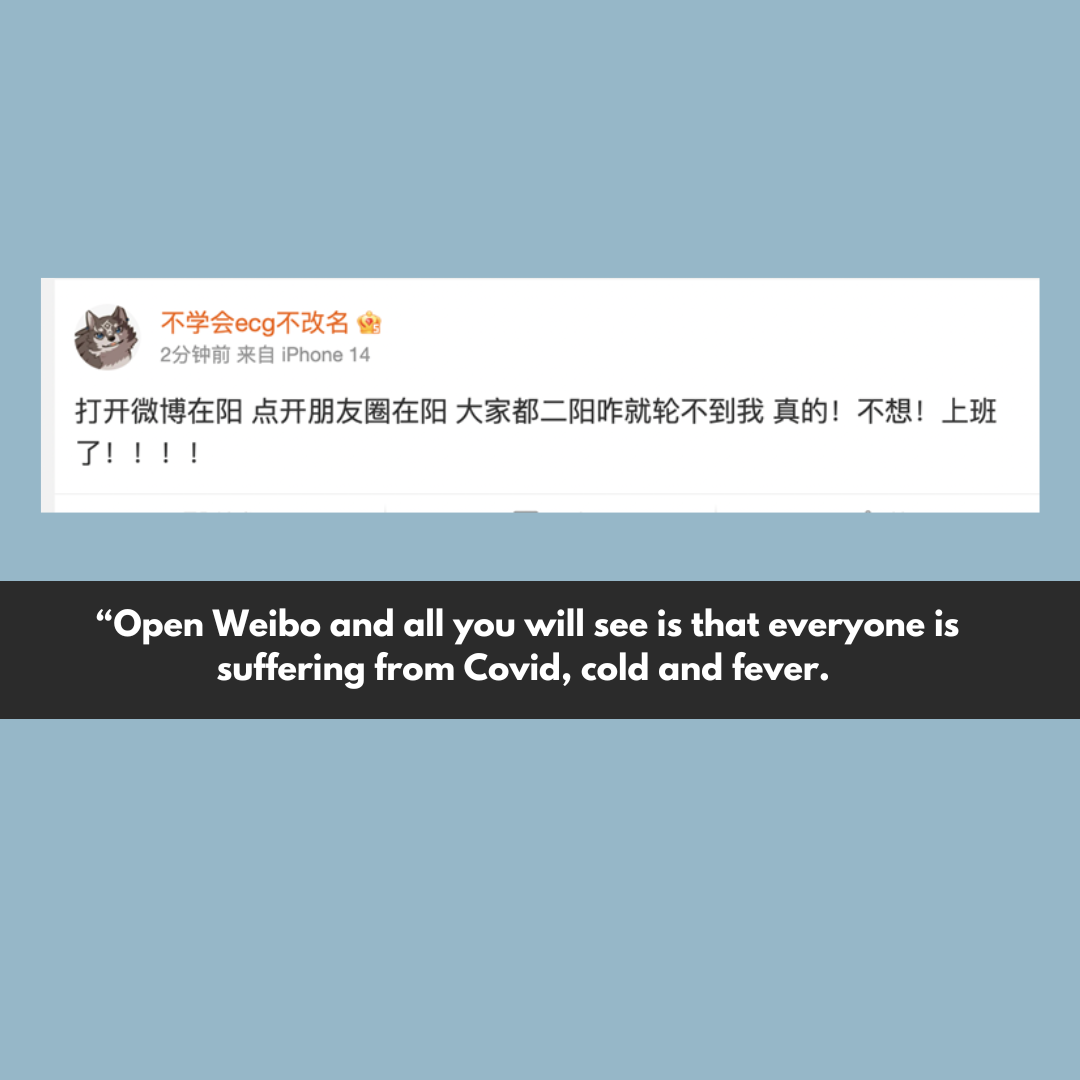 On May 25, the People's Daily initiated a hashtag '#Sore Throat is Eryang', which received over 7 million views on Weibo. But it was reassuring, claiming that few people complained of fever or sore throat as a result of Eryang. The post got 1019 reshares with 1437 comments and 7341 likes.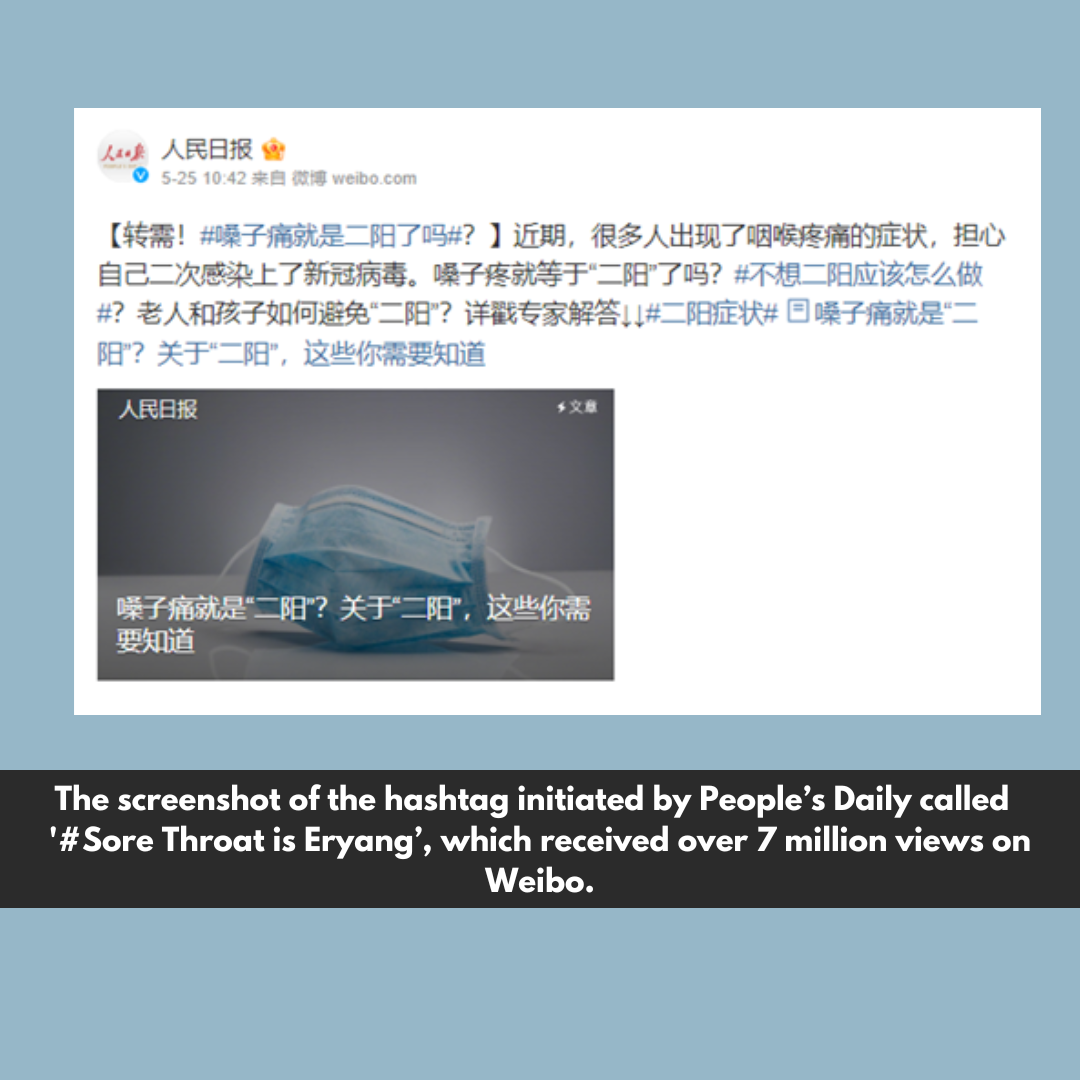 On Weibo, there was also a trending hashtag '#Experts advise avoid going to work if you have a sore throat'. It had around 13.04 million views as of May 26. According to the verified page 'Health Times' on Weibo, it was not advisable to go to work when sick, as it would only slow the recovery process and spread the infection.
Many netizens were spotted posting photos of themselves with Coronavirus home test kits and disclosing their positive results. A comment from a netizen: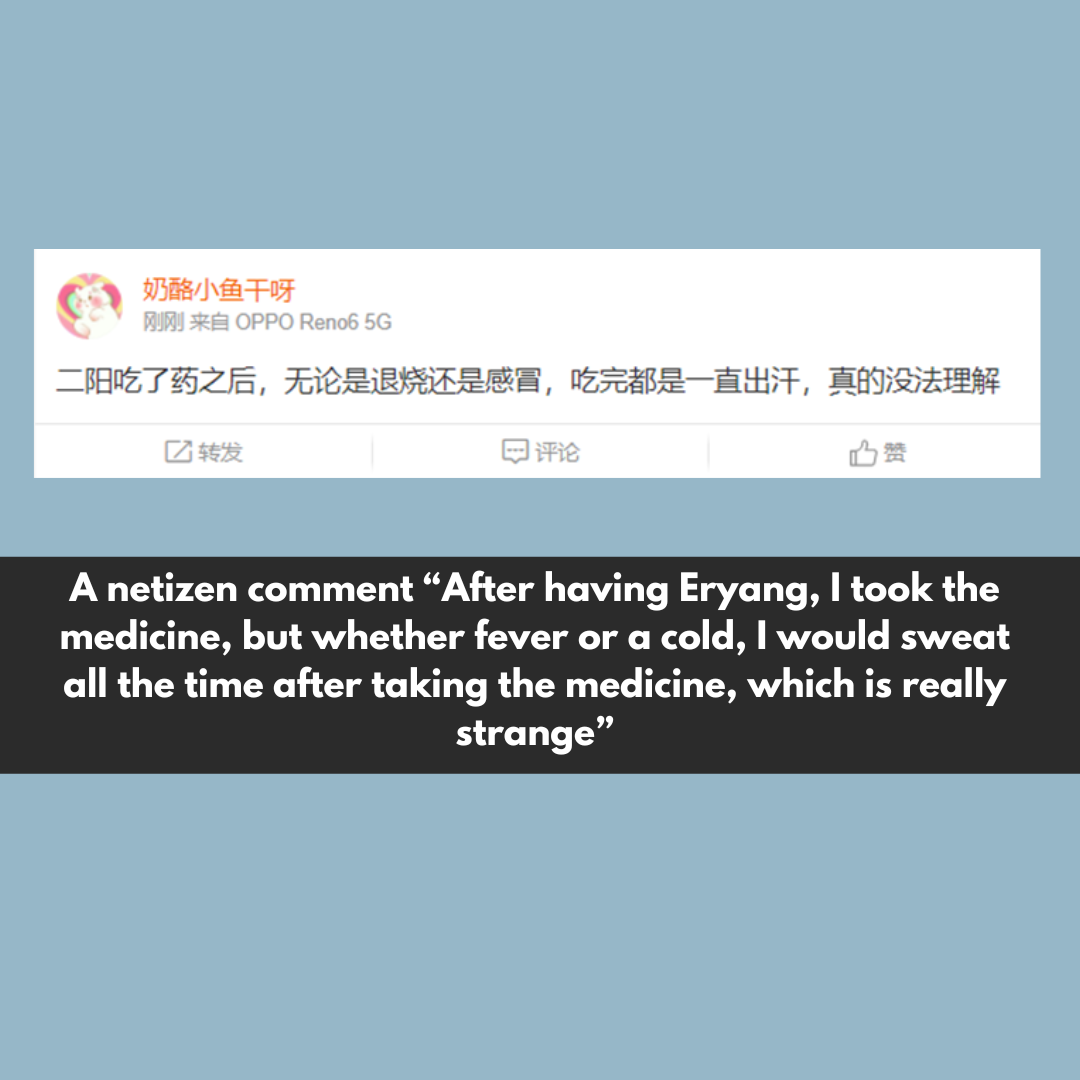 Another netizen said: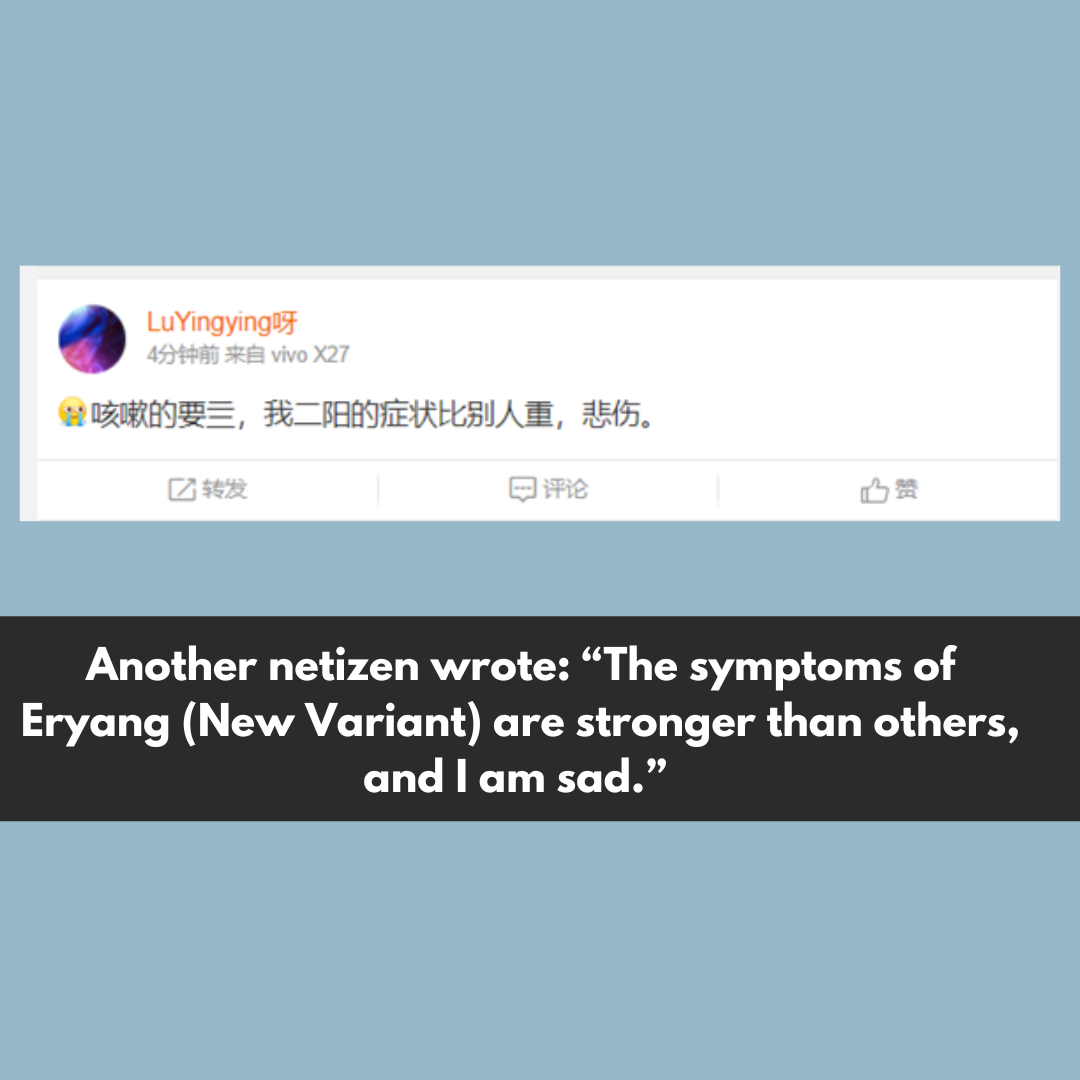 Since April, China has been dealing with a fresh Covid wave that is fed by the XBB variation. Nearly six months after Beijing abruptly abandoned its harsh zero-Covid policy, data from Zhong Nanshan—a respiratory illness specialist who was among the first to confirm Covid-19's easy transmissibility—provided a unique glimpse into how the disease may be spreading in China. A significant number of netizens claimed the new variant resulted in unpleasant symptoms.
People's Daily, CCTV, Global Times and other government mouthpieces posted hashtags linked to "The New Variant in China." These detailed posts about symptoms and risk posed by the XBB variant.
People's Daily started the trending hashtag '#When to see a doctor' on Weibo, which received 2 million views in the first two hours. It featured an article that would help readers determine when they needed to visit a doctor.