China's 'Cool Down' Border Remark: More Hype Than Hope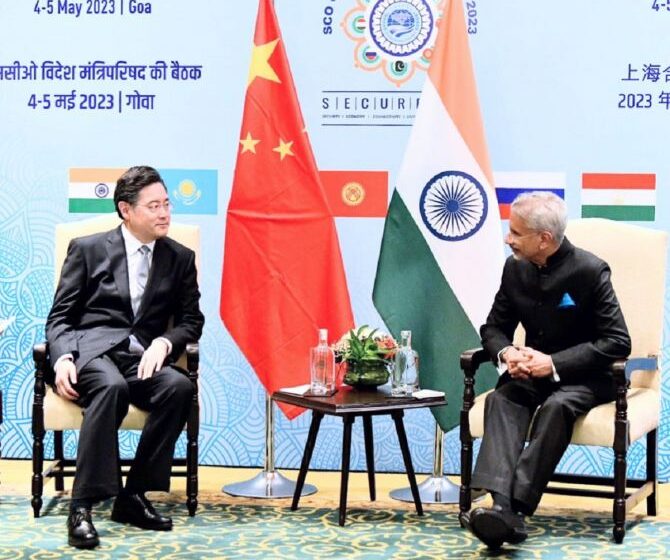 NEW DELHI: Was Chinese Foreign Minister Qin Gang hinting at some concessions at the end of his bilateral with S. Jaishankar on the sidelines of the SCO in Goa? Note these words: "…push for further cooling and easing of the border situation and maintain sustainable peace and tranquility in the border areas."
Of course, it was mixed up with the verbiage associated with such official statements including "important consensus reached by the two leaders … consolidate existing achievements … " and so on.

But a senior former diplomat and China watcher StratNews Global spoke to dismissed any notion of the Chinese readying to make concessions.
"They are glossing over differences but also saying accept the new status quo (border generally stable) because they aren't going back. It's been three years and they have a good measure of perhaps our lack of capability or will or both, to do anything about the situation."
Manoj Kewalramani, China scholar at the Takshashila Institution, underscored that point. "On the boundary, when he (Qin Gang) says cool down, he means India should accept the situation on the ground. China is happy to support India's SCO summitry, they have nothing to lose from that."
Former R&AW officer and China analyst Jayadeva Ranade faults India for trying to see Chinese goodwill when there is none. He doesn't expect China to become friendly towards India for a long time, whether the latter is close to the U.S. or not.
"China's agenda is independent of how close we are to anybody. This is just an excuse. India-China problems date back to the 1950s. They are in no hurry to clarify the LAC or exchange maps. Either they will make a bid for it or negotiate if they find us firm," he argued.
"It's all right if they say Xi is coming here and therefore there will be some goodwill gesture but it doesn't alter the fact as to what they've done and what they attempted in Arunachal and I can say there will be incidents taking place certainly after Xi's departure (SCO summit in Delhi in July) if not during …".
He warned: "I don't expect that (pressure) to ease off unless of course we make concessions to the Chinese, major concessions. I don't see it happening. So, I expect some more push by Xi Jinping and in any case what he has done in April 2020 is a half-finished agenda."
Ranade points to what he believes is "an apprehension within the CCP that Xi has mishandled the relationship with the U.S.", and maybe even a growing view among Xi Jinping and his coterie "that the window for them is shrinking, because the U.S. will turn its attention to China after Ukraine gets over, or maybe simultaneously".
Jaishankar's remarks in Goa at the end of the SCO deliberations underscore the point that India and China are nowhere close to any resolution of the issues flowing from what happened in Galwan in 2020.
He said: "The issue is there is an abnormal position in the border areas along the boundary. We had frank discussions, not for the first time. I have spoken to Qin Gang on the sidelines of the G20 as well. We have to take disengagement forward and I have made it clear India-China ties are not normal and cannot be normal if peace and tranquility is disrupted. I am clear and consistent about it."