A Guide To Contemporary China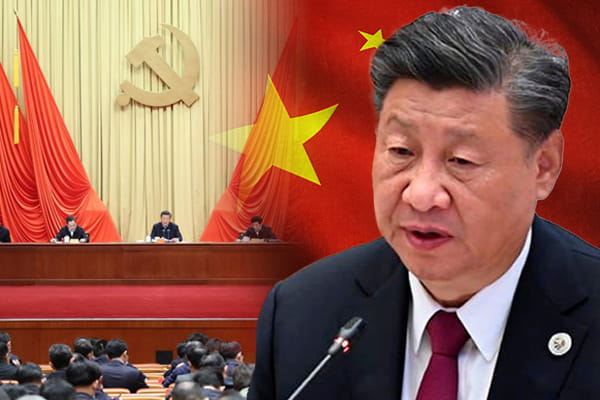 US Is Turning Taiwan Into 'Powder Keg': FM Spokesperson
Chinese foreign ministry spokesperson Mao Ning on Friday expressed opposition to the strengthening military collusion between the United States and the Taiwan authorities, saying that the U.S. is turning Taiwan into a "powder keg." Mao made the remarks at a regular press briefing when asked to comment on a delegation of 25 U.S. arms dealers swarming to the island and holding the "defense forum" with Taiwan's Democratic Progressive Party (DPP) authorities. She said U.S. arms sales to the Taiwan region seriously violate the one-China principle and the three China-U.S. joint communiqués, especially the August 17 Communiqué. China firmly opposes them. Noting that lately the U.S. and the Taiwan authorities have been stepping up military collusion, Mao said the visit of arms dealers and the so-called "defense forum" is further proof that the U.S. is turning Taiwan into a "powder keg," which only spells trouble for our Taiwan compatriots.

Source: People's Daily
Reciprocal Measures Will Be Taken If Canada Expels Chinese Diplomat
The diplomatic row between China and Canada continued on Friday, with analysts criticizing Canada for losing rationality in its China policy. China-Canada relations, which have not fully recovered from the arrest of Huawei's Meng Wanzhou, should not be kidnapped and destroyed by certain Canadian politicians, observers said. "Should the Canadian side continue to make provocations, China will play along every step of the way until the very end," said Foreign Ministry spokesperson Mao Ning, reiterating Chinese Ambassador Cong Peiwu's remarks in response to the latest developments in the dispute. On Thursday, Canadian Foreign Affairs Minister Mélanie Joly announced the summoning of the Chinese ambassador and threatened the expulsion of Chinese diplomatic and consular personnel after Canadian Conservative MP Michael Chong accused a Chinese diplomat of seeking to "intimidate" him and his family in Hong Kong over his criticisms of China.
Source: Global Times
Statistics Show Slump In Manufacturing In April
The Service Industry Survey Center of the National Bureau of Statistics and the China Federation of Logistics and Purchasing released data on April 30. In April, China's manufacturing purchasing managers index (PMI) was 49.2%, down 2.7 percentage points from last month. "In April, due to factors such as insufficient market demand and the rapid recovery of the manufacturing industry in the first quarter to form a high base, the manufacturing PMI fell below the critical point, and the level of prosperity fell month-on-month." said Zhao Qinghe, senior statistician at the Service Industry Survey Center of the National Bureau of Statistics. Statistics show that production continues to grow. In April, the production index and new order index were 50.2% and 48.8% respectively, a decrease of 4.4 and 4.8 percentage points from the previous month, and the production index was still above the critical point, indicating that the overall manufacturing production continued to expand.
Source: Xinhuanet
China's Vice-President Attends Coronation, Says Britain Is A 'Strategic Partner'
Chinese President Xi Jinping's special representative Han Zheng arrived in London on Thursday for the King Charles III's coronation ceremony, which is to be held on Saturday. Han, who is China's vice-president, said that China always sees Britain as a "strategic partner", views its international role and influence in a positive way, and said he hopes the UK's China policy will also be conducted positively. China is ready to provide national treatment for British companies and steadily expand the high-level two-way opening-up of the capital market, Han said, adding that he hoped the UK will provide Chinese companies with an "open, fair and non-discriminatory business environment." In the past two years, annual trade between China and the UK has exceeded $100 billion and the UK has become one of the top destinations for Chinese companies to invest and students to study abroad.
Source: China Daily
Citizens Can't Afford Death at Shanghai's Most Expensive Cemetery
A cemetery in Shanghai has gone viral for the wrong reasons. The city's Songhe Cemetery has been causing a stir on Weibo, with astronomical prices almost six times that of housing in the city's central area. The Songhe Cemetery, founded in 1987, recently listed burial plots at 341,800 RMB (around 50,000 USD). With spots listed as 0.6 square meters, that shakes out to approximately 760,000 RMB per square meter when all's said and done. Online, netizens are lamenting a world in which cemetery plots are marketed as luxury items, saying that while living is a short-term pain, death is a long-term struggle with poverty. "Bury me at sea when I die; save this money," wrote one user.
Source: Radii China
Women Defy 'Beauty Duty' With 'Anti-Feminine' Haircuts
When Song Jiaqian passed the Teacher's Certification Exam last year, she treated herself to an unconventional yet daring reward: She got a buzz cut. So bold was the 23-year-old's choice that she had to delay getting it until after securing her government job in Shandong, the eastern province known for its Confucian values and traditional way of life. She even asked colleagues if anyone had been fired for drastic changes in hairstyle, but fortunately found no precedent. Her decision reflects a growing trend among young women in China, where long hair is often associated with femininity and beauty. Over the last three years, a group on the social platform Douban, called "Women's Buzz Cuts are Super Cool," has gained a considerable following. Established in March 2021, the group now boasts more than 4,500 members. It offers women who have a buzz cut or are planning to get one a safe space to support each other. In March 2022, a hashtag called "embrace beauty without makeup" went viral on domestic social media platforms, where women posted images of themselves with no makeup.
Source: Sixth Tone