China In The Cross Hairs At Indo-Pacific Seminar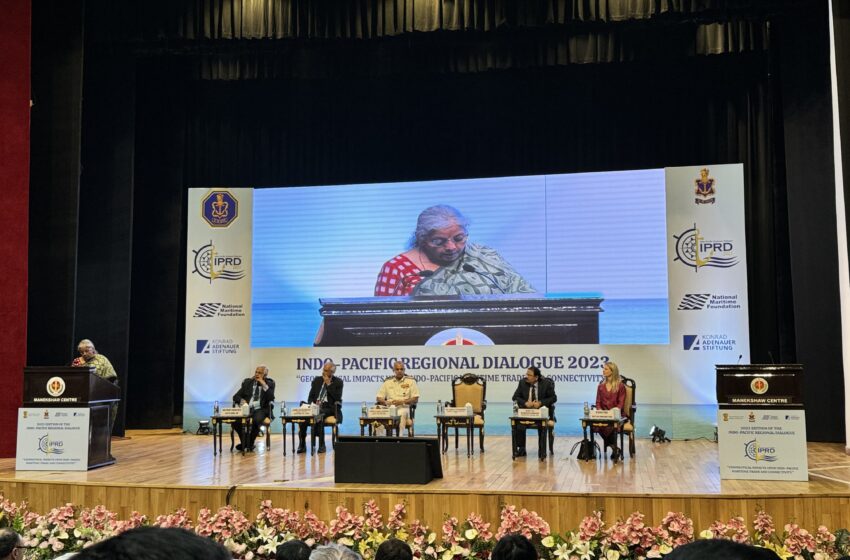 It would seem there's nothing quite like an international seminar on the Indo-Pacific to draw everybody, from political big guns to military brass, from diplomats to academics on the think tank circuit.  And so it was on the opening day of the Indo-Pacific Regional Dialogue hosted by the Indian Navy in Delhi.
Navy Chief Admiral Hari Kumar underscored his primary concern, that given the growing multinational naval presence in the Indo-Pacific and the differing interpretations of international law, the Global Commons could become "Contested Seas".

"The fragile security situation in the South China Sea, where the growing number of instances of bullying of smaller navies, including fishermen, by the Chinese militia or its navy, in addition to the almost weekly violations of established codes of conduct or confidence-building measures by shipmen aircraft, poses a clear and present danger to the good order and discipline at sea," he warned.
He called for a "participative and inclusive approach" towards tackling maritime challenges, and referred to the recent Goa Maritime Conclave where 12 neighbourhood navies discussed a mitigating framework for achieving common maritime priorities.
Vice President Jagdeep Dhankhar who spoke immediately after the navy chief, bluntly pointed out that "Your strength will define global order, your strength will define peace. One cannot negotiate, enforce or aspire for peace from a position of weakness."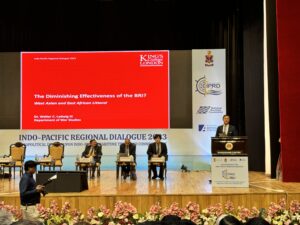 That China was in the cross hairs was pretty obvious: Finance Minister Nirmala Sitharaman fired the opening salvo albeit in an indirect manner, lauding the proposed India Middle East Europe Economic Corridor mooted by President Biden on the last day of the G20 summit in Delhi.  The corridor targets China's BRI by offering what is touted as an alternative to its usurious infra projects that have left a trail of debt laden economies in its wake.
In that context, Dr Walter Ladwig of King's College in London, pointed to a revamped iteration of the BRI, BRI 2.0 which is qualitatively different from its precedessor.  This was revealed in Beijing last month by President Xi Jinping to celebrate a decade of the BRI. He announced $100 billion in new funding, promising assembled African leaders fancy new infra projects. But reports indicated a "strategic shift" in Chinese lending, towards smaller green initiatives with smaller loans. Ladwig's point was that Biden's economic corridor must prioritize speedy and efficient implementation if it is to compete against the BRI.
Dr Daisuke Kawai of Tokyo University's Centre for Advanced Science & Technology had another take on the BRI.  China's interest in the Arctic is pushing it towards establishing a "Polar Silk Route" as part of the BRI.  China plans to invest in a rare earth elements plant in Greenland, a project which is being watched warily by other Arctic states.