Can Power And UPI Bridge The India-Nepal Divide?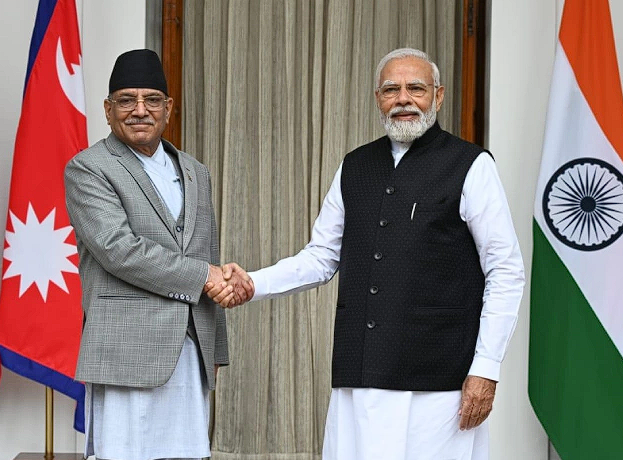 NEW DELHI:  The India Nepal relationship, problematic even at the best of times, has witnessed significant transformation in certain key areas. The four-day visit of Prime Minister Pushpa Kamal Dahal from May 31 was a case in point. His delegation included apart from the foreign minister, ministers of finance, energy, water resources and irrigation, physical infrastructure and transport, industry, commerce and supplies.  
Instead of raking over festering points of friction and fault lines which threatened to turn the relationship from frosty to frozen, the two prime ministers focused on areas of mutual benefit. The five projects and six MoUs signed revolved around power, easing cross border payments, boosting trade and connectivity and further deepening the people-to-people connect. 

Not only did India agree to increase its import of hydro-electric power from Nepal to 10,000 MW over the next decade, it also offered to help build several other hydel projects in Nepal. And in another significant move, it offered to facilitate the sale of hydel power to Bangladesh through India. 
Other agreements included the renewal of the revised trade and transit treaty (which among other things, grants Nepal access to India's inland waterways and ports), .a cross-border petroleum pipeline, and building more border check posts, with the two prime ministers virtually inaugurating  a couple of new integrated check posts and flagging  off a cargo train from India to Nepal. And in a quiet hat tip to a border dispute, the two sides vowed to resolve it diplomatically.
The power agreements and the digital payments initiative between the two nations were "long overdue," says Santosh Sharma Poudel, who heads the Center for Strategic Affairs at the Nepal Institute for Policy Research. 
"About digital payments, both countries have made remarkable progress in digitalisation, especially e-commerce. This is the area that will benefit the most from the current agreement. The consumption pattern of the consumers across the two nations is very similar," Poudel, who is also a faculty at the Department of International Relations and Diplomacy, Tribhuvan University, told StratNews Global. 
"Actually, the Nepali market follows the 'fashion' of India. With a common digital platform, it will extend the market of Indian e-commerce giants to include Nepal. Besides, it could also help formalise large portion of the remittance sent by the millions of Nepali workers in India and Indian workers in Nepal. An added benefit, is that Nepal will learn from the progress in Indian payment system, which has advanced much further than in some developed countries," he argued. . 
"As for the power trade, it is one of the lowest-hanging fruit in Nepal-India cooperation but is needlessly politicised or viewed through geo-strategic lens," he said.  "India has a huge energy market, and the demand is increasing exponentially. More importantly, there is a bigger demand for 'clean' and renewable energy as India plans to be net-zero by 2070. The agreement of 10,000 MW energy is in the right direction. Nepal has huge potential for energy supply but has financing constraints. Thus, we will need large amount of FDI (from India, China or elsewhere) to change potential to actual power production and trade."
However, he noted, "energy trade with India, though becoming rich through energy export has been the aspiration of generations of Nepalis, is mired in politics. Agreements for building hydro projects given to India receive criticism among a clique of people, who accuse leaders of being sellouts to India for doing such agreements."
On New Delhi's part, "it is needlessly viewed through a geo-strategic lens. For instance, it has policies whereby it will not import power developed by countries or financed by countries it does not have a power trade agreement with (basically, saying that it won't import electricity from projects financed by China in Nepal)," he pointed out. "This is odd given that all energy produced in Nepal is merged to one national grid and then distributed. It fuels perception in Nepal that India wants to develop hydro-electricity for India by Indians using Indian finance in Nepal. Kathmandu has to be clear if it views energy trade to gain a 'strategic leverage' or largely as a commercial enterprise, though they are not mutually exclusive," he said. 
Under its Neighbourhood First policy, New Delhi has been keen to downplay prevailing perceptions of high-handedness and even arm-twisting its smaller neighbours –which China has gleefully leveraged. 
In the case of Nepal, apart from scrupulously avoiding any comments or action which might be misconstrued as interference — particularly after the outrage that followed the blockade of 2015 which was seen as an Indian attempt to ensure that the Madeshis, or the plains-people of Nepal were given proper representation under Nepal's new constitution — India has focused on economic integration and connectivity after consulting Kathmandu and understanding its priorities.  –
New Delhi has also been watching aggressive Chinese inroads into Nepal and the increasing resentment against India among the Nepalis with growing unease. After signing a Trade and Transit treaty with China in 2016, Nepal jumped on to Chinese President Xi Jinping's flagship Belt and Road Initiative a year later.  It has also conducted a couple of joint military exercises with China. 
So there must have been a sigh of relief when Prachanda, who visited China on his way back from the UN General Assembly in New York, categorically refused to be a part of a Chinese security umbrella, saying that "It is our stated policy not to be under the umbrella of any side. Ours is a non-aligned foreign policy." The fact that there was no mention of the Belt and Road Initiative in the joint statement was the icing on that cake.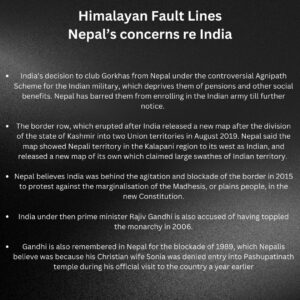 Also check out: