As Brazil Swerves Left, Lula Has His Hands Full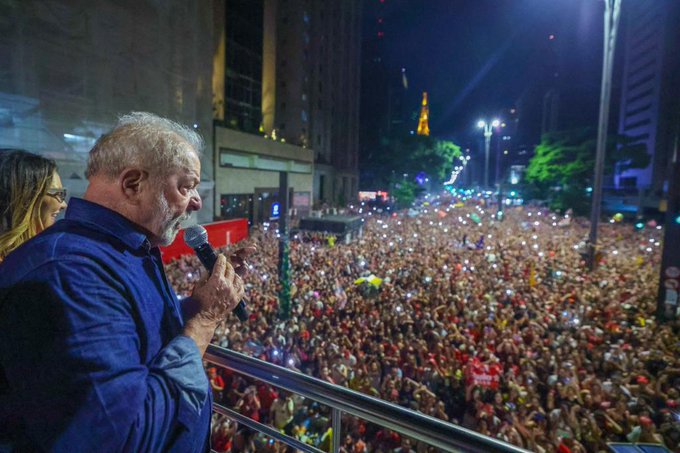 NEW DELHI: From prison to president-elect. It was a fairytale comeback for Lula da Silva who defeated Jair Bolsonaro by the narrowest of margins since Brazil became a democracy in 1985. Lula, who bagged 50.9 per cent of the vote in contrast to Bolsonaro's 49.1 per cent, had to manage a ten-party coalition ranging from the far left to the moderate right to secure victory. But with the president-elect expected to assume office on January 1, all eyes are on Bolsonaro who has repeatedly stated that he would not accept the election results. With Brazil on tenterhooks—mass protests against Bolsonaro for stifling democracy and counter-protests in his favour—the former president's refusal to concede defeat so far has triggered fears whether the country could see something akin to the Capitol Hill march by a mob of supporters supporting former president Donald Trump in 2021.
Lula is trying to ensure that does not happen. In a speech celebrating his victory on Sunday he promised to "work for all the 215 million Brazilians and not only those who voted for me." He has received congratulations from Biden, Xi and Putin so far. Both Biden and Trump have indirectly played a role in these elections with both candidates invoking them post the results. President Biden has called the elections "free and fair" and has expressed his desire to work with President Lula.
Bolsonaro tweeted a video of former U.S. president Donald Trump who stated that the right-wing leader was a "great man" who had done a "fantastic job for his country." Since then, the former president in an outreach to his core-voter base, evangelical Christians, tweeted a sentence from the Bible which stated: "Put on the whole armour of God, that you may be able to stand against the wiles of the devil, for our struggle is not against humans, but against the powers and authorities, against the rulers of this dark world…" Ephesians 6:11- 12
Bolsonaro's tweet suggests he will not go quietly but analysts believe that in the end he may have to. As Arvind Kumar, professor at the Centre for Canadian, US & Latin American Studies in JNU, points out: "Bolsonaro may challenge the election results but for that he has to submit compelling evidence to the supreme electoral court. With many of his key allies having accepted the verdict he may have to do so given the large-scale protests in the country. The situation may probably settle down in a day or so."
What will also be in the back of Bolsonaro's mind is that while he may have lost, he remains in power for two more months in which he can make things as difficult as possible for his successor. Bolsonaro has won 11 out of the country's 27 state governorships while Lula has won only eight and his children—some of whom hold prominent political positions—will be a nuisance for the incoming president. Active on social media, Flavio Bolsonaro, who is a senator, has already stated the result was the "greatest electoral fraud ever seen" and his attacks via the medium will increase once Lula takes over. If Bolsonaro does not concede, his sons could play a prominent role in organising protests.
In the meantime, Brazil struggles with real problems. Inflation remains high (hovering between 7% and 8%), over 700,000 people have died of Covid, thanks in part to Bolsonaro's misinformation campaign and his long-held denial of the pandemic, high rates of violence due to relaxation of gun laws, deforestation of the Amazon, which saw a sharp exchange between Bolsonaro and French President Emmanuel Macron in 2019, have plagued the country. The key problem though is the economy. Between 2010 and 2014 Brazil's economy was seventh in the world; in 2020 it ranked 12th and by 2021 it dropped to 13th, according to ratings agency Austin Rating.
"Lula has a tough task as he has to drastically change the export-import ratio of Brazil by making reforms to make the country's manufacturing sector and tackle inflation by introducing large-scale tax reform in the country which has one of the highest tax rates in the world. He will also need to revamp the country's health sector urgently. This will require tough measures which could be very unpopular among certain segments of the population," said Kumar.
Brazil's internal problems aside, the election of Lula will be viewed favourably by India. Bolsonaro was the chief guest at the 2020 Republic Day celebrations but Latin America watchers in New Delhi see Lula as being extremely bullish on India. The president-elect is expected to convert India-Brazil ties to a strategic partnership and greater emphasis is expected on what India and Brazil can do together at the bilateral level. So far despite the creation of mechanisms such as the India-Brazil Joint Commission, analysts complain that the two nations have focussed largely on exchanging views on multilateral forums such as BRICS, IBSA, UN, G20 and the Ukraine conflict and not enough on the bilateral level. Hopefully, External Affairs Minister S Jaishankar's visit to Latin America in August, which included a visit to Brazil, can help change that.
Kumar believes that there are three key areas which the two nations must start cooperating in more actively. "We need to work to understand each other's public health system. There are many learnings that both nations can take from the pandemic. We must also focus on Brazil's R&D in the defence sector which will help our 'Make in India' campaign in the defence sector. Thirdly, we must cooperate on space. Brazil needs communication satellites which India can provide. This will generate jobs and give a fillip to our bilateral strategic partnership."