India, Egypt Unveil Plans To Boost, Broaden Ties, Defence And Cyber Major Focus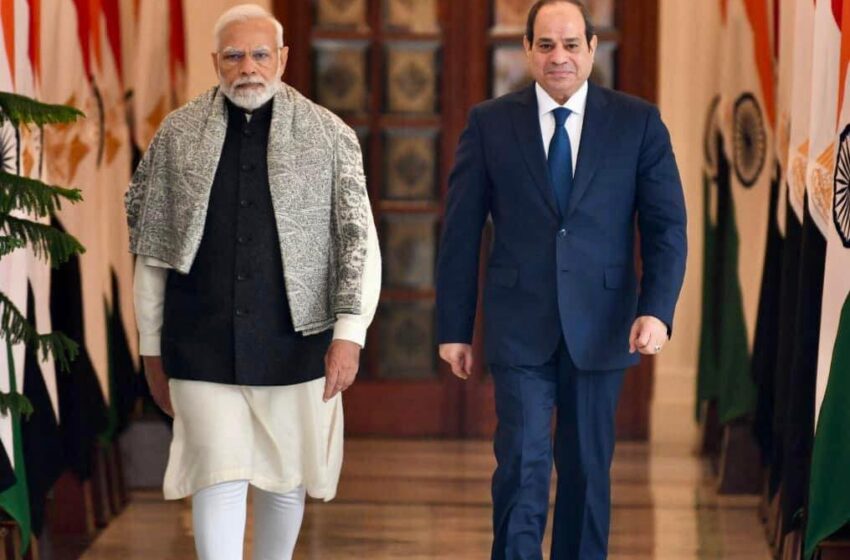 Egypt has joined the list of India's 30-odd "Strategic Partners", marking the high point of President El-Sisi's visit to this country. For exactly what that means, one has to turn to Prime Minister Modi's statement on the MEA website where he is quoted as saying: "Under the India-Egypt Strategic Partnership, we will develop a long-term framework of greater cooperation in political, security, economic and scientific fields."
Five MoUs have been signed in the field of cyber security, culture, information technology, youth affairs and broadcasting and one also saw a release of a commemorative postage stamp celebrating 75 years of ties between India and Egypt this year.
There was the standard broadside on terrorism with Modi saying that he and his guest agreed that terrorism was the most "serious threat to humanity." Both nations would do their utmost to raise their concern at all international forums.
The prime minister touched upon defence, where there's been considerable media speculation. He said, "in the last few years, there has been a significant increase in joint exercise training and capacity building between our armies. We have also decided in today's meeting to further strengthen cooperation between our defence industries and enhance the exchange of information and intelligence related to counter-terrorism."
The prime minister also warned that "misuse of cyber-space to spread extremist ideologies and radicalization is a growing menace. We will extend cooperation against this also."
New Delhi has already invited Cairo to be a guest country during its G-20 presidency. Other high-level visits have already happened. Defence Minister Rajnath Singh visited Egypt last year when an MoU was signed to bolster defence cooperation. His visit was followed up by External Affairs Minister Jaishankar in October with trade, commerce, and investment on the agenda. Currently, bilateral trade is $7.26 billion with Indian investments in Egypt exceeding $3.15 billion. Both leaders are keen on increasing trade to $12 billion in five years.
Foreign Secretary Vinay Kwatra said both leaders condemned the use of terrorism by countries as a foreign policy element and urged action against all those who encourage support to finance terrorism and provide sanctuary to terror groups whatever their motivation may be.
He said the first-ever joint exercise between the special forces of the Indian Army and the Egyptian Army named "Exercise Cyclone-I" is in progress at Jaisalmer in Rajasthan. The focus here is on sharing professional skills and interoperability in desert terrain while undertaking counter-terrorism, reconnaissance, raids and other special operations." Egypt has invited India to its annual Bright Star tri-services drill in September.
Officials are also working on plans to increase trade in pharmaceuticals, renewable energy infrastructure and IT. The two leaders also expressed their concerns about the economic fallout of the Ukraine war and discussions to create reliable supply chains for food products and fertiliser had been discussed. A joint statement is expected to be released on Thursday.