Differing Takes By India & China As Modi, Xi Talk At BRICS Summit Venue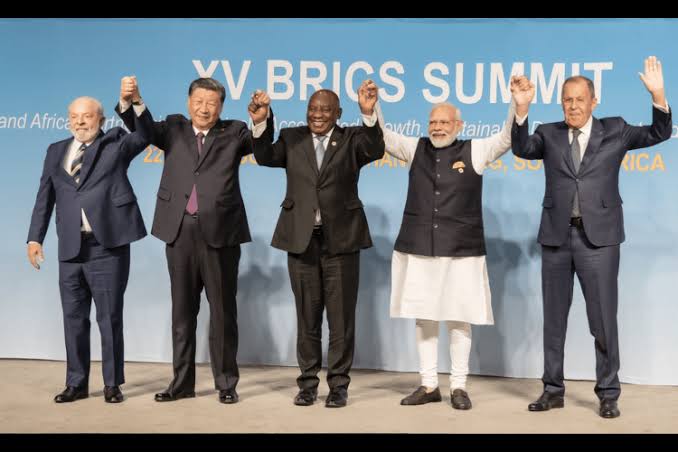 NEW DELHI: The big fat takeaway coming out of the BRICS summit in Johannesburg: Narendra Modi and Xi Jinping agreeing "to direct their relevant officials to intensify efforts at expeditious disengagement and de-escalation" along their disputed border.
That explains why they did not have a bilateral on the last day of the BRICS summit although they did meet and talk briefly. Indian sources said "there was a pending request from the Chinese side for a bilateral meeting. The two leaders however had an informal conversation in the Leaders Lounge."

The Chinese foreign ministry statement said the opposite: "President Xi Jinping talked with Prime Minister Narendra Modi on the sidelines of the BRICS summit at the latter's request …"
Leaving that aside, clearly the negotiations between military commanders of the two sides have some way to go. If there is a breakthrough, a bilateral is possible at the East Asia summit in Jakarta on September 6, with Modi returning to Delhi the next day to prepare for the G20 summit two days later. It's still unclear whether Xi Jinping will attend the G20 in Delhi minus a border breakthrough.
The other big takeaways: six nations will be admitted as members by January 2024, namely Iran, Saudi Arabia, the United Arab Emirates, Egypt, Argentina and Ethiopia. The fact that the expanded group will have America's top three enemies, China, Russia and Iran, as well as six of the world's top 10 oil producing countries, will not be lost on Washington.
India, reportedly, did not want countries under sanctions to be admitted, but that did not reflect the consensus. Modi's remarks did suggest otherwise, the expansion he said "set an example for the reform of other global institutions established in the 20th century,"
Is India concerned that the admission of members like Iran could turn the BRICS into an anti-West circus? Possible but the UAE, Saudi Arabia, and Egypt may not want that either, nor is Argentina out to get Washington's goat.
Around 50 odd countries want to join the BRICS, testimony, diplomats say, to the growing disenchantment with the west, and a desire for a multipolar world order which did not blatantly favour western or particularly American economic and political interests.
Later briefing journalists, Foreign Secretary Vinay Kwatra said Modi told the business leaders forum that there were opportunities in India's growth story they could take advantage of. He called for developing resilient supply chains, and the need for greater trust and transparency. Modi also attended the Africa Outreach.
.
Also see: