Why Egyptian President's Visit To India Is Important To Limit China's Regional Influence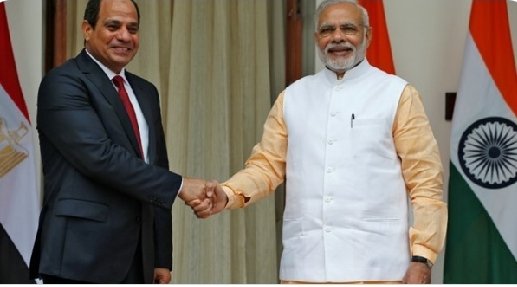 India's invitation to the Egyptian President Abdel Fattah El-Sisi is a major step to keep New Delhi invested in the Middle East at a time when China is making a big push in the region.
El Sisi will be India's chief guest at this Republic Day Parade on January 26. By honouring the Egyptian President at an event of prime importance, New Delhi has sent a loud signal that it wants to actively and urgently revive its relationship with Cairo.
There are three key reasons for India to re-engage with Egypt.
First, it is well-known that Egypt occupies a key strategic location on the international trade map. Egypt hosts the Suez Canal, the channel which connects the Red Sea with the Mediterranean and Europe. It is a middle level power that commands considerable influence in West Asia and North Africa including oil bearing Libya, the Palestinian territories as well as in the Africa Union. Like India, it is also a civilizational state—a reality that opens new pathways for bonding between New Delhi and Cairo on the cultural plain.
Second, Egypt can play a key role in countering global terrorism. With Al Azhar Mosque and university revered across the Muslim world, a voice of moderation emerging from Cairo to counter the millenarian ideas of global Jihad, espoused prominently by Al Qaeda and Islamic State terror groups, can play a major role in the battle of narratives. A forceful ideological push by India and Egypt can be a major force to counter radicalism. It can amplify the role and image of Islam as a force for peace and harmony, rather than violent extremism. Egypt under El- Sisi is totally opposed to the Muslim Brotherhood (MB), making India Cairo's natural partner in countering the MB ideology which is being transmitted by regional influencers including Qatar and Turkey.
The initiative with Egypt will supplement New Delhi's outreach to Indonesia, which has the world's biggest Muslim population, with India's as the third largest. On November 29, the National Security Adviser Ajit Doval had invited his Indonesian counterpart, Mohammed Mahfud for a dialogue among the Ulemas of the two countries, to amplify the appeal of their shared syncretic tradition as an antidote to global Jihad, which has the objective of forming a Caliphate based on radical principles. The idea, in the end, is to turn the global balance of influence in favour of moderation, peace and inclusivity on an international scale.
Third, India's engagement with Egypt can become part of an energetic but pragmatic exercise to limit Chinese influence in the Middle East and the Indian Ocean Region. For India, any acquisition by China of a military base in the region as a follow-up to their base in Djibouti will be highly unwelcome.
Yet, with a multipolar world emerging, it is only natural that countries of the region are no longer looking at putting all their eggs in the American basket. But nor will they enter into any zero-sum relationship with China. It is here that the Middle East, engaged in forging interest-driven rather than ideological relationships will welcome a deeper engagement with India as well.
Apart from leveraging its deep historical relationship of trust, it is only natural that India, as the fastest growing major economy, will be able to attract large scale investment from the Middle East. These investments can dilate India's Atmanirbhar Bharat doctrine. India will also continue to evince deep interest from the region, by being a reliable buyer of oil and gas for the long haul.
But New Delhi may have to think out-of-the box to tap new threads of engagement on the geostrategic plain, by complementing the region's geopolitical aspirations. For instance, the UAE has been a player in Afghanistan, having invested its forces in the Hindukush, and playing a major role in providing financial services and fostering trade with Kabul in the past. The UAE also has ambitions in the Indian Ocean. In the Gulf of Aden, the UAE exercises de facto control over the Socotra archipelago, not far from the Horn of Africa. Its interests in Africa are also well-known.
Other Gulf countries are not far behind. From Libya, Afghanistan and Malaysia, the Qataris have aspirations to punch beyond their weight. The Saudis are natural heavyweights having vast aspirations in the Muslim world. Can India imaginatively consider and pursue common interests with the region's countries including in Egypt and the Gulf in the Indian Ocean Region and Africa? Can India also aspire to sell weapons to the region, including Egypt, which has shown interest in acquiring India's Tejas fighter jets?
The urgency of driving multiple stakes in the region cannot be overstated, given Chinese hyper-activism to change the status quo root and branch. This is evident in Chinese President Xi Jinping's on going visit to Saudi Arabia, where, apart from meeting the Saudi leadership, including King Salman and the Crown Prince Mohammed bin Salman, he has met Egyptian President El Sisi, Palestinian leader Mahmud Abbas and at least two heads of the six-nation Gulf Cooperation Council—the King of Bahrain and the Emir of Qatar, on Friday.
The China GCC talks were followed by a broader China-Arab summit.
Forty-six agreements and memorandums of understanding were announced during the visit ranging from housing to teaching Chinese language.
Without divulging details Saudi state media had reported that deals of around $30 billion were signed during Xi's visit.
(This article first appeared on indianarrative.com)