An Economic Corridor That Could Link India, Europe Better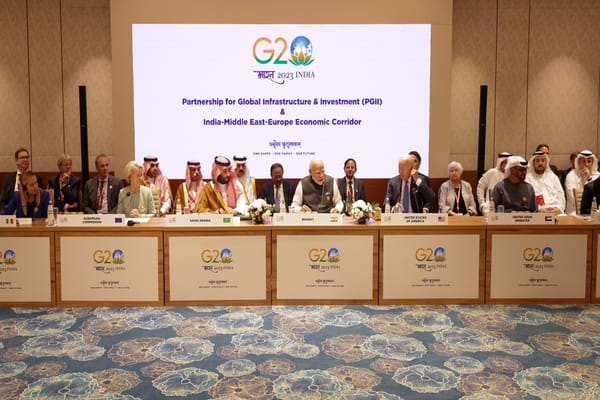 NEW DELHI: "A game-changing regional investment" is how U.S. President Joe Biden put it. Call it an unexpected spin-off of the G20 summit in Delhi: an economic corridor linking India, the Middle East and Europe. An MoU has been signed to this effect by the U.S., India, Saudi Arabia, the United Arab Emirates, France, Germany, Italy and the European Union.
But it may have had its roots in a virtual meeting in October 2021, involving India, Israel, the U.S. and the UAE, which called for promoting commercial and economic ties between states that see a growing convergence in their outlook on regional issues. That meeting explicitly called for strengthening transport infrastructure and if you study the MoU of the India-Middle East-Europe Economic Corridor (IMEC) signed the other day, it envisages an east corridor connecting India with West Asia and a north corridor linking West Asia with Europe.
This will be a multi-modal project comprising what is described as "cost-effective land and maritime transport routes". The east corridor begins in Mumbai where ships headed for Europe dock in Dubai, transfer their goods onto a rail network which moves them via Saudi Arabia and Jordan to the Israeli port of Haifa, and the last leg again by ship to the Greek port of Piraeus.
Parts of the rail network are already in place with a 140-km link from Dubai to the Saudi border and another 1000 plus-km link running north through the Saudi desert to the Jordanian border. From here to Haifa is where the rail link needs to be completed and Jordan is hopeful the UAE will fund it. Studies suggest this will cut the shipping time from India to Europe to 10 days from the current 17 days.
But it's far from just laying tracks, said Biden. Indeed. The corridor intends to have cables for electricity and digital connectivity besides pipelines for clean hydrogen, complementing efforts for mitigating the effects of climate change. The green aspects are hard to miss.
"The Middle East has plenty of sunshine and is ideal for generating solar energy, which can be converted into hydrogen, clean hydrogen or green hydrogen as it is called. And it can be transported to India as well as to Europe," says Jayant Dasgupta, India's former ambassador to the World Trade Organisation (WTO).
It also offers an advantage, given the time difference in India, West Asia and Europe. Solar energy produced in India during the daylight hours need not be stored in batteries; it can flow directly and be tapped in the Middle East. Similarly, the solar energy produced there during the day can be used in Europe. "This will be of great benefit because you do not need to have a bank of batteries to store the solar energy; instead, it can be utilized on a real-time basis".
The project makes geo-economic sense, geopolitics being the driver. Without any explicit mention, it's been propped up to counter Chinese influence and the debt diplomacy it has followed for a decade. Sri Lanka giving away the Hambantota port on a 99-year lease to the Chinese is a glaring example. The China-Pakistan Economic Corridor (CPEC) is another.
"Debt diplomacy is being felt very acutely in many countries of Africa as well. And there is growing resentment there over soft loans. The approach of the Chinese is to give soft loans, not ask for repayments, defer them once or twice and then ask for assets, real assets, whether it is in the form of minerals or other things to be transferred to them in a manner that they get to control them," says Ambassador Dasgupta.
More than 50 per cent of bilateral debts globally which have been given or are now in operation have been given by China. The terms and conditions of these loans extended to poorer countries have not been disclosed and China is unwilling to take a hair-cut as was seen in the case of Sri Lanka. No wonder, China's Belt and Road Initiative (BRI) is facing a pushback, even in Europe (Italy being the latest to distance itself). "Between 2013 when it was announced and 2019, financing under BRI worldwide was about $100 billion per annum. Since then, it has slowed down considerably; now it is between $60 billion and $70 billion per annum."
India stands to gain significantly from IMEC as it puts the country on the trade route from Southeast Asia to West Asia and Europe. The route may even bring about a reduction in the tensions and uncertainties that grip the region.