New Tech Initiative Adds Teeth To US-India Strategic Ties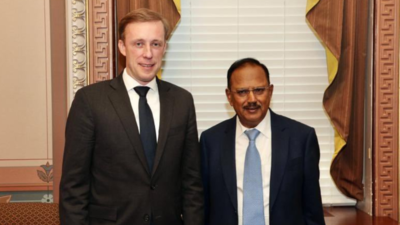 As part of the rapidly growing strategic relationship, India and the United States held the inaugural meeting on closer cooperation on Critical and Emerging Technology (iCET) in Washington January 31.
According to a White House release, the meeting between the two high-level delegations, led by Indian and US National Security Advisors Ajit Doval and Jacob Jeremiah Sullivan respectively, "discussed opportunities for greater cooperation in critical and emerging technologies, co-development and coproduction, and ways to deepen connectivity across our innovation ecosystems."

Stressing the value of establishing "innovation bridges" in key sectors, including "expos, hackathons, and pitch sessions. They also identified the fields of biotechnology, advanced materials, and rare earth processing technology as areas for future cooperation," the release said. The two sides also underlined their commitment to working to resolve issues related to regulatory barriers and business and talent mobility in both countries through a standing mechanism under iCET.
Announced by US President Joe Biden and Indian Prime Minister Narendra Modi in May 2022, iCET aims to "to elevate and expand our strategic technology partnership and defense industrial cooperation between the governments, businesses, and academic institutions of our two countries," the White House said.
The announcement followed a roundtable hosted by the US-India Business Council January 30 with US Secretary of Commerce Gina Raimondo, NSAs Jake Sullivan and Ajit Doval, and other senior US and Indian officials which brought together more than 40 CEOs, university presidents, and thought leaders from both countries to accelerate opportunities for increased technology cooperation.
"It's good to see progress in this crucial, underleveraged area – strategic partnership in technology – but am not holding my breath given the history and the complexity of geopolitics. While many of these strategic issues are long haul, there are areas of immediate importance and potential action, including those centered on a common concern (and a word missing in this fact sheet): China," said Prasanto Kumar Roy, a public policy consultant and tech writer and analyst who advises American firms.
"Key areas include cybersecurity and resilient tech supply chains, where the two nations have common goals and concerns, yet there are policies that do not factor in this close alignment – such as India's trusted supply chain directive for telecom, or data localization, or the US's tech-worker visas restrictions – all impeding ease of doing business. Looking forward to this changing," said Roy.
According to the White House release, "To expand and deepen our technology partnership, the United States and India are launching new bilateral initiatives and welcoming new cooperation between our governments, industry and academia in the following domains:
Strengthening our Innovation Ecosystems
Signing a new Implementation Arrangement for a Research Agency Partnership between the National Science Foundation and Indian science agencies to expand international collaboration in a range of areas — including artificial intelligence, quantum technologies, and advanced wireless — to build a robust innovation ecosystem between our countries.
Establishing a joint Indo-U.S. Quantum Coordination Mechanism with participation from industry, academia, and government to facilitate research and industry collaboration.
Drawing from global efforts to develop common standards and benchmarks for trustworthy AI through coordinating on the development of consensus, multi-stakeholder standards, ensuring that these standards and benchmarks are aligned with democratic values.
Promoting collaboration on High Performance Computing (HPC), including by working with Congress to lower barriers to US exports to India of HPC technology and source code.
Defense Innovation and Technology Cooperation
Developing a new bilateral Defense Industrial Cooperation Roadmap to accelerate technological cooperation between both countries for the joint development and production, with an initial focus on exploring projects related to jet engines, munition related technologies, and other systems.
Noting the United States has received an application from General Electric to jointly produce jet engines that could power jet aircraft operated and produced indigenously by India. The United States commits to an expeditious review of this application.
This is significant given India's efforts to produce a jet engine over the years have been in vain, and even the indigenously produced Tejas is powered by a GE F404 IN20 engine. The technology transfer involved in joint production would help India's plans to locally develop a new engine for the Advanced Medium Combat Aircraft (AMCA) Mark 2, an indigenous a fifth-generation stealth, multi-role combat aircraft, expected to go into production from 2035.
India is also in talks with Safran of France and Rolls Royce to jointly build jet engines, although no decision has been arrived at yet with either.
Enhancing long-term research and development cooperation, with a focus on identifying maritime security and intelligence surveillance reconnaissance (ISR) operational use cases.
Launching a new "Innovation Bridge" that will connect US and Indian defense startups.
Resilient Semiconductor Supply Chains
Enhancing bilateral collaboration on resilient semiconductor supply chains; supporting the development of a semiconductor design, manufacturing, and fabrication ecosystem in India; and leveraging complementary strengths, both countries intend to promote the development of a skilled workforce that will support global semiconductor supply chains and encourage the development of joint ventures and technology partnerships on mature technology nodes and packaging in India.
A joint task force set up by the US Semiconductor Industry Association (SIA) in partnership with the India Electronics Semiconductor Association (IESA) and the Government of India Semiconductor Mission would develop a "readiness assessment" to identify near-term industry opportunities and facilitate longer-term strategic development of complementary semiconductor ecosystems, the White House said.
Other areas of more robust cooperation include space, and involve advanced training for an Indian Space Research Organization (ISRO)/Department of Space astronaut at NASA Johnson Space Center, new STEM talent exchanges, strengthening the bilateral commercial space partnership, and expanding the agenda of the US-India Civil Space Joint Working Group to include planetary defense.
The next iCET meeting will be held in New Delhi later in 2023.