Decoding The Modi-Trump Image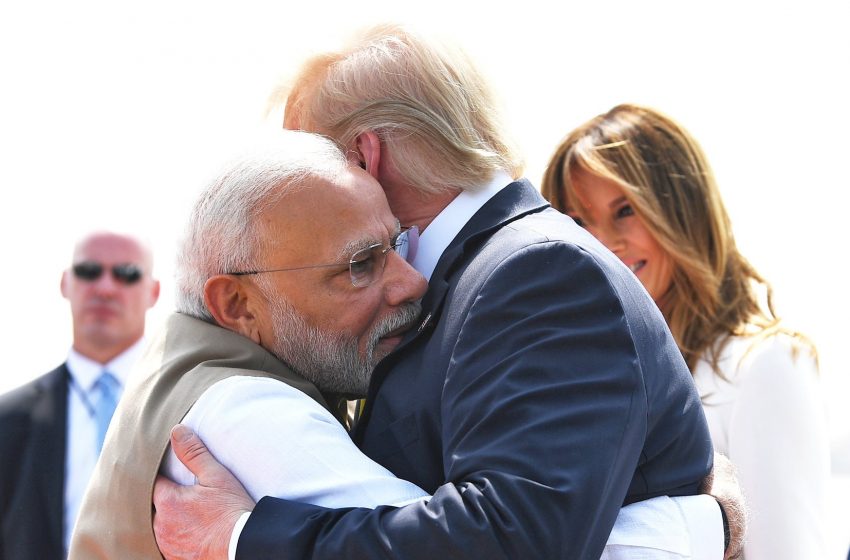 The Trump-Modi phenomenon has created a new kind of populism in world politics. This populism is based on creating spectacles, which transcend foreign policy. It goes into economic policy and everything else that they do. The narrative for both is common – you create a great event and ensure the psyche of the leadership and the population around them is based on the same narrative.
It's very interesting to note that President Trump for instance is intrigued by the fact that after former US president Eisenhower he will get the largest number of people in the stadium. Such a realisation makes it look as if he is campaigning in India for the NRI vote in the US. This is not being done at the level of strategy, but at the level of rhetoric and I think rhetoric has now become the new norm in foreign policy.
The two leaders are shrewd enough to realise this because they are combining rhetoric and ideology to create a different kind of relationship between the US and India. For Prime Minister Modi, the spectacle serves a different kind of narrative, he is now seeking to convey through it that it puts Trump and himself on an equal footing. In that sense then he is our first NRI prime minister. So, to a certain extent, India is portraying an image of a superpower under Trump's encouragement.
The image that the prime minister has created is very different from the one that other leaders have done in the past. When Indira Gandhi used to swoop down in her helicopter at rallies, her target was the poor and her image was socialism. Prime Minister Modi's image is based on populism, and populism and socialism are two very different things.
So, when Indira Gandhi uses a helicopter and Modi uses a helicopter, there are two very different kinds of helicopters. Under Prime Minister Modi the image is that of an aspirational class and he makes no bones about it. For him, Davos is more important than anything else and the message that he wants to convey is that it's time that India is taken seriously as a military, scientific and economic power and that he is the vanguard of it.
The other thing to note is that the image Trump and Modi convey are constructs, they are not real. The first two metaphors that one associate with Prime Minister Modi is the mask and the hologram, used in the Gujarat elections, and this combined with spectacle makes him a mass image. It works on specific constituencies in three ways – first the Indian NRI is deliriously happy with the prime minister; second, the Indian elite especially the middle class believe they are getting a certain importance under Modi; third the poor end up feeling that this is a good Bollywood movie.
It has to be said that the Modi narrative is a relatively new phenomenon in Indian politics. The Trump phenomenon can work in the US because they have a more homogenous society that can consume the US president in the same way.
In India, we do not have a similar tradition. Take for instance the image of Gandhi. Gandhi has been consumed by the people of India through myth, fables, and storytelling which comes out through the various proverbs attributed to him. In this prime minister, there is no such narrative of storytelling so that is why you have to keep inventing new Modis – his new forms of dress, new expressions of his thoughts through shows like Mann Ki Baat, how hard he works, how he hobnobs with the world leaders in Davos. So, he cannot, like Gandhi, be turned into a cottage industry, his image will remain expensive and aspirational and thus the Modi image will continue to remain a mass spectacle.
— As told to Ashwin Ahmad
The author is an eminent social scientist