At UN Address Modi Flags Terrorism, Expansion And Pushes Vaccine Diplomacy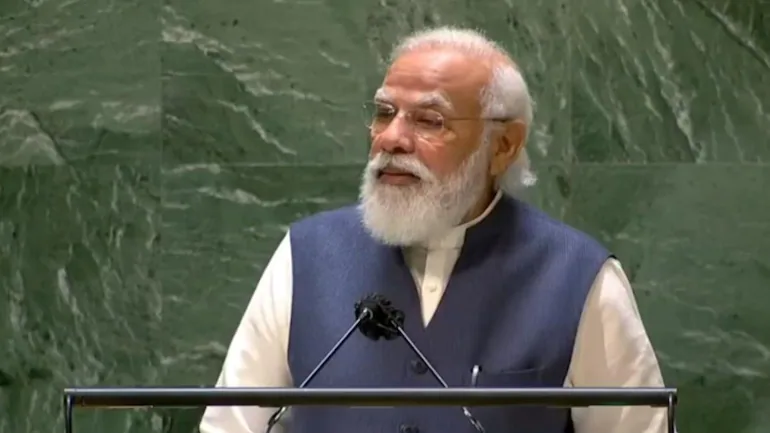 NEW DELHI: Fresh from two summits, the first with US President Joe Biden, and the other with the Quad, Prime Minister Narendra Modi launched a broadside at Pakistan during his address at the United Nations General Assembly (UNGA).
"Regressive thinking countries that are currently using terrorism as a political tool need to understand that terrorism is an equally big threat for them," he warned adding that, "it must be ensured that Afghanistan is not used to spread terrorism or launch terror attacks."

Speaking in Hindi, he took a swipe at China stressing that the world's oceans must be protected from the race for expansion. He said, "The international community must speak in one voice to strengthen a rule- based world order." He also hinted that the credibility of international agencies had been undermined by the lack of clarity on the origins of the covid virus.
Paying tribute to the lives lost all over the world to the coronavirus, he urged "Come make vaccines in India. Throughout the global pandemic, India has worked aggressively for the common good of humanity. We have once again started giving vaccines vaccine development and manufacturing," said the PM. "India became the first country to develop a DNA-based vaccine that can be taken by anyone who is above 12 years of age," he added.
He touched on the issue of climate change and the need for diversification of the economy. However, his biggest message was directed at those who believed that democracy and democratic institutions had suffered under his premiership.
"India is a shining example of a vibrant democracy," he said, "We have a great tradition of democracy that goes back thousands of years. Our country is proud to be known as the mother of democracy."
The PM added that the strength of India's democracy was in its diversity of which he was a personal example. "The strength of India's democracy can be seen in the fact that a little boy who had helped his father sell tea at the railway station became chief minister and then the prime minister. He is also addressing the UNGA for the fourth time."