Understanding The World's Second-Largest Continent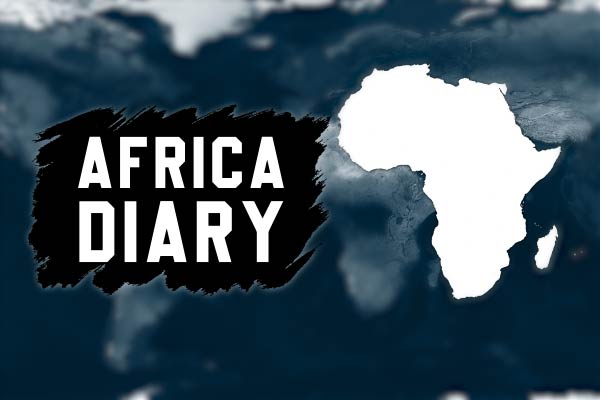 US Sanctions Wagner Commander in Mali
The US government slapped new sanctions on Russia's Wagner Group on 25 May, putting African nations on notice that working with the Kremlin-linked mercenary group carries high risks. The Treasury Department is imposing sanctions on Ivan Aleksandrovich Maslov, which the US has identified as the leader of the Wagner Group in Mali. Citing the role of elements of the Malian Armed Forces in the March 2022 massacre of more than 500 people during a military operation in Moura, the State Department also imposed visa restrictions on two Malian military commanders in charge for "gross violations of human rights": Col. Moustaph Sangare, then-Commander of the 33rd Parachute Commando Regiment, and Maj. Lassine Togola, Acting Commander of the Autonomous Special Forces Battalion (BAFS).
Source: Africa Report
South Africa Rubbishes US Ambassador's Claim Of Selling Guns To Russia
Local arms experts have shot holes in the United States ambassador's claims that South Africa sold arms and ammunition to Russia in December 2022. This follows the Russian embassy's own statement on Wednesday dismissing US ambassador Reuben Brigety's claims that weapons were loaded on the sanctioned ship the Lady R. While the US embassy says it stands by Brigety's claim, the Russian embassy characterised the ambassador's statement as a "fabrication" aimed at swaying South Africa from its non-aligned position on the Russia-Ukraine conflict. While the US embassy says it stands by Brigety's claim, the Russian embassy characterised the ambassador's statement as a "fabrication" aimed at swaying South Africa from its non-aligned position on the Russia-Ukraine conflict.
Source: Mail & Guardian
Uganda Sends Land Forces Chief To Somalia After Deadly Attack On Troops
The Uganda military has sent a team led by the Chief of Land Forces, Lt Gen Kayanja Muhanga, to Mogadishu to ascertain the circumstances under which the country's troops were attacked on a dawn raid on Friday. The May 26 attack happened at Buulo Mareer, a base in Lower Shabelle, killing at least 50 soldiers, with more feared dead. In a statement on Saturday, the Ministry of Defence and Uganda People's Defence Forces (UPDF) spokesperson Brig-Gen Felix Kulayigye said the team will "devise the way forward." He did not give further details but added that the attack "will not deter our commitment to Atmis mandate of ensuring African peace and stability."
Source: The East African
Protesters Take To The Streets In Tigray Demanding Withdrawal of Foreign Forces
Thousands of people in northern Ethiopia's Tigray region took to the streets earlier this week to demand the return of people displaced by a two-year war there. The protesters are also calling for the withdrawal of outside forces, now that the conflict between Ethiopian forces (supported by their allies, neighbouring Eritrea and Amhara region) and Tigray forces has ended. The war between Ethiopia and Tigray concluded with the signing of a peace deal in South Africa in November 2022. Tens of thousands of people were killed and hundreds of thousands fled their homes, crossing borders into neighbouring countries such as Sudan. According to aid workers, Eritrean troops – not mentioned in the truce – also remain inside Ethiopian territory in several border towns. Eritrean troops have been accused of serious human rights violations in Tigray.
Source: All Africa
Cyberattack Targets Government Websites in Senegal
Senegal's government websites are back online this Saturday after a cyberattack paralyzed the network on Friday. The attack was claimed by a group with alleged links to hacker group Anonymous. The attackers expressed their solidarity with Senegalese citizens and their right to freely choose their president. The attack took place against a background of increased tensions regarding the future of President Macky Sall who is yet to reveal if he is running for a third mandate. On Friday, opposition figure Ousmane Sonko started his return trip to the capital, Dakar, in a so-called "caravan of freedom".
Source: Africa News
Africa Could Face A Dangerous 2.7°C Global Temperature Rise
New research on climate change demonstrates that a large swath of the African continent would become dangerously hot with a projected 2.7°C global temperature rise, including more than 300 million people in Nigeria—the most vulnerable nation, after India, if efforts to limit warming to 1.5°C fail. Sudan, Niger and Burkina Faso fall into the list of Top 10 nations with exposed populations if temperatures range beyond what the international research team, led by Dr. Timothy Lenton at the University of Exeter, identify as the "human climate niche" in which people and communities can thrive. Their work was published this week in the journal Nature Sustainability.
Source: Africa Times