Understanding The World's Second-Largest Continent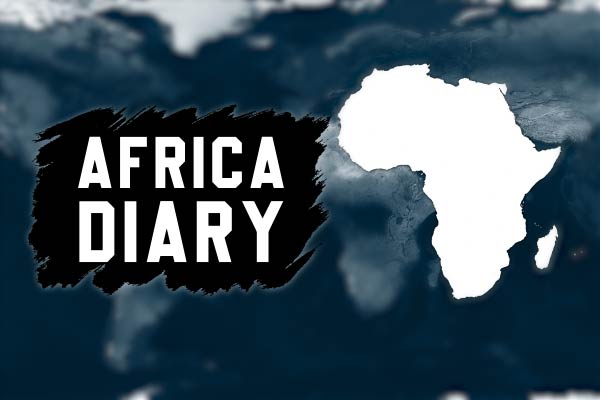 Putin's Arrest Warrant Worries South Africa
Since the International Criminal Court (ICC) issued an arrest warrant on March 17 against Russian President Vladimir Putin for alleged war crimes in Ukraine, all eyes have been on South Africa. A question is on everyone's lips: will the head of the Kremlin expected on August 24, 2023, on the sidelines of the work of the 15th BRICS summit be handed over to international justice? This move remains hypothetical. But the subject is the object of tension within South African power. The arrest warrant "is obviously a matter of concern" declared Naledi Pandor, the South African Minister for International Relations and Cooperation, on March 24. South Africa has been a signatory to the Rome Statute since 1988. Nelson Mandela was then president.

Source: Africa News
Eritrea Denies U.S. Claims Of War Crimes In Tigray
Eritrea has denied allegations that its military forces engaged in war crimes during the Tigray conflict in northern Ethiopia, a conflict in which it has often claimed its personnel were not involved. The denial issued on Tuesday, followed a statement from Antony Blinken, the United States Secretary of State, in which he accused members of the Ethiopian National Defense Forces (ENDF), Eritrean Defense Forces (EDF), Tigray People's Liberation Front (TPLF) forces, and Amhara forces of committing war crimes during the conflict. But even as the U.S. called for accountability as a commitment to the Cessation of Hostilities Agreement, officials in Asmara accused Washington of complicity in the conflict's tragic outcomes due to actions meant only to protect the TPLF. The TPLF is a rebel movement in neighbouring Ethiopia, and Eritrean and Ethiopian forces have fought an over two-year-long civil war against it in the northern Tigray region. Massive war crimes are said to have been committed on both sides.
Source: Africa Times
Recalled Algerian Ambassador Resumes Post In France
The return of Algerian diplomat Said Moussi to his post is the second sign of the beginning of a thaw in relations between Paris and Algiers after the telephone exchange on Friday 24 March between presidents Emmanuel Macron and Abdelmadjid Tebboune. While they have not spoken since the beginning of the crisis, which erupted in February after France allowed the entry of 46-year-old Algerian activist Amira Bouraoui who had been sentenced to two years in jail for "insulting Islam" in Algeria, the two leaders reopened the lines of communication to revive relations that Tebboune had once described as "in flux." The French authorities are now waiting for the Algerian government to lift the suspension of the delivery of consular passes, a measure taken in the wake of the recall of Said Moussi. These documents, issued by Algerian consulates in France, are essential for the deportation of Algerian nationals who have been expelled from French territory.
Source: Africa Report
Ugandan Troops Join East African Regional Force In DR Congo
Ugandan troops operating as part of an East African regional military force entered the east DR Congo border town of Bunagana on Friday, an army officer and witnesses said. The soldiers are intended to supervise the gradual withdrawal of the M23 rebel group, which has conquered swathes of territory in eastern Congo since taking up arms again in late 2021. The Ugandan contingent of the East African Community (EAC) force entered Bunagana on Friday morning, according to the force commander, Kenyan General Jeff Nyagah. He said that about 1,000 Ugandan soldiers had crossed into the town — which lies on the Ugandan border — as part of a contingent that is expected to eventually comprise 2,000 troops.
Source: East African
'Nigerians Should Not Be Disturbed Over White House Protest'
Prof. Tai Balofin, Chairman, APC United States says Nigerians should not be perturbed by some individuals protesting the emergence of Sen. Bola Tinubu as President-elect at a park in front of White House. Balofin in a statement said the chapter had mobilised true Nigerians to come out in support of Tinubu's mandate freely given by the electorate at the February 25 polls. He expressed optimism that those protesting against Tinubu's emergence as President-elect would not succeed in their mission to disrupt the peace and stability of Nigeria. "We wish to inform the public that a group of the Nigerian 2023 presidential election losers are currently protesting at the park in front of the White House he said and added that "it is important to note that the US government is not involved or in support of the protest, as anybody can get approval for a peaceful protest."
Source: World Stage News
Namibia Makes Third Oil Discovery But Can It Avoid The Oil Curse?
The National Petroleum Corporation of Namibia (Namcor) has announced a third oil discovery in the Orange Basin off Namibia's southern coast. Two major oil discoveries were made during the first quarter of 2022 offshore Namibia. These discoveries happened under Shell, Qatar Energy, and Namcor who are in a joint venture; Shell Namibia B.V (45%), QatarEnergy (45%), and Namcor (10%). However, experts are worried that if the government does not take necessary steps to curb corruption the country will not profit from the discovered oil. Namibia needs to build competent and accountable institutions to manage oil revenue and minimize the risk of corruption by closing all legislative loopholes to avoid an oil curse, according to Rosita Ndumbu, a research associate at the Institute for Public Policy Research. Ndumbu highlighted Angola and Nigeria as case studies that are currently battling socio-economic challenges despite being some of the biggest oil-producing nations.
Source: All Africa