Understanding The World's Second-Largest Continent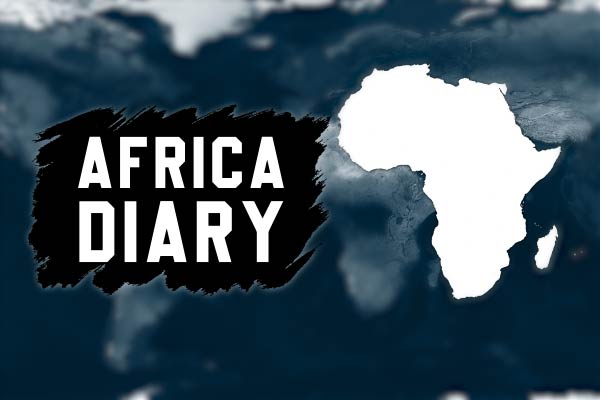 Egypt's Sisi At Centre Of Regional Security Talks On Hamas Attack
Egyptian President Abdel Fattah el-Sisi spoke with King Abdullah II of Jordan on Sunday, as part of the regional diplomatic effort to stop violence in Israel and the Palestinian Territories. The call focused on regional security and the "current escalation" following a surprise Hamas attack that has led to hundreds of deaths in Gaza and southern Israel, the Egyptian government said. Sources in Israel put the growing death toll at 600, including dozens of young people attending a music festival in the desert, while 100 people are believed to be hostages. Palestinian officials said another 300 were killed in Gaza. El-Sisi has spoken with a number of international leaders, including President Emmanuel Macron of France. Egypt's foreign minister also spoke with counterparts in Saudi Arabia, Turkey and the United States. Anthony Blinken, the U.S. Secretary of State, said Sunday that U.S. citizens are believed to be among those killed or taken hostage.

Source: Africa Times
Nigeria Endorses Algeria's Mediation Plan For Niger
Nigeria's foreign minister on Thursday welcomed an Algerian offer to mediate talks with the military regime in Niger, which came to power in a coup in July. Nigeria holds the rotating presidency of ECOWAS, a union of 15 West African countries which threatened armed intervention after rebel officers toppled Niger's President Mohamed Bazoum on July 26. Nigerian foreign minister Yusuf Maitama Tuggar stressed diplomacy was still the favoured route, but kept the option for armed intervention open. In an interview with France 24, he said ECOWAS welcomed all parties "seeking for a peaceful resolution to this imbroglio (including) Algeria". But the minister said military intervention was "not off the table". "It's still under consideration, it's not the only option", he said, adding that it would not "immediately translate to war as it's been misconstrued."
Source: North Africa Journal
Sudan Paramilitaries Seize Key Oil Station, Witnesses Say
Paramilitary forces battling the army in Sudan on Friday seized a strategic oil pumping station east of the capital Khartoum, witnesses said. The facility in Al-Aylafoun region is about 30 kilometres (18 miles) from Khartoum. It pumps oil for export from both Sudan and neighbouring South Sudan through pipelines to Port Sudan on the Red Sea. Residents of Al-Aylafoun stated that in Wad Madani, southeast of Khartoum, that the Rapid Support Forces (RSF) had seized the pumping station. It is one of four such facilities in the country. Technicians, engineers and other workers have been evacuated, the residents said. Exports of crude from Sudan and South Sudan have continued despite the war which began on April 15 between army chief Abdel Fattah al-Burhan and his former deputy, RSF chief Mohamed Hamdan Daglo.
Source: The East African
Ugandan Police Keeping Opposition's Bobi Wine Under House Arrest
The National Unity Platform (NUP) president Robert Kyagulanyi's international lawyer, Robert Amsterdam, has stated that they are closely monitoring their client's house arrest. Kyagulanyi, popularly known as Bobi Wine, is currently being prevented from leaving his home, with police claiming it is to prevent him from mobilising for a march. On October 5, Kyagulanyi was taken from the airport in Entebbe and driven away without going through the local immigration authorities. The NUP leader, who was inbound from South Africa, had expected a massive welcome from at least one million supporters at the airport, however he was taken off the Rwanda Air craft, and transported to his home in Magere. He was coming from launching his new book, Rich State, Poor State, in Johannesburg.
Source: All Africa
France Suspends Visas To Students From The Sahel Region
France's recent decision to suspend visas for students from the Sahel has sent shockwaves through the region, leaving many aspiring scholars anxious about their future. This diplomatic fallout between France and the Sahel countries has created a cloud of uncertainty, making it increasingly difficult for students to pursue their dreams of studying in Paris. The suspension of visas for students from the Sahel region, which includes Burkina Faso, Chad, Mali, Mauritania, and Niger, has left many young minds in a state of distress. These aspiring scholars had meticulously prepared for their journey to France, only to have their dreams shattered by the abrupt change in visa policies. While France cited security concerns as the reason for the visa suspension, many argue that this decision will only fuel the very instability it seeks to address. By limiting educational opportunities for Sahel students, the risk of radicalisation and youth disillusionment may increase, exacerbating the security challenges faced by both France and the Sahel region.
Source: African Boulevard
Angola Puts In Place Visa-Free Entry To Nationals From Over 90 Countries
Angola has joined the growing list of countries in Africa allowing visa free entry by passing a resolution that will allow visa-free entry for 90-day stays to nationals from over 90 countries. It comes as the southern African country opens its borders to visitors from a large number of countries to boost its tourism sector. Fourteen African nations are on the list for the visa-free entry. They include Tanzania, Eswatini, Morocco, Lesotho, Rwanda, Zimbabwe, Equatorial Guinea, Botswana, Madagascar, Malawi, Mauritius, Seychelles, Cape Verde and Algeria. Since December 2017, South Africans have not needed visas to visit Angola when an abolition agreement was signed between both nations.
Source: Africa News