World Powers Seek Stake In Sri Lanka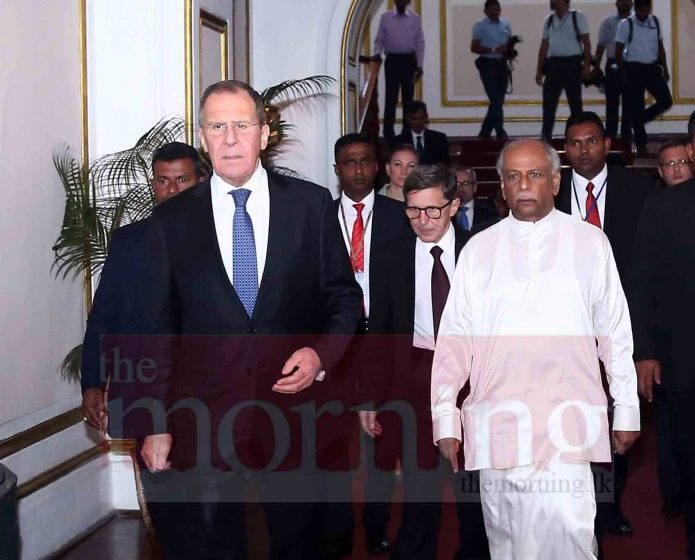 COLOMBO: World powers have sought a bigger stake in Sri Lanka as the cold war between the U.S. and China intensifies. Top officials from the U.S., China and Russia were in Sri Lanka last week for the first set of high-level talks between their respective governments and the government of President Gotabaya Rajapaksa.
China's State Councillor and Foreign Minister Wang Yi, Russia's Foreign Minister Sergey Lavrov, and Principal U.S. Deputy Assistant Secretary of State for South and Central Asian Affairs, Alice G. Wells, were in Sri Lanka last week for bilateral talks. The U.S., China and Russia have offered economic support to Sri Lanka, support which some fear, if accepted, will come with strings attached. Sri Lanka is seen by all three countries as being strategically located in the Indian Ocean. Wells told a select group of journalists that the fact that officials from all three countries were in Sri Lanka showed how important the country was.
During talks in Colombo, Russia agreed to take additional measures with Sri Lanka to increase trade from the current $400 million to $700 million per year. "We will pay special attention to this issue during preparations for a regular meeting of the Intergovernmental Commission on Trade, Economic, Scientific and Technical Co-operation that will take place in Russia in the latter half of this year," Russia's Foreign Minister Lavrov said after talks with his Sri Lankan counterpart Dinesh Gunawardena.
East Vs West
China's Foreign Minister Wang Yi told President Rajapaksa that Sri Lanka may have less landmass but will soon be strong economically and China will be with Sri Lanka as it strives to reach that goal.
The U.S. said it was in talks to provide Sri Lanka alternatives to offers from China. Alice Wells responding to a question posed by The Sunday Morning at a meeting with journalists at the Bandaranaike International Airport before leaving the country said the Hambantota deal was unfair for the people of Sri Lanka. Hambantota Port has been given to China under a 99-year lease agreement.
Wells said the U.S. remains concerned over a lack of transparency pertaining to Chinese projects in Sri Lanka, which she noted has led to an empty airport (Mattala Airport), empty business tower (Lotus Tower), and projects which suggest proper feasibility studies have not been conducted.
China's Foreign Minister Yi had emphasised to President Gotabaya Rajapaksa that his country stands for the sovereignty, territorial integrity and independence of Sri Lanka. "We will not allow any outside influence to interfere with matters that are essentially internal concerns of Sri Lanka," the minister had said.
Gulf Tensions
Lavrov accused Washington of taking illegal action which reached its peak with the murder of General Qassem Soleimani, Head of the Iranian Revolutionary Guards' Quds Force. "This is beyond international law and humanism. We are against the escalation of tensions no matter where they emanate from. We are calling on the U.S. and Iran to display restraint and resolve all problems through dialogue," he said, adding that "As far as I understand, the U.S. is saying it is ready for dialogue with Iran without any preconditions, although what it calls suffocating sanctions against Iran are ramping up during proposals on such dialogue. It so happens that while inviting Iran to dialogue without preconditions, the U.S. itself lays them out by subjecting Iran to pressure via sanctions."
Wells, however, defended the killing of Soleimani, saying he directed terrorist proxies in Iraq who attack U.S. soldiers, Americans, and Iraqis. "Very few people argue to me that General Soleimani is a good guy," she said. Soleimani took pride in his actions and there were consequences to his actions, which was his killing.
The tensions in the Gulf following General Soleimani's killing have been a concern to Sri Lanka. Russia said it understood the concerns stemming from the negative consequences of the conflict in the Gulf area, which may affect exports of traditional goods.
"Therefore, it is in our common interests to build trust in the Gulf and beyond. This is the aim of the Russian proposal that we again presented at a special conference in Moscow last September. I am referring to the start of efforts to create a collective security system in the Gulf and around it. Let's hope that all interested parties will start discussing ways of reducing tensions and developing neighbourly relations," Lavorv said.
(By arrangement with http://www.themorning.lk)