Won't Ask PM To Resign, Sri Lankan President Assures Party MPs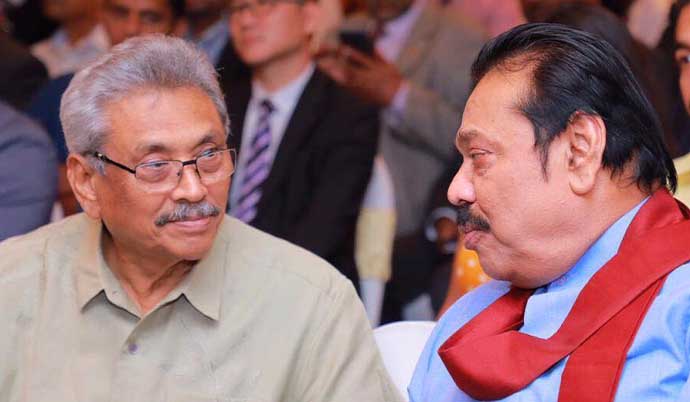 Following queries made by Sri Lanka Podujana Peramuna (SLPP) Parliamentarians, President Gotabaya Rajapaksa has said he has not asked Prime Minister Mahinda Rajapaksa to resign, nor does he have any intention of doing so, The Morning has learnt.
At a meeting with the President on Thursday, also attended by the Prime Minister, several SLPP MPs wanted to know whether the President plans to request the Prime Minister to resign to pave the way for an all-party interim government. The President said he has not made any such request nor does he intend to.
The MPs also sought clarity from the President on his letter that he is, in principle, willing to form an all-party government, following the resignation of the Prime Minister and the Cabinet. To this, the President said any MP who can command majority in Parliament can form a government. However, in a possible reference to those who have chosen to be independent in Parliament, he added that instead of claiming in public that one could muster majority in Parliament, one should show that majority in Parliament.
The assurances made by the President to SLPP members follow two seemingly contradictory statements on Wednesday. The President wrote a letter to leaders of all political parties in the ruling coalition and to those who were part of the government but have now chosen to sit independently in the House. The President added in his letter that the venerable Chief Prelates of the Three Chapters, Archbishop of Colombo His Eminence Malcolm Cardinal Ranjith and other religious leaders, political parties and various organisations have appealed to him to form an all-party government as a solution to the present social and economic crisis.
However, during an audience with the chairpersons, mayors, and members of local government institutions, Prime Minister Mahinda Rajapaksa said the President has never asked him to resign from his position, and also expressed confidence that the President would not ask him to resign at any point.
He also said that he is not willing to resign, as it would be detrimental to Sri Lanka. "Anyone can make allegations, but those allegations need to be proved. We cannot turn our back on the Constitution and leave, and allow the country to descend into a state of anarchy."
(By arrangement with www.themorning.lk)