Sri Lanka Rejects UN Special Rapporteur's Report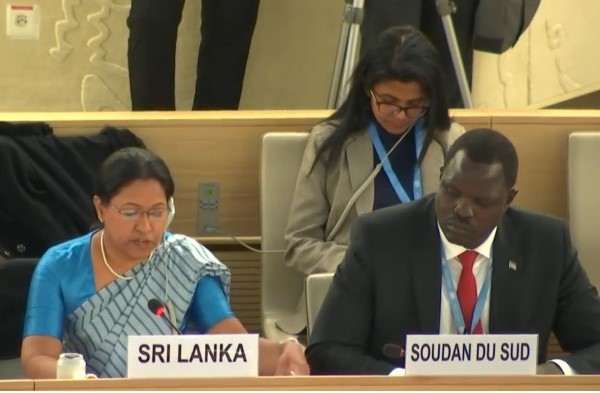 COLOMBO: Sri Lanka has rejected Special Rapporteur on freedom of religion or belief, Ahmed Shaheed's report following his visit to Sri Lanka from 15 to 26 August 2019. Shaheed's report was presented to the UN Human Rights Council (HRC) yesterday.
The advanced unedited report of the Special Rapporteur (SR) was shared with Sri Lanka, for comments, on 3 February 2020, with a deadline of 28 February 2020, leading to an Interactive Dialogue on Monday.
The facilitation of the visit, at a time of numerous national challenges (barely four months after the Easter Sunday attacks that killed 258 people), was a manifestation of the Government's policy of open and constructive dialogue with UN human rights mechanisms, Dayani Mendis, Acting Permanent Representative of Sri Lanka in Geneva, told the 43rd session of HRC.
Her statement said the report has, to a large extent, sought to judge the space for freedom of religion or belief in Sri Lanka through the few months that followed the Easter Sunday attacks.
Claiming that the incidents of mob violence that occurred three weeks after the terrorist attacks were not "communally motivated" but caused by "unruly elements", Sri Lanka said the alleged perpetrators were arrested and brought to justice.
The Lankan government has rejected mentions of "Sri Lankan security forces colluding with mobs and not acting to prevent or stop the violence"; the "lack of response from the authorities against this violence". It is regrettable that these inaccurate accounts have been included in the report, the statement of Mendis says.
It is also regrettable that the report has sought to portray instances where criminal investigations have been conducted to prevent acts of terrorism in accordance with the law, as an endeavor to violate the freedom of religion or belief, she said.
Rejecting comments made in the report about alleged discrimination based on "supremacy" of Buddhism over other religions, Sri Lanka said no provision in its Constitution or national laws permits discrimination of an individual based on religion or belief in any sphere of public life.
In the SR's report, certain instances, determinations of the Supreme Court and Constitutional provisions have been inaccurately reflected based on surmise, said Mendis.
Sri Lanka has accused the report of several omissions like
incidents of attacks on and vandalizing of Buddhist places of worship
positive measures by the government and law enforcement agencies to foster religious harmony
resilience and solidarity of Sri Lankans in protecting and assisting fellow citizens of all faiths in the aftermath of the Easter Sunday attacks
payment of compensation through the Office for Reparations to victims of violence
restoration of damaged churches by the security forces
'laudable' role played by independent institutions, such as Human Rights Commission
Sri Lanka remains committed to protecting and promoting the freedom of conscience and religion of its people, in accordance with the Constitution of the country, said Mendis, adding that "we look forward to continuing to engage with the Special Rapporteur and this Council in a constructive and meaningful manner".
(By arrangement with www.themorning.lk)