Sri Lanka Permits Chinese Ship To Dock Despite Indian Concerns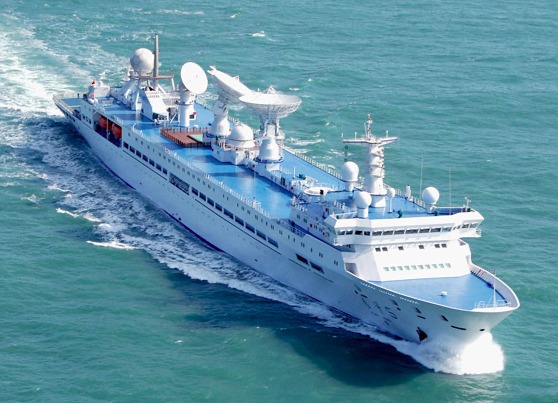 Sri Lanka's defence ministry has said a Chinese naval vessel Yuan Wang 5 will dock at the Hambantota Port on August 11, despite concerns raised by India.
"They had requested security clearance a while back and we did an assessment and gave them the necessary clearance. The ship will be at the port from August 11-15 for replenishment," a spokesperson for the defence ministry told The Morning.

"There are Indian, Japanese, Russian, U.S. and Korean ships too that come here for replenishments and other purposes. We do have a question of why India has raised an issue about this particular instance," the spokesperson noted.
On July 23, Belt and Road Initiative Sri Lanka Director Yasiru Ranaraja tweeted that the "Chinese scientific research vessel" will arrive in Sri Lanka for a week for replenishment purposes. "It could conduct satellite control and research tracking in the northwestern part of the Indian Ocean region," he said.
China plays an important role in Sri Lanka's economic recovery as the government seeks a financing loan from the International Monetary Fund (IMF). Last week, the U.S.-based fund said Sri Lanka should kick off debt restructuring talks with its bilateral lender China.
"China is a big creditor, and Sri Lanka has to engage proactively with it on a debt restructuring," IMF's Asia and Pacific Department Director Krishna Srinivasan told Reuters in an interview.
India's External Affairs Ministry Spokesperson Arindam Bagchi told a media briefing last week, in response to reports about the ship, that the Indian Government "carefully monitors any development having a bearing on India's security and economic interest and takes all necessary measures to safeguard them". "I think that should be a clear message," he added.
India has traditionally taken a stern view of Chinese military vessels in the Indian Ocean and has protested such visits with Sri Lanka in the past. India's concerns have been focused on Hambantota Port in particular. In 2017, Colombo leased the southern port to China Merchant Port Holdings, after Sri Lanka was unable to keep its loan repayment commitments, fanning fears over potential use of the port for military purposes. Complicating matters for Sri Lanka is that India has been at the forefront of extending economic assistance during this unprecedented economic crisis in the island.
China has said it "hopes that the relevant parties will view and report on China's marine scientific research activities correctly and refrain from interfering with normal and legitimate maritime activities."
Commenting on these tensions between the two Asian superpowers, the Tamil National Alliance (TNA) political party tweeted: "We do not take sides with regards to power struggles between other countries. But we have also consistently stated that China's military presence in the Indian Ocean would give India a legitimate defence concern and that Sri Lanka should not accentuate that by providing space for Chinese military presence in Sri Lanka."
(By arrangement with 'The Morning')