Indian Credit Line For Oil: India's EXIM Bank Submits Documents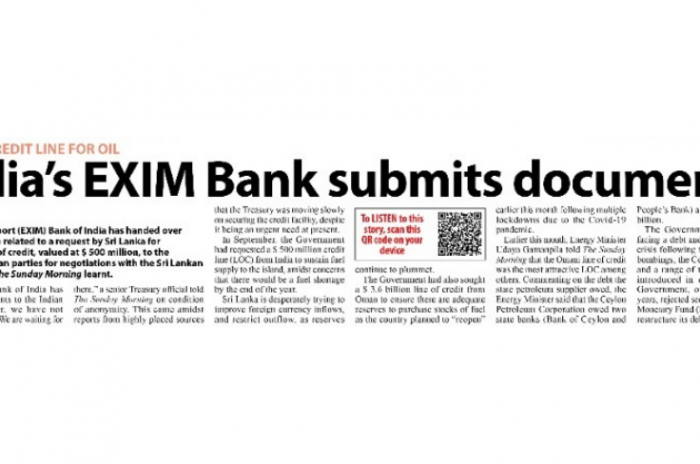 The Export-Import (EXIM) Bank of India has handed over documentation related to a request by Sri Lanka for an urgent line of credit, valued at $500 million, to the respective Indian parties for negotiations with the Sri Lankan Government, The Sunday Morning has learnt.
"The EXIM Bank of India has given the documents to the Indian parties. However, we have not received them yet. We are waiting for them," a senior Treasury official told The Sunday Morning on condition of anonymity. This came amidst reports from highly placed sources that the Treasury was moving slowly on securing the credit facility, despite it being an urgent need at present.
In September, the government had requested a $500 million credit line (LOC) from India to sustain fuel supply to the island, amidst concerns that there would be a fuel shortage by the end of the year.
Sri Lanka is desperately trying to improve foreign currency inflows, and restrict outflow, as reserves continue to plummet.
The government had also sought a $3.6 billion line of credit from Oman to ensure there are adequate reserves to purchase stocks of fuel as the country planned to "reopen" earlier this month following multiple lockdowns due to the Covid-19 pandemic.
Earlier this month, Energy Minister Udaya Gamanpila told The Sunday Morning that the Omani line of credit was the most attractive LOC among others. Commenting on the debt the state petroleum supplier owed, the Energy Minister said that the Ceylon Petroleum Corporation owed two state banks (Bank of Ceylon and People's Bank) a total debt of $3.6 billion.
The government is currently facing a debt and foreign currency crisis following the Easter Sunday bombings, the Covid-19 pandemic, and a range of tax cuts, which it introduced in early 2020. The government, over the last two years, rejected seeking International Monetary Fund (IMF) assistance to restructure its debt servicing.
(By arrangement with www.themorning.lk)